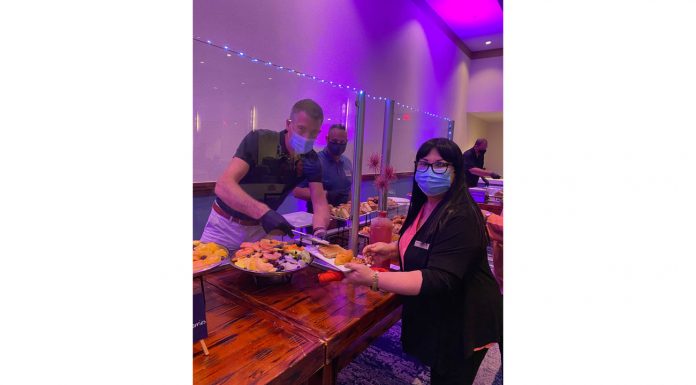 The Hilton Aruba Caribbean Resort & Casino hosted a sumptuous breakfast buffet at the Morris Lapidus ballroom in honor of International Women's Day, inviting all 173 resort female Team Members to participate. Breakfast was served by an all-men crew, as a token of appreciation.
The United Nations recognized March 8th as International Women's Day for the first time in 1975, highlighting the different roles women play in their own households and in our island community.
"We feel especially fortunate here," says Director of Human Resources Glenn Farro, "of the 173 women who work at the resort we have 133 in different departments as hospitality front runners, in addition to 22 female supervisors, 13 managers, 3 department heads and one member of the executive committee, all enjoying equal pay and equal benefits to their male counterparts."
At the Hilton Aruba Caribbean Resort & Casino Women Rule: 52.27% of Team Members are female, and while they maintain their own identity they rise to all challenges, devoting resources and time to their family members, friends, and their communities, at home and at work.
During Women's Day breakfast, General Manager Vasco Baselli reiterated the company's commitment to diversity and inclusion, meeting all challenging goals together, with women in key leadership roles, in a friendly, safe and supportive environment. The resort has continuously strived to provide its female Team Members with tools to deal with gender-related issues, especially violence against women. "We are committed to creating an inclusive work environment, providing opportunities for women to thrive," said Baselli in his warm welcome words.
Hilton women continue to demonstrate unparalleled resiliency, leadership and empathy day after day, and it is always inspiring to see how hospitality shines through, even at the most challenging of times.
Together the resort and the island have an incredibly promising future because of a shared commitment to an broad-minded culture. Here, we celebrate women not just this month, but every day of the year.