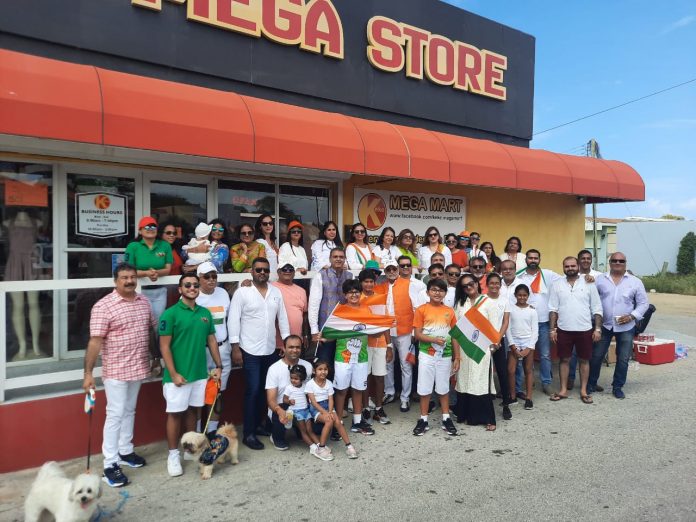 Today, August 15, India is celebrating 75 years of independence. In connection with this great celebration, the Indian Association of Aruba organized a festive car parade yesterday, Sunday August 14th. The president of the association, Haresh (Henry) Sadarangani told us a bit more about the celebration of this very important date.
"We are here celebrating 75 years of independence of our country, India. We are all here to celebrate this very special day for us", Sadarangani said. He said that the Indian community has been established in Aruba for more than 90 years, and Aruba is their home, but their love for India has remained just as strong.
The celebration took place in the form of a car parade, coming out of Savaneta and reaching the California Lighthouse. After the parade, they celebrated as a community. "We wanted to celebrate with the whole country and come out with our flags of Aruba and India", Sadarangani added.
Prakash Gupta, Honorary Consul of India in Aruba also commented that the Indian community has been living anchored for more than 90 years in Aruba and live together with the community of Aruba. "We have very good relations, and we integrated very well in the community, and this is our home", he highlighted.
The celebration of Independence Day in India, as well as around the world, was enormous this year and took many different shapes. Gupta emphasized also that the car parade that took place in Aruba yesterday is also a way to bring awareness and to bring the Indian and Aruban communities closer to each other.
Indian obtained independence from the British colonial dominance on the 15th of August 1947. The fight for freedom was long and tedious, and cost the sacrifice of many fighters who fought for the freedom and gave their life to their country and their people. On this day these fighters are honored, as well as the history of the country, its culture and the nation's achievements as a whole. On this day, all citizens of India are also reminded of the beginning of a new era, an era of freedom from colonial British dominance that lasted more than 200 years.
The independence day was commemorated with the raising of the flag, a parade, cultural events, and citizens singing patriotic songs. On the 15th of August 1947, the prime minister of India, Jawaharlal Nehru raised the national Indian flag above Lahori Gate or Red Forth in Delhi, a tradition that from that day has been fulfilled by all prime ministers of India, followed by a national speech to the people.
Finalizing, Sadarangani commented that the Indian community in Aruba is very grateful to the Aruban community for their trust, friendship and acceptance. "As citizens, our community offers our commitment to live in peace and harmony on the beautiful island of Aruba, which we chose as the home for our future generations."