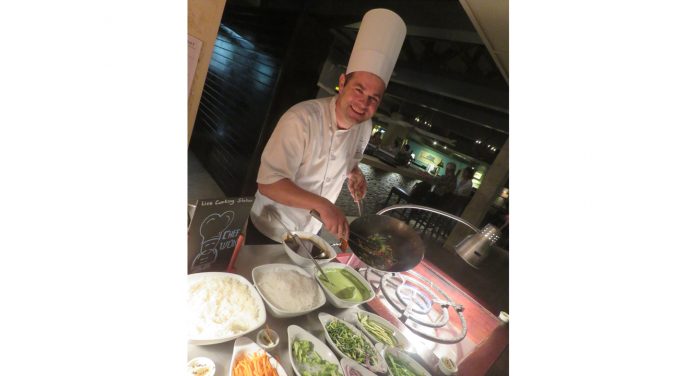 Ike's bistro at Manchebo Beach Resort & Spa surprises with an excellent, tasteful and varies Vegan Buffet on Friday's. Executive Chef Sandro Herold is obviously enthusiastic about the new concept that filles up the place already. "People nowadays are a bit more conscious about what they eat. This buffet offers a wide variety with creative vegan food items and live cooking." We asked some of the guests about their experience: "delicious", "very tasty" "great food, great setting". Even teens, in general not too fond of health food, applauded the offerings. "We did not even miss the meat"
Vegan is hot now, says the chef, and we had that confirmed by the full restaurant last Friday. Ike's Bistro is an open air restaurant, located in the Manchebo Beach Resort & Spa. Under a huge cabana with a view to the romantically lit pool of the resort you are seated in relaxed chairs and served by great waiters. Live music by singer Lucre Houtman lifts the ambiance and the cherry on the top is the chef's vegan magic.
Your senses are tickled because of the purity and freshness of the buffet food items. The special priced buffet starts off with a Cucumber Martini which can be accompanied by some tapenade crostini, sundried tomatoes, green peas and black olives. A delicious Thai coconut ginger soup could be your next course or maybe some very green and tofulicious maki might enchant you? There is chickpea salad stuffed spinach wrap, jackfruit salad, carrot apple tofu salad, cruditos & mango puree and avocado salad stuffed tomato wrap with plantain. All of those choices embrace your inner senses with their freshness and clear flavors.
For the main course comes the best part, live cooking by the chef himself. An extraordinary experience because Herold is the inventor of the buffet and his enthusiasm is contagious, you want to try it all. "We have soya noodles, basmati rice and fresh veggies topped off with a soya sesame ginger sauce or basil garlic sauce, as you choose." The chef mixes it all in his wok and explains it can be completed with a choice of the carving station items: beyond meat loaf, lentils loaf, red beets Wellington or grilled sausage. "And if you wish there are beans cooked with plantain or sweet mashed potatoes." This heavenly healthy trip reaches its end destination with a scrumptious dessert variation from blueberry chia pudding to pure chocolate mousse and more.
Vegan might be on the menu in many restaurants nowadays as 'the other option', but here at Ike's Bistro they celebrate vegan and you get hooked, that is a promise. Passion, creativity, purity, dedication to a concept, beautiful setting and the wonderful jazzy voice of Lucre take care of an enchanting experience. Vegan Night Out at Ike's Bistro, you should definitely try!
Manchebo Beach Resort & Spa – Ike's Bistro
J.E. Irausquin Boulevard 55
Telephone +297 582 3444
Ikesbistro.com
Facebook Ike's Bistro