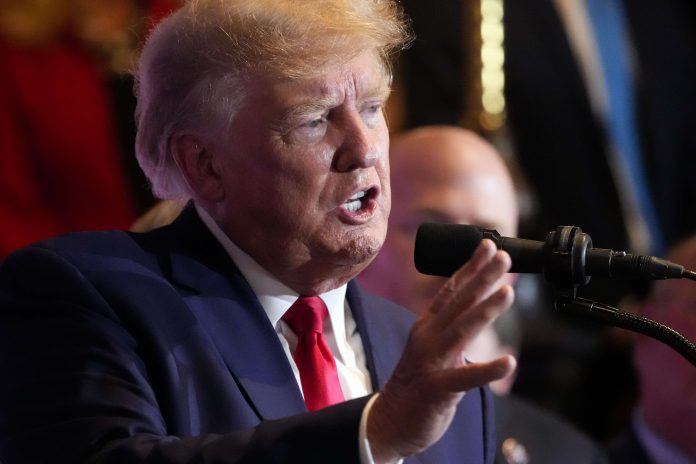 By MARY CLARE JALONICK
Associated Press
WASHINGTON (AP) — Democratic Rep. Adam Schiff was defiant Wednesday as the Republican-led House prepared to censure him over his comments made several years ago during investigations into President Donald Trump's ties to Russia. He said he will wear the formal disapproval as a "badge of honor" and charged his GOP colleagues of doing the former president's bidding.
"I will not yield," said Schiff, who is running for Senate in his home state of California, during debate over the measure. "Not one inch."
More than 20 Republicans voted with Democrats last week to block the censure resolution, but they are changing their votes this week after the measure's sponsor, Florida Rep. Anna Paulina Luna, removed a provision that could have fined Schiff $16 million if the House Ethics Committee determines he lied. Several of the Republicans who opposed the resolution last week said they opposed fining a member of Congress in that manner.
The revised resolution says that Schiff held positions of power during Trump's presidency and "abused this trust by saying there was evidence of collusion between Trump's campaign and Russia." Schiff was one of the most outspoken critics of the former president as both the Justice Department and the Republican-led House launched investigations into Trump's ties to Russia in 2017.
"By repeatedly telling these falsehoods, Representative Schiff purposely deceived his Committee, Congress, and the American people," the resolution said.
The former Democratic chairman of the House Intelligence Committee and the lead prosecutor in Trump's first impeachment trial, Schiff has long been a top Republican political target. Soon after taking back the majority this year, Republicans blocked him from sitting on the intelligence panel.
Schiff would be the 25th member of the House to be censured and only the third in the last 20 years. Republican Rep. Paul Gosar of Arizona was censured in 2021 for tweeting an animated video that depicted him striking Rep. Alexandria Ocasio-Cortez, D-N.Y., with a sword; Former Democratic Rep. Charlie Rangel of New York was censured in 2010 for serious financial and campaign misconduct.
The censure itself carries no practical effect, except to provide a historic footnote that marks a lawmaker's career. But the GOP resolution would launch an ethics investigation into Schiff's conduct.
While Schiff did not initiate the 2017 congressional investigation into Trump's Russia ties — then-House Intelligence Committee Chairman Devin Nunes, a Republican who later became one of Trump's most ardent defenders, started it — Republicans arguing in favor of his censure on Wednesday blamed him for what they said was the fallout of that probe, and of the separate investigation started that same year by Trump's own Justice Department.
Luna said that Schiff's comments that there was evidence against Trump "ripped apart American families across the country" and that he was "permanently destroying family relationships." Several blamed him for the more than $30 million spent by then-special counsel Robert Mueller, who led the Justice Department probe.
Schiff said the censure resolution "would accuse me of omnipotence, the leader of some a vast Deep State conspiracy, and of course, it is nonsense."
Democrats aggressively defended their colleague during debate. Maryland Rep. Jamie Raskin, who led Trump's second impeachment, called the effort an "embarrassing revenge tour on behalf of Donald Trump."
Mueller, who led the two-year Justice Department investigation, determined that Russia intervened on the campaign's behalf and that Trump's campaign welcomed the help. But Mueller's team did not find that the campaign conspired to sway the election, and the Justice Department did not recommend any criminal charges.
The House intelligence committee probe, launched by Nunes when Republicans were in the majority, similarly found that Russia intervened in the election but that there was no evidence of a criminal conspiracy. Schiff was the top Democrat on the panel at the time.
A final vote is expected later Wednesday. If the House votes to censure him, Schiff will stand in the front of the chamber while the text of the resolution is read.
Schiff said last week that the censure resolution was "red meat" that Speaker Kevin McCarthy was throwing to his conference amid squabbles over government spending. Republicans are trying to show their fealty to Trump, Schiff said.
He said he warned the country during impeachment proceedings three years ago that Trump "would go on to do worse. And of course he did worse in the form of a violent attack on the Capitol."
After Democrats won the House majority in 2018, the House impeached Trump for abuse of power after he threatened to withhold military aid to Ukraine and urged the country's president to investigate then-candidate Joe Biden. Schiff was the lead House prosecutor making the case for conviction to the Senate, arguing repeatedly that "right matters." The Republican-led chamber ultimately acquitted him.
Trump was impeached a second time a year later, after he had left office, for his role in the January 6, 2021 insurrection at the Capitol. The Senate again acquitted Trump.
In the censure resolution against Schiff, Luna also cited a report released in May from special counsel John Durham that found that the FBI rushed into its investigation of Trump's campaign and relied too much on raw and unconfirmed intelligence.
Durham said investigators repeatedly relied on "confirmation bias," ignoring or rationalizing away evidence that undercut their premise of a Trump-Russia conspiracy as they pushed the probe forward. But he did not allege that political bias or partisanship were guiding factors for the FBI's actions.
Trump had claimed that Durham's report would reveal the "crime of the century" and expose a "deep state conspiracy" by high-ranking government officials to derail his candidacy and later his presidency. But the investigation yielded only one conviction — a guilty plea from a little-known FBI employee — and the only two other cases that were brought both ended in acquittals at trial.
Democrats argued that the House censure resolution is an effort to distract from Trump's recent indictment on federal charges of hoarding classified documents – several of which dealt with sensitive national security matters — and attempting to conceal them. House Republicans, most of whom are loyal to Trump, say the indictment is more evidence that the government is conspiring against the former president.
"This is clearly a handful of Republican members of the House that are trying to do Donald Trump's bidding and trying to distract from his very serious legal problems," said Democratic Rep. Jason Crow of Colorado.