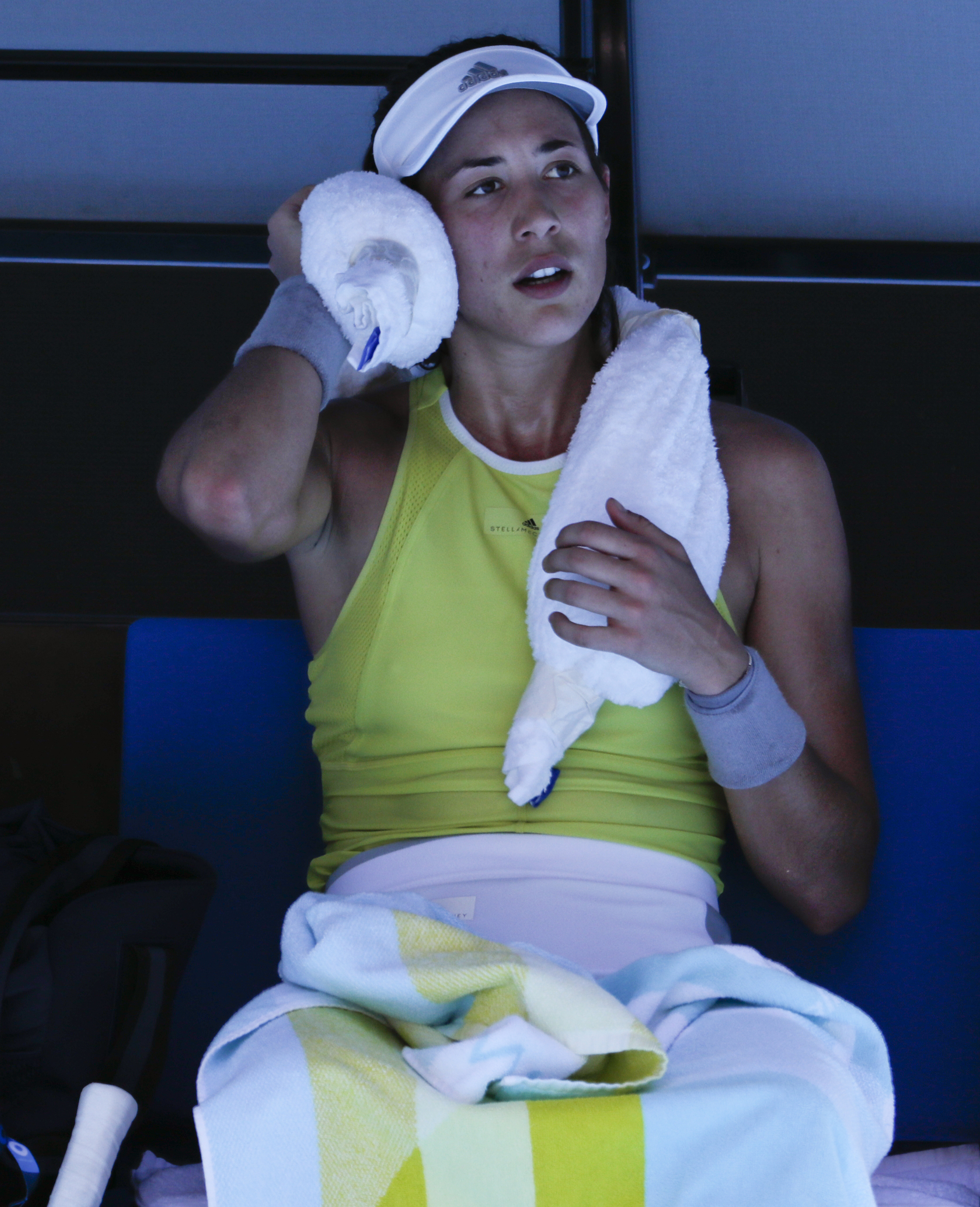 By JOHN PYE
AP Sports Writer
MELBOURNE, Australia (AP) — On a day when shade was a valuable commodity in the searing heat at Melbourne Park, Roger Federer played it cool at the Australian Open.
Six-time champion Novak Djokovic, however, complained about the brutal conditions during his second-round win over Gael Monfils, when the temperature peaked at 40 degrees Celsius (104 degrees Fahrenheit). Djokovic urged tennis organizers to be more flexible about the rules for drink breaks, time between points and suspension of play when the conditions were bordering on dangerous.
Federer, the defending champion, finished off a 6-4, 6-4, 7-6 (4) win over Jan-Lennard Struff a half-hour before midnight, when the temperature was still around 29 degrees C (84 degrees F), and said playing at the height of the heat wouldn't have bothered him.
"I may have thrived in those conditions," he said. "It's definitely a challenge. It's hard to prepare for that in some ways, but you know when you come down here that can happen.
"Sure, I'm happy I played at night time. But, like I said on court, I would back myself playing during the daytime also. Used to go to Dubai when it was 45 — 38 seems almost OK." Temperatures are expected to rise on Friday, before cooling off considerably over the weekend, when Federer and Djokovic's half of the draw is back for the third round.
Stan Wawrinka, the 2014 Australian Open champion, No. 7 David Goffin and No. 13 Sam Querrey didn't make it through the second round. Nor did Wimbledon champion Garbine Muguruza, one of the five seeded women's players who were eliminated on Day 4.
That left only Maria Sharapova and Angelique Kerber — who will meet in the next round — and French Open champion Jelena Ostapenko as Grand Slam winners in the women's draw.
Sharapova beat 14th-seeded Anastasija Sevastova 6-1, 7-6 (4) to avenge a loss in last year's U.S. Open, the five-time major champion's first Grand Slam after returning from a 15-month doping ban.
Kerber, the 2016 Australian Open champion, had a 6-4, 6-1 win over Donna Vekic before the crowd sang "Happy Birthday" to celebrate her 30th birthday.
Still looking for a first major after two French Open final losses, top-ranked Simona Halep held off 2014 Wimbledon finalist Eugenie Bouchard 6-2, 6-2. Halep will next play Lauren Davis.
U.S. Open finalist Madison Keys opened with four straight aces and won the first 11 games in a 6-0, 6-1 win over 92nd-ranked Ekaterina Alexandrova.
Sixth-seeded Karolina Pliskova, No. 8 Caroline Garcia and No. 26 Agnieszka Radwanska also advanced.
Blisters from the hot court surface didn't help Muguruza in a 7-6 (1), 6-4 loss to 88th-ranked Hsieh Su-wei, who has been No. 1 in doubles but had a career-high ranking of 23rd in singles.
Ninth-seeded Johanna Konta also struggled in a straight-set loss to lucky loser Bernarda Pera, an American who is ranked 123rd and making her Grand Slam debut. Pera, who didn't even know she had a spot in the main draw until another player withdrew, will next play No. 20 Barbora Strycova.
Wawrinka left it as late as possible before deciding his knee might just be good enough to get him through the first major of the season. Clearly, the 2014 champion was too ambitious. A 6-2, 6-1, 6-4 loss to 97th-ranked Tennys Sandgren in the second round was his earliest exit in a decade here.
"I only had surgery five months ago," said Wawrinka, who still has a visible scar running down his left knee and hadn't played since Wimbledon. "To be that far already, it's more than what we could have expected."
Wawrinka appeared lethargic and generally didn't threaten Sandgren, who had never beaten a top-10 player. His wins in the first two rounds make Sandgren 2-0 at majors.
Sandgren — his first name comes down from his great-grandfather — said he held his celebrations in check out of respect for an injured opponent.
Still, he added: "It's a huge deal for me, and something that if I don't ever get another accomplishment, I can at least hang my hat on this one."
Djokovic, who won four of the five Australian titles between 2011 and '16 before his shocking second-round exit last year, extended his career head-to-head domination over Monfils to 15-0.
The heat peaked during Djokovic's 4-6, 6-3, 6-1, 6-3 win. Both players slouched over in the shade between points, earning warnings about time delays from the chair umpire.
The win was a relief for Djokovic, but he said officials need to be more considerate about the players in the conditions.
Now seeded 14th, Djokovic needed four match points in an eight-minute last game before clinching the win against Monfils, who needed a medical timeout for heat stress and said he had trouble breathing.
"It was obvious we both suffered on the court today," Djokovic said. "Really tough conditions — brutal."
Juan Martin del Potro, the 2009 U.S. Open champion, had issues with the heat but still advanced along with No. 19 Tomas Berdych, No. 21 Albert Ramos and No. 5 Dominic Thiem, who rallied to beat 190th-ranked American qualifier Denis Kudla 6-7 (6), 3-6, 6-3, 6-2, 6-3.
Djokovic said the conditions were some of the toughest he's ever played in, and had some advice for organizers with temperatures predicted to rise to 42 degrees C (108 degrees F) on Day 5.
"There are certain days where you just have to, as a tournament supervisor, recognize that you might need to give players few extra hours," he said. "I understand there is a factor of tickets. If you don't play matches, people will be unhappy."
But he said the conditions were at the point where it becomes a "danger in terms of health.