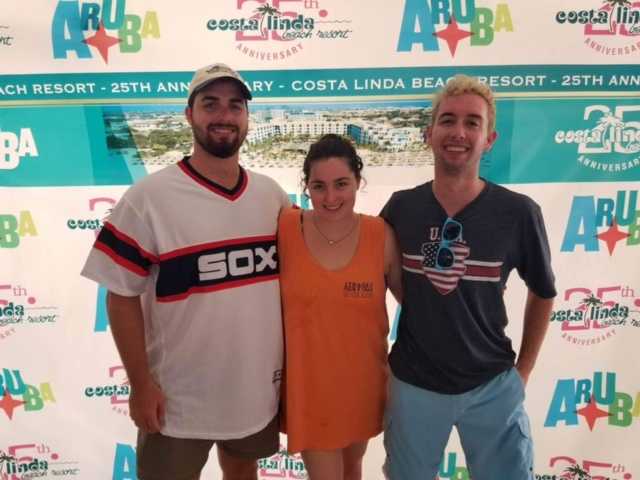 Recently, Marouska Heyliger had the great pleasure to honor the Smith family as Goodwill Ambassadors at their home away from home. The symbolic honorary title is presented on behalf of the Minister of Tourism, as a token of appreciation to the guests who visit Aruba between 10-20-35 and more consecutive years.
The honorees were:
Trevor & Susan Smith residents of Austin Texas
Tim Smith resident of Austin Texas
Phil Smith resident of Austin Texas
Nicole Smith resident of Tucson Arizona
Heyliger together with General Manager, Luigi Heredia, and members of Costa Linda Beach Resort Miriam Rodriquez, and Gloria Janga were present at this special occasion in which they thanked the Smith's for their loyalty throughout these years and for choosing Aruba and Costa Linda as their vacation destination and as their home away from home.
History of the family Smith:
My Husband and I came to Aruba for the first time in August of 1992. We wanted to escape the heat in Texas and avoid any Hurricanes and we fell in love with the Island and the Aruban people. We bought one week at Costa Linda in a two bedroom unit in May.
We brought 7 friends with us when we came back the next year and have brought friends with us most years since. When we found out I was pregnant with triplets in 1995 we upgraded to a 3 bedroom unit in July so we would have more room and be able to bring our kids to Aruba every summer when they would be out of school. In 1996 when the kids were 8 1/2 months old we brought them for the first time and got stuck because of weather in Puerto Rico and missed a day of our vacation and so we bought a second week so we could come for 2 weeks. Aruba and Costa Linda are our family's home away from home and my kids will tell you it is our one cut in stone tradition to come here every summer. We love the friendly staff at Costa Linda who remember us every year when we come back.
Our favorite things now and in the past are the weather is always good and it is out of the hurricane belt. The beautiful blue Ocean and white Sand beaches. The People of Aruba and how safe it is. We have made life-long friends with Sergio Silva and his family who we met when the kids were 4 on a De Palm Island Sun and Sea boat trip to de palm Island. The beautiful Sunsets and watching the turtles hatch. The Natural Bridge and the Natural pool. Horseback riding on the beach and Deep Sea fishing. Seeing the beautiful cactus on the Island. Going to De palm Island and seeing the big blue Parrot fish. Baby Beach. Going on Snorkel boat trips. Eating at El Gaucho. Watching the Pelicans swoop down and catch fish out of the Ocean. The Carnival dancers. Entertaining ourselves in the Casinos.
Coming to the Island once a year is not enough so we hope to one day own a house here and in the meantime we try to get back to the Island as often as possible. The Island was not open last summer so some of us came the day after thanksgiving and then Trevor and I came with friends who have accompanied us the last several summers in February and who are now proud owners of their own two weeks at Costa Linda also weeks 27 and 28.
We recommend Aruba and Costa Linda to everyone we know for the best Island experience you can have.