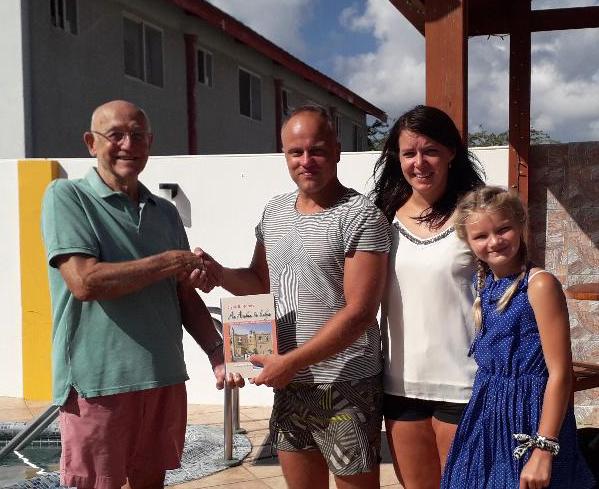 On their very first trip to Aruba, Helin, Tavo and their daughter Hanna became the first "Airbnb" guests at Milagro's Garden Apartments and the first ones to purchase the book An Aruban In Libya written by Clyde Harms, an Exxon retiree. The book tells the stories of his years 1966-1973 with Esso in Tripoli.

The printing of the book was financed by two Venezuelan brothers living in Aruba, Alberto and Irwin Perret-Gentil, as a gift to the Koningin Wilhelmina Fonds, the Aruban foundation equivalent of the American Cancer Society. All profits (100%) from the sale of An Aruban in Libya go to the Foundation.
The book is hard covered, contains 111 pages and over 150 very interesting pictures. Its prologue was written by Mrs. Lynn Long, a frequent visitor to Aruba from Salt Lake City, Utah. It was edited by Irene Peterson who has edited two other books by the same author.
Tavo and Helin tell us that they are enjoying the Aruban sun, the turquoise blue sea and the great variety of cacti. They had a blast visiting the Butterfly Farm several times, climbing the Hooiberg, exploring the Northeast coast and the small lonely beaches. They have found the Arubans very friendly and hospitable. They have tried and enjoyed several ethnic restaurants. When they get back to faraway freezing Talinn, they will long again for the sunny weather of Aruba.
An Aruban In Libya has not yet been launched officially, but it is for sale at the Koningin Wilhelmina Fonds office at Spinozastraat and will be at the local book stores in a couple of days at the very low price of US$ 20. It is a beautiful souvenir of Aruba and would be a wonderful Christmas gift. Purchasing An Aruban In Libya you will also help Aruba fight the dreaded disease.q