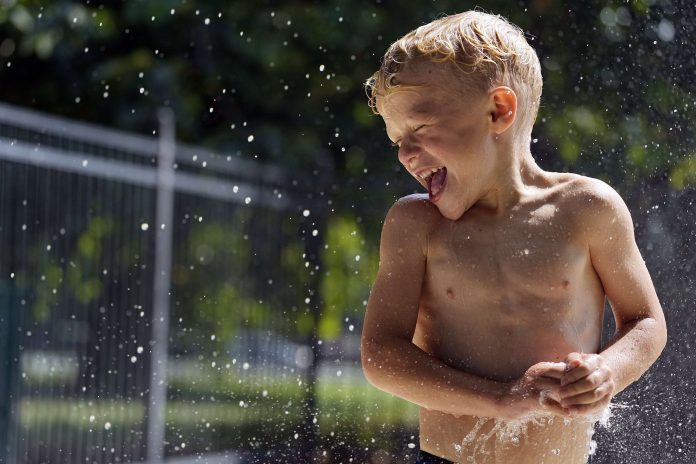 By TOM DAVIES
Associated Press
INDIANAPOLIS (AP) — Smoky haze, hot weather and powerful storms were dulling the start of summer in many parts of the U.S. heading into a long July Fourth weekend.
From heat waves in the South and West to unhealthy air quality in the Northeast, much of the U.S. was under the threat of extreme weather. In the Midwest, people in Illinois and Indiana on Friday were recovering from a powerful storm that moved through a day earlier and packed winds reaching more than 70 miles per hour (112 kilometers per hour).
The storm damaged trees and buildings in the central parts of both states from the Mississippi River to the Indianapolis area. Crews worked to replace electrical lines entangled in downed trees ahead of more expected thunderstorms and temperatures climbing to around 90 degrees Fahrenheit (32 degrees Celsius). Utility companies reported that more than 250,000 homes and businesses were still without electricity.
Brian Alexander, 55, swept up debris from the front yard of his Springfield, Illinois, home that included tree limbs that fell and struck his car, leaving several small dents.
"Very lucky on that," Alexander said. "No power, but we'll manage. We're just waiting for the city to get us hooked up again and we'll get everything cleaned up. Probably go to a hotel tonight."
City Water, Light and Power, the city-owned utility, said 40,000 residents had lost power in the storm, and crews had restored 9,000 by late Thursday. Hundreds of powerlines were down, poles broken and transformers and other electric equipment has been damaged, spokeswoman Amber Sabin said.
The National Weather Service said the storm was a derecho, which is often described as an inland hurricane because of its line of strong winds stretching for hundreds of miles.
"We had damage all the way from northeast Kansas, all the way down into Kentucky and across Indiana," said John Bumgardner, a meteorologist with the National Weather Service in Illinois.
In the South, a dangerous heat wave that has been blamed for the deaths of at least 14 people was expected to last into the weekend in some areas. Forecasters warned that heat indexes could rise above 110 degrees Fahrenheit (43 degrees Celsius) and an excessive heat warning was in place Friday for parts of Tennessee, Arkansas and Mississippi.
In Memphis, Tennessee, officials said relief efforts were focused on those who still had no power after storms Sunday that knocked down trees and power lines. About 10,000 homes and businesses still had no power on Friday morning, according to Memphis Light, Gas and Water.
"To all of those customers, I'm sorry for what you're going through. I know how difficult it can be in the absence of a utility and a commodity that you rely on for your daily life to help you cook, clean, and stay cool," said Doug McGowen, the utility's president and CEO, during a news conference Thursday.
The storm in the Midwest did help clear the region's air of smoke from Canadian wildfires that had prompted warnings for people to stay inside. The Environmental Protection Agency had listed many cities, including Chicago, Detroit, Indianapolis and Cleveland, Ohio, as having "very unhealthy air" earlier in the week.
The EPA warned Friday that parts of Pennsylvania, New York, New Jersey and Connecticut could experience "unhealthy" air conditions because of the wildfires in Quebec and northern Ontario.
"The primary concern is high concentrations of fine particle air pollution that is unhealthy, especially for sensitive groups such as people with respiratory disease, the elderly, or people with compromised health," the agency said.
The Midwest might only have a brief respite from the Canadian smoke as another storm is poised to move through the region Sunday, meteorologist Bumgardner said.
"Behind that our winds will probably switch back to northerly, which theoretically could bring a little more smoke into the area," Bumgardner said. "But that's tough to predict more than a day or two out."
Parts of the West are anticipating extremely hot, dry conditions forecast through the Fourth of July, raising concerns about the danger of fireworks shows and wildfires. Communities that canceled fireworks shows in recent years due to drought still hope to go forward Tuesday. Salt Lake City is replacing fireworks with a drone show.
Airline travelers got some relief Friday, with none of the weather-induced restrictions imposed earlier this week on planes landing and taking off at major airports in the Northeast.
Still, by midday on the East Coast more than 2,000 flights had been delayed and more than 300 others canceled — more than 200 of those on United Airlines, according to FlightAware.
If the trends hold up, United will have the most cancellations of any U.S. airline for a seventh straight day.