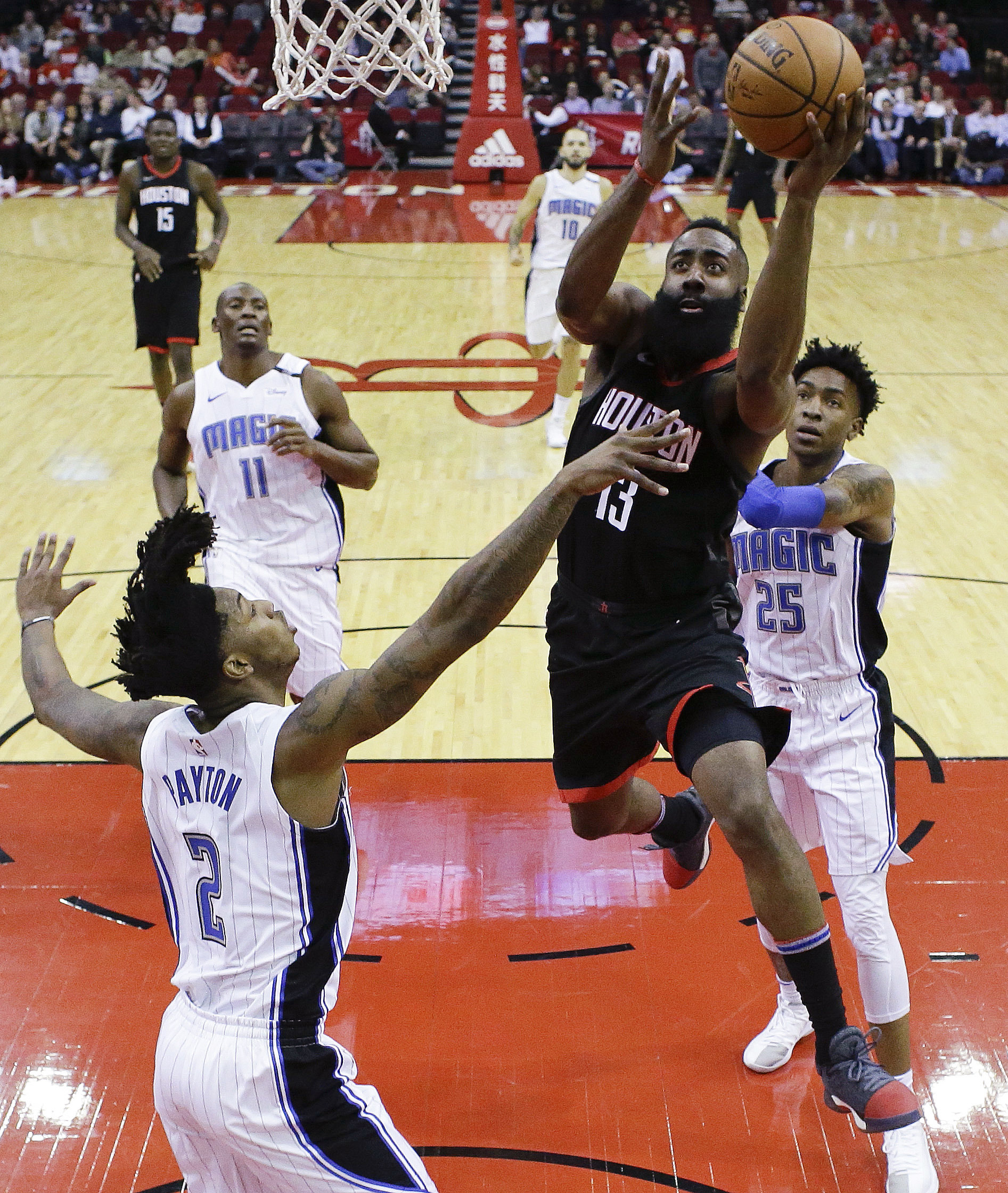 HOUSTON (AP) — James Harden became the first player in NBA history to score 60 points as part of a triple-double and the short-handed Houston Rockets beat the Orlando Magic 114-107 on Tuesday night.
Harden scored 18 points in the fourth quarter to eclipse the 57 points Calvin Murphy scored in 1978 to break Houston's single-game scoring record. After Harden broke the record, cameras in the arena showed a shot of Murphy, who works on the television broadcast team, smiling and clapping for the Beard, who also had 10 rebounds and 11 assists.
The game was tied at 107 after a basket by Marreese Speights with just under four minutes to play. Neither team scored for more than two minutes after that before Harden took over, scoring the next six points to make it 113-107 with 45 seconds left.
He set the scoring mark when he stepped back and made a 3-pointer before crashing to the court after being fouled by Mario Hezonja. He then made the free throw to give him 60 points and bringing the crowd to its feet.
Hezonja and Speights scored 17 points each for the Magic, who dropped their third straight.
PISTONS 125, CAVALIERS 114
DETROIT (AP) — Andre Drummond had 21 points and 22 rebounds, and the short-handed Detroit Pistons beat Cleveland after the Cavaliers lost Kevin Love to a potentially season-altering hand injury.
Love exited in the first quarter with a broken left hand, and the Pistons took advantage of his absence, snapping an eight-game losing streak despite a roster that was depleted by their blockbuster trade for Blake Griffin.
Detroit gave up three players to get Griffin, and neither he nor the other two players the Pistons received in return were available against Cleveland. Drummond — whose own status was in question because of an illness — had a huge game, and Stanley Johnson added a career-high 26 points.
LeBron James scored 21 points for the Cavs, but Cleveland was listless early and outplayed late — and the result felt secondary to Love's health. The team said he had a non-displaced fracture in his fifth metacarpal and his status would be updated after additional examination Wednesday in Cleveland.
WIZARDS 102, THUNDER 96
WASHINGTON (AP) — Beginning what could be a significant stretch without All-Star point guard John Wall, the Washington Wizards got 25 points from Otto Porter Jr., limited Russell Westbrook to 13 and stopped Oklahoma City's eight-game win streak.
Bradley Beal had 21 points and nine assists for Washington, which announced about 7 1/2 hours before tipoff that Wall will have arthroscopic surgery on his left knee Wednesday.
Paul George had 28 points for Oklahoma City, but zero in the fourth quarter. Carmelo Anthony scored 19, but he missed three shots in the final 30 seconds. Westbrook wound up with 10 assists, six rebounds and seven turnovers and made only 5 of 18 shots.
Wall, picked for his fifth All-Star game last week, is second on the Wizards in scoring, averaging 19.4 points, and is second in the league with 9.3 assists per game.
In July, he agreed to a $170 million, four-year contract extension that starts next season.
JAZZ 129, WARRIORS 99
SALT LAKE CITY (AP) — Ricky Rubio scored 23 points and handed out 11 assists as the Jazz stunned the Warriors.
The loss ended a three-game winning streak for the Warriors, who had won seven of eight before facing the Jazz. It was their largest loss of the season.
Warriors coach Steve Kerr seemed to waive the white flag with more than six minutes left in the game, pulling his starters.
Klay Thompson led Golden State with 27 points and six rebounds while Kevin Durant finished with 17.
KNICKS 111, NETS 95
NEW YORK (AP) — Kristaps Porzingis scored 28 points, Enes Kanter had 20 points, 20 rebounds and five assists, and the Knicks completed a New York City sweep of the Nets with a victory.
The Knicks returned home from their longest road trip of the season in new uniforms but their same old dominance of the Nets, with their fourth victory in four tries this season. They dominated the interior again and swept the series for the first time since 2010-11 — before the rivals shared the same city.
DeMarre Carroll scored 13 points for the Nets, who lost their fourth straight game.
RAPTORS 109, TIMBERWOLVES 104
TORONTO (AP) — DeMar DeRozan scored 23 points, Jonas Valanciunas had 18 points and 11 rebounds and the Raptors rallied from a 13-point deficit to beat the Timberwolves.
Kyle Lowry and Serge Ibaka each scored 15 points and Jakob Poeltl had six of his 12 points in the fourth quarter as the Raptors won their 14th straight home meeting with the Timberwolves.
Minnesota has not won in Toronto since Jan. 21, 2004, when current Timberwolves star Andrew Wiggins was eight years old.
Toronto is 19-4 at home this season, the second-best record in the NBA behind San Antonio (21-4).
Jimmy Butler scored 25 points, Wiggins had 15 and Jeff Teague and Gorgiu Dieng each finished with 14 but the Timberwolves lost for the fourth time in five games.
KINGS 114, PELICANS 103
NEW ORLEANS (AP) — Zach Randolph scored 26 points and grabbed 12 rebounds, and the Kings beat the Pelicans.
Kosta Koufos had 17 points and 17 rebounds for the Kings, who were able to exploit the absence of Pelicans All-Star and former King DeMarcus Cousins by getting double-doubles from both of their starting big men.
Rookie De'Aaron Fox and reserve guard Garrett Temple, a former LSU player, each scored 15 for the Kings, who've won three of their last four games.
Anthony Davis had 23 points and 13 rebounds for the Pelicans, while Jrue Holiday scored 21 points and Ian Clark a season-high 20, hitting nine of 10 shots.
SPURS 106, NUGGETS 104
SAN ANTONIO (AP) — LaMarcus Aldridge scored 30 points and the Spurs escaped with a victory over the Nuggets.
The Spurs had four players in double figures, including 18 points each from Kyle Anderson and Pau Gasol.
Every Denver starter scored in double figures with Jamal Murray leading the way with 18 points and Gary Harris adding 17.
San Antonio had to battle to win its 11th straight at home over Denver. There were 18 lead changes and the Nuggets came within inches of a game-winning 19th.
TRAIL BLAZERS 104, CLIPPERS 96
LOS ANGELES (AP) — Damian Lillard scored 28 points and the Trail Blazers pulled away in the third quarter to beat the Clippers.
Los Angeles was playing its first game since Blake Griffin's stunning trade to Detroit on Monday.
CJ McCollum added 16 points and Jusuf Nurkic had 14 points and 18 rebounds for the Blazers, who ended a seven-game skid against the Clippers while winning their third in a row.
Lou Williams scored 20 points off the bench and DeAndre Jordan had 19 rebounds for the Clippers, who made a run in the fourth after they trailed by 20.