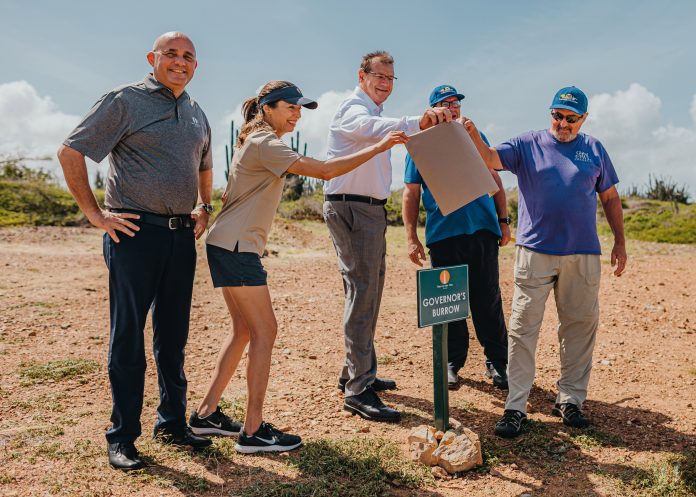 On Saturday morning November 9th 2019, the Governor's car pulled up at the Tierra del Sol Resort and Golf. The Honorable Alfonso Boekhoudt was received by the General Manager, Cisco Quant and the chairman of Aruba Birdlife Conservation, Greg Peterson. Together they escorted him to Hole # 14, Tierra Del Sol's signature hole. Natasha Silva, Conservation Manager and Gian Nunes, head of research of Aruba's National Park and David Johnson of the Global Owl Project received them at Hole # 14, a very special location where the golf course employees and the volunteers of Aruba Birdlife Conservation had already gathered.
Almost 3 years earlier Aruba Birdlife Conservation and National Park Aruba formed a partnership to rescue the Shoco from extinction. They searched for an international partner and invited the Global Owl Project to join in their endeavor. A plan was made and together they then approached Cisco Quant of Tierra del Sol with the request to partner in Aruba's first Shoco Conservation Project. The rest is history…
A fundamental aspect of the Shoco Conservation Project entails offering the Shocos artificial burrows which are strategically placed at safe locations. Over a period of two years, 22 artificial burrows were placed at such safe locations around the Tierra del Sol Golf Course. And the good news is that the shocos love their new artificial burrows!
The partners agreed that the time had come to launch this unique project. Tierra del Sol was ready to serve as the primary example of the Aruba Shoco Conservation Project.
Our Governor is a profound nature lover who has taken an interest in the Shoco Conservation Project from day 1. Just a few weeks ago, the Governor paid an informal visit at Tierra Del Sol to be informed in detail on the progress made. During this visit he discovered that a pair of Shocos had moved in at Hole # 14, yes, at Tierra del Sol's signature golf hole! It goes without saying that it was this artificial burrow site which was chosen for the launch.
So on Saturday the ceremony took place and started with the revealing of a new golf course sign. Since it was the Governor who discovered the shocos at this burrow, it will be named "The Governor's Burrow". To seal the launch, the Governor placed a Shoco perch in front of this very special artificial burrow. And yes, just like the signature golf hole is number 14, henceforth the Governor's Burrow will also carry the number 14!
We are grateful to the Governor of Aruba and to Tierra del Sol for putting their trust into their Shoco Conservation partners. We thank the employees of Tierra del Sol for their ongoing assistance. Aruba Birdlife Conservation extends feelings of appreciation to its partners National Park of Aruba and The Global Owl Project of the United States for their contributions to Shoco Conservation in Aruba. And a very special word of thanks to all our supporters, and above all, to our fabulous volunteers.q