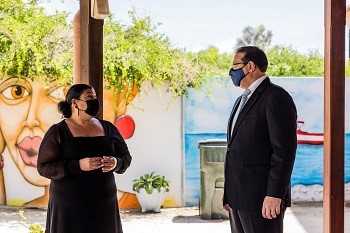 Cas Marie, the meeting center in Savaneta for persons with dementia and their families, celebrated their 15th anniversary last week. The Governor of Aruba, His Excellency Alfonso Boekhoudt, was a guest at the celebration.
Upon arrival, Governor Boekhoudt was received by Ms. Lisette Does. Mr. Boy Escalona, one of the founders, spoke briefly with the Governor and explained the origins of the center and the developments of the past 15 years. After the conversation, Ms. Does showed the Governor around the complex. Finally, the Governor witnessed a part of the small-scale celebration that took place in Cas Marie.
The Cas Marie Foundation offers various services with the aim of improving the quality of life of persons with dementia and their families. These services are daycare services, information services, support services, and support to family or individuals, and Neuropsychological testing services at the request of the specialist. Visit www.casmarie.com for more information.