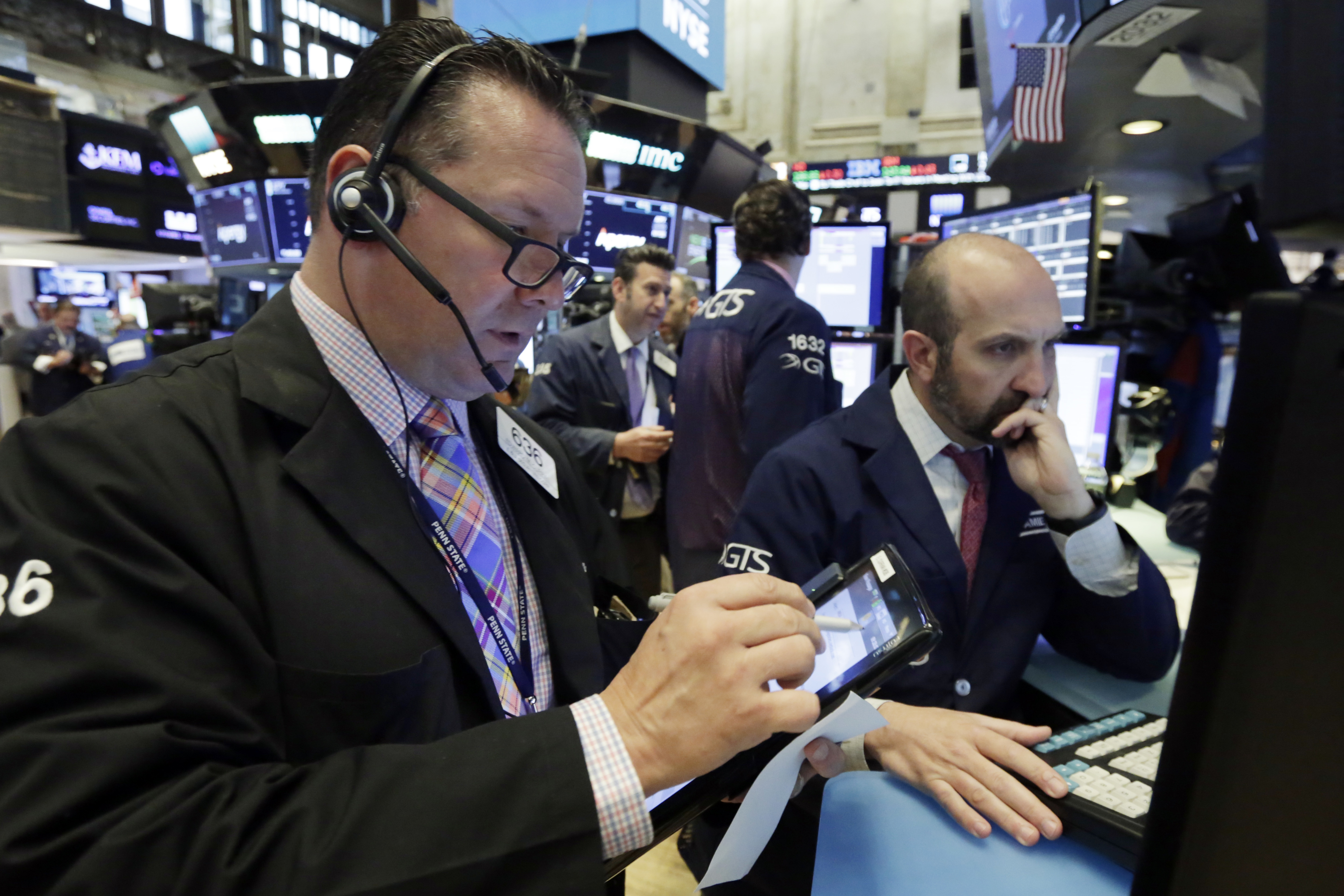 By MARLEY JAY
Associated Press
NEW YORK (AP) — Stocks in the U.S. and Europe are sinking Tuesday following a flare-up of political turmoil in Italy, which stoked fears of instability in the euro bloc. Bond prices are climbing and yields are plunging, while the euro fell to its lowest level against the dollar in almost a year. The drop in U.S. bond yields is causing big losses for banks. Lower yields force interest rates down on mortgages and other kinds of loans, meaning thinner profits for banks. Major exporters like technology and industrial companies are also falling.
The political upheaval in Italy is likely to lead to new elections this fall, and investors are interpreting the upcoming vote as a referendum on Italy staying in the euro. They're worried about decreased international cooperation in Europe, which could impair global economic growth. Those same worries led to a big drop two years ago after Britain voted to leave the European Union, although that skid proved to be short-lived. Investors sold stocks, especially companies that depend on strong sales outside the U.S. like technology and industrial companies and big drug and health care products makers. They bought government bonds in the U.S. as well as Germany and the U.K. That sent prices for those bonds higher and yields lower.
The S&P 500 index sank 33 points, or 1.2 percent, to 2,688 as of 12:40 p.m. Eastern time. The Dow Jones industrial average lost 385 points, or 1.5 percent, to 24,372. The Nasdaq composite fell 43 points, or 0.6 percent, to 7,390. Smaller companies, which tend to be more U.S.-focused than the large multinationals in the Dow, fared much better than the rest of the market. The Russell 2000 index fell just one-fifth as much as the Dow average, giving up 5 points, or 0.3 percent, to 1,621. U.S. markets were closed Monday for the Memorial Day holiday. Italian President Sergio Mattarella picked Carlo Cottarelli for prime minister after the anti-establishment 5-Star Movement and right-wing League refused to withdraw an anti-euro candidate as economy minister.
That ended their attempt to establish a government after inconclusive elections in March. Cottarelli is likely to lose a vote of no confidence in parliament, which would mean another round of elections. Investors dumped Italian stocks and bonds as a result. Italy's FTSE MIB stock market index lost 2.7 percent and yields on Italian government bonds soared as their prices declined. The yield on the 10-year Italian government bond jumped to 3.10 percent from 2.69 percent, a huge move. That reflects weakening confidence among investors in Italy's government. The German DAX lost 1.5 percent and Britain's FTSE 100 sank 1.3 percent. The French CAC 40 slumped 1.3 percent.
The dollar rose to 108.57 yen from 109.37 yen. The euro sank to $1.1551, its lowest since July, from $1.1669. Spain was facing political turbulence of its own. That country's parliament will hold a vote of no confidence in Prime Minister Mariano Rajoy after graft convictions of businesspeople and officials tied to his conservative Popular Party. All major parties, except for the ruling People's Party, are calling for Rajoy to step down. The Spanish IBEX 35 sank 2.5 percent. U.S. government bond prices rose as investors moved money into lower-risk assets. The yield on the 10-year Treasury fell to 2.82 percent from 2.93 percent late Friday, a large move. That sent interest rates lower, which reduces profits for banks. JPMorgan Chase dropped 3.7 percent to $106.58 and Bank of America fell 3.5 percent to $29.10.
When the dollar gets stronger, it can hurt companies that export goods from the U.S., as it makes their products more expensive in overseas markets. Among industrial companies, construction equipment maker Caterpillar shed 1.7 percent to $153.27 and farm equipment maker Deere fell 2.7 percent to $154.78. Health care products giant Johnson & Johnson fell 2 percent to $119.20 and drugmaker Abbott Labs lost 2.2 percent to $60.99. All of those companies get about half their revenue from outside the U.S., while almost two-thirds of Abbott's sales come from overseas. Technology companies, which get more of their revenue from outside the U.S. than any other part of the S&P 500, also fell. Google's parent company Alphabet lost 1.5 percent to $1,068.21 and Mastercard fell 2.3 percent to $186.80.
Disney skidded 2.7 percent to $99.45 after its latest Star Wars film made far less money than experts expected over the holiday weekend. Disney said "Solo: A Star Wars Story" will gross about $101 million in North America, but some forecasts were as high as $150 million. U.S. crude oil fell 2.8 percent to $66 a barrel in New York. Oil prices have slumped in the last week following reports that OPEC countries and Russia could start pumping more oil soon. Brent crude, used to price international oils, lost 0.5 percent to $74.95 per barrel in London.
Kinder Morgan climbed 2 percent to $16.20 after the Canadian government said it will buy an oil pipeline to the Pacific coast to ensure it gets built. Kinder Morgan will get $3.4 billion in the deal. The company halted essential spending on the project and said it would cancel it if the national and provincial governments could not guarantee it. In Asia, Japan's Nikkei 225 fell 0.6 percent while the South Korean Kospi lost 0.9 percent. Hong Kong's Hang Seng index plunged 1 percent.