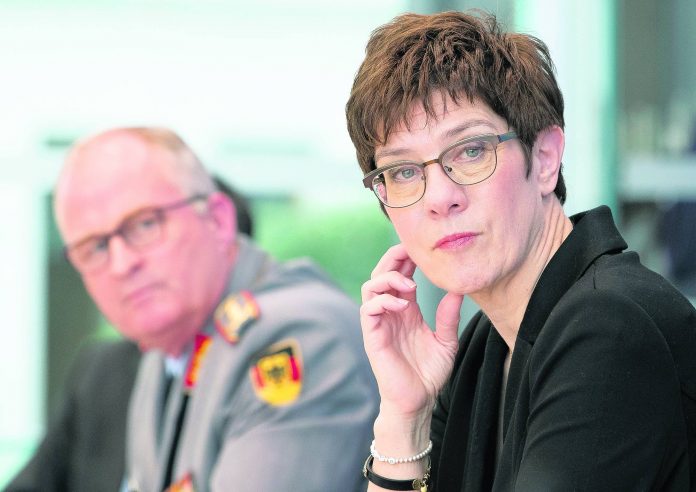 The German government has agreed on a bill that would speed up the dismissal of soldiers involved in extremism or serious crimes.
Current military rules mean that soldiers who have served for more than four years can only be kicked out after they have been convicted of a crime or removed as part of a court-led disciplinary procedure. In practice, this can mean soldiers remain in the military for years until they are removed.
The bill proposed Wednesday by Defense Minister Annegret Kramp-Karrenbauer allows the military to swiftly expel soldiers if their continued presence would "seriously threaten the military order or the reputation of the Bundeswehr" and they have served fewer than eight years.
German officials have expressed alarm over the recent discovery of several far-right extremists in the military, including a member of the special forces unit KSK who had hoarded weapons, ammunition and explosives at home. Last month, the head of the unit, Brig. Gen. Markus Kreitmayr, told soldiers that he wouldn't tolerate extremism in the ranks.
The bill still needs to be passed by parliament.q
EU, China postpone
September summit
due to pandemic
BERLIN (AP) — The European Union and China have agreed to postpone a summit planned for this fall because of the coronavirus pandemic, German officials said Wednesday.
Germany's Chancellor Angela Merkel spoke by phone with Chinese President Xi Jinping and later with European Council President Charles Michel to discuss the Sept. 14 meeting, due to be held in the German city of Leipzig and seen as a key moment in EU relations with China.
In a statement, Merkel's office said the three sides agreed that "the meeting can't take place at the envisaged time due to the overall pandemic situation." They also agreed to hold it at a later date and to discuss further details soon.
The European Union has tried to position itself as a mediator between China and the United States.
But relations between China and the 27-nation bloc have been strained recently by economic rivalry, questions over China's role in Hong Kong and by some EU members' concerns about Chinese telecoms equipment provider Huawei.
China's efforts to woo some EU countries through economic cooperation programs have also caused unease in Brussels.q
Mexico finds links
to over $1 billlion
in cartel money
MEXICO CITY (AP) — Mexican financial regulators said Tuesday they have frozen the bank accounts of 1,939 people and companies believed to be linked to movements of about $1.1 billion in Jalisco drug cartel money.
The country's anti-money laundering agency said it worked with the U.S. Drug Enforcement Administration to identify the 1,770 people and 167 companies caught up in the financial dragnet, dubbed "Operation Blue Agave." Blue agave is the cactus-like plant used to make tequila, which is the signature drink of Jalisco, the cartel's home state.
Mexico's Financial Intelligence Unit said the investigation involved "the main leaders, financial operators, relatives, businesses, lawyers and public servantes that used corruption to benefit the illegal activities of this organized crime group."
The unit reported that thousands of suspect domestic transactions were detected, which moved the equivalent of about $666 million.
Dubious international transfers were found to have moved about $330 million, and another $137 million in suspect U.S. dollar cash transactions had been found. The money is believed linked to the Jalisco New Generation Cartel, a hyper-violent group that has fought its way to the forefront of the Mexican underworld.