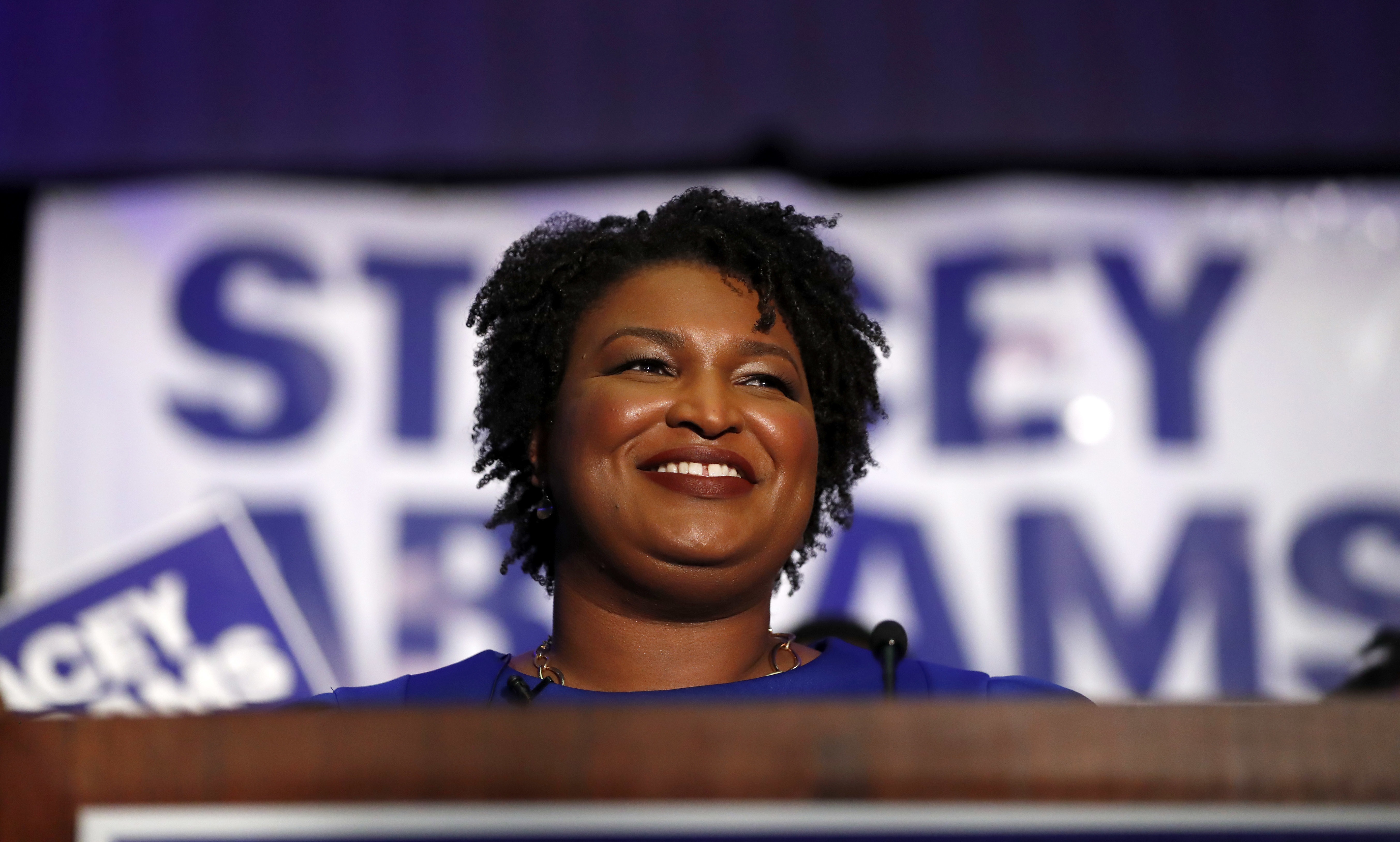 By BILL BARROW
Associated Press

ATLANTA (AP) — Georgia Democrats gave Atlanta lawyer Stacey Abrams a chance to become the first black female governor in American history on a primary night that ended well for several women seeking office. Abrams set new historical marks with a primary victory Tuesday that made her the first black nominee and first female nominee for governor of either majority party in Georgia. Voters also picked nominees in Kentucky, Arkansas and Texas ahead of the November midterms. A closer look at key story lines:
GEORGIA GOVERNOR'S RACE
Democrats were set to nominate a woman for governor either way, with Stacey Abrams and Stacey Evans battling it out in a pitched primary fight. But the 44-year-old Abrams stood out in her bid to be the nation's first African-American woman to lead a state. The former state General Assembly leader was insistent that the way to dent Republican domination in Georgia wasn't by cautiously pursuing the older white voters who had abandoned Democrats over recent decades. Rather, she wanted to widen the electorate by attracting young voters and nonwhites who hadn't been casting ballots.
She will test her theory as the underdog against either Lt. Gov. Casey Cagle or Secretary of State Brian Kemp, who will meet in Republican runoff in July. Cagle led a five-man Republican field, with Kemp qualifying for the second spot after a campaign that was a sprint to the right on everything from immigration to support for President Donald Trump. Kemp promised to keep pulling in that direction, with Cagle trying to balance the demands of a conservative primary electorate with his support from the business establishment.
The scenario worried some Georgia Republicans who were accustomed to centrist, business-aligned governors who rarely flouted Atlanta-based behemoths like Delta and Coca-Cola.
Some GOP figures worried the GOP gamesmanship on immigration and gay rights, in particular, already had ensured Georgia wouldn't land Amazon's second headquarters.
TEXAS CONGRESSIONAL RUNOFFS
Texas had three House runoffs that will be key to whether Democrats can flip the minimum 24 GOP-held seats they would need for a majority in next year's Congress. All three were among 25 districts nationally where Trump ran behind Hillary Clinton in 2016. Democrats nominated women in two of the districts and a black man in the third. Attorney Lizzie Fletcher far outpaced activist Laura Moser in a metro-Houston congressional contest that became a proxy for Democrats' fight between liberals and moderates.
National Democrats' campaign committee never endorsed Fletcher, but released opposition research against Moser amid fears that she was too liberal to knock off vulnerable Republican Rep. John Culberson in the fall. In a San Antonio-Mexican border district, Gina Ortiz Jones, an Air Force veteran and former intelligence officer, got Democrats' nod to face Republican Rep. Will Hurd in November. Jones would be the first openly lesbian congresswoman from her state. Hurd is black. Former NFL player Colin Allred won a battle of two attorneys and former Obama administration officials in a metro-Dallas House district.
Allred, who is black, topped Lillian Salerno and will face Republican Rep. Pete Sessions in November. The Democratic Congressional Campaign Committee lined up behind Allred after the group's initial favorite failed to make the runoff. Among Republicans, Texas Sen. Ted Cruz showed off his endorsement muscle, with his former chief of staff, Chip Roy, winning a competitive runoff for a San Antonio-area congressional seat opened by the retirement of Rep. Lamar Smith. In the governor's race, Democrats tapped former Dallas County Sheriff Lupe Valdez to take on Republican incumbent Greg Abbott in November. Valdez is Texas' first openly gay and first Latina nominee for governor.
DEMS BATTLE IN KENTUCKY
Voters in a central Kentucky congressional district opted for retired Marine officer and fighter pilot Amy McGrath over Lexington Mayor Jim Gray to advance to a fall campaign against Republican Rep. Andy Barr. National Democrats once touted Gray as one of their best recruits in their efforts for a House majority. They said in recent weeks they'd be happy with McGrath, but the race still shaped up as a battle between rank-and-file activists and the party establishment. McGrath was making her first bid for public office, among a handful of female Naval Academy graduates running for Congress this year.
Gray also lost a 2016 Senate race. In eastern Kentucky's Rowan County, voters denied the Democratic nomination to a gay candidate who wanted to challenge the local clerk who denied him and others same-sex marriage licenses. David Ermold had wanted to face Republican Kim Davis, who went to jail three years ago for denying marriage licenses in the aftermath of an historic U.S. Supreme Court decision legalizing same-sex marriage.
ARKANSAS' HEALTH CARE PREVIEW
While Washington fixates on the daily developments in the Russia election meddling investigation, Democratic congressional candidates insist they'll win in November arguing about bread-and-butter issues like health care. Arkansas state Rep. Clarke Tucker captured Democrats' congressional nomination in a Little Rock-based district by telling his story as a cancer survivor. Though he faced a crowded primary field, his real target all along has been Republican Rep. French Hill, who voted many times to repeal the 2010 Affordable Care Act.
The Arkansas district may not be at the top of Democrats' national target list, but it's the kind of district the party might have to win to be assured of regaining House control in November. The state's Republican governor, Asa Hutchinson, dispatched primary opposition as he sought another term. Democrats nominated former Teach for America executive Jared Henderson.