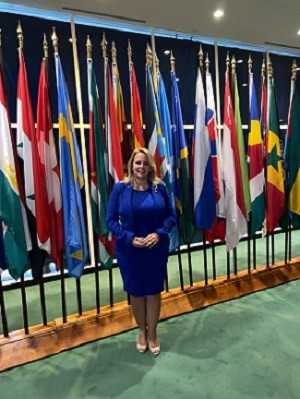 From September 21 to 27, 2021, the 76th session of the General Assembly of the United Nations took place in New York. The National Assembly takes place every year. The theme of this year was "Building resilience through hope – to recover from COVID-19, rebuild sustainably, respond to the needs of the planet, respect the rights of people, and revitalize the United Nations".
Due to the pandemic this year, the General Assembly was partly virtual, combining in-person and online speeches. Prime minister Evelyn Wever-Croes participated in the online sessions and also attended in person as part of the delegations of the Kingdom of the Netherlands.
The United Nations is an essential partner for Aruba. Especially for us as a small country to achieve positive and sustainable development. Now that Aruba is on its path to recovery from COVID-19, the United Nations is an even more important partner for our island.
Last week the Prime Minister participated in some online sessions. On Friday, September 24, she was present at some of the sessions in New York. This week some online sessions will continue. As part of the delegation of the Kingdom of the Netherlands, the Prime Minister's presence at the Assembly is to put Aruba once again on the international map, which is essential for our recovery.
"Our primary focus is to bring more investment and to create more employment which is what we need to recover from the pandemic and its effects", the Prime Minister stated.