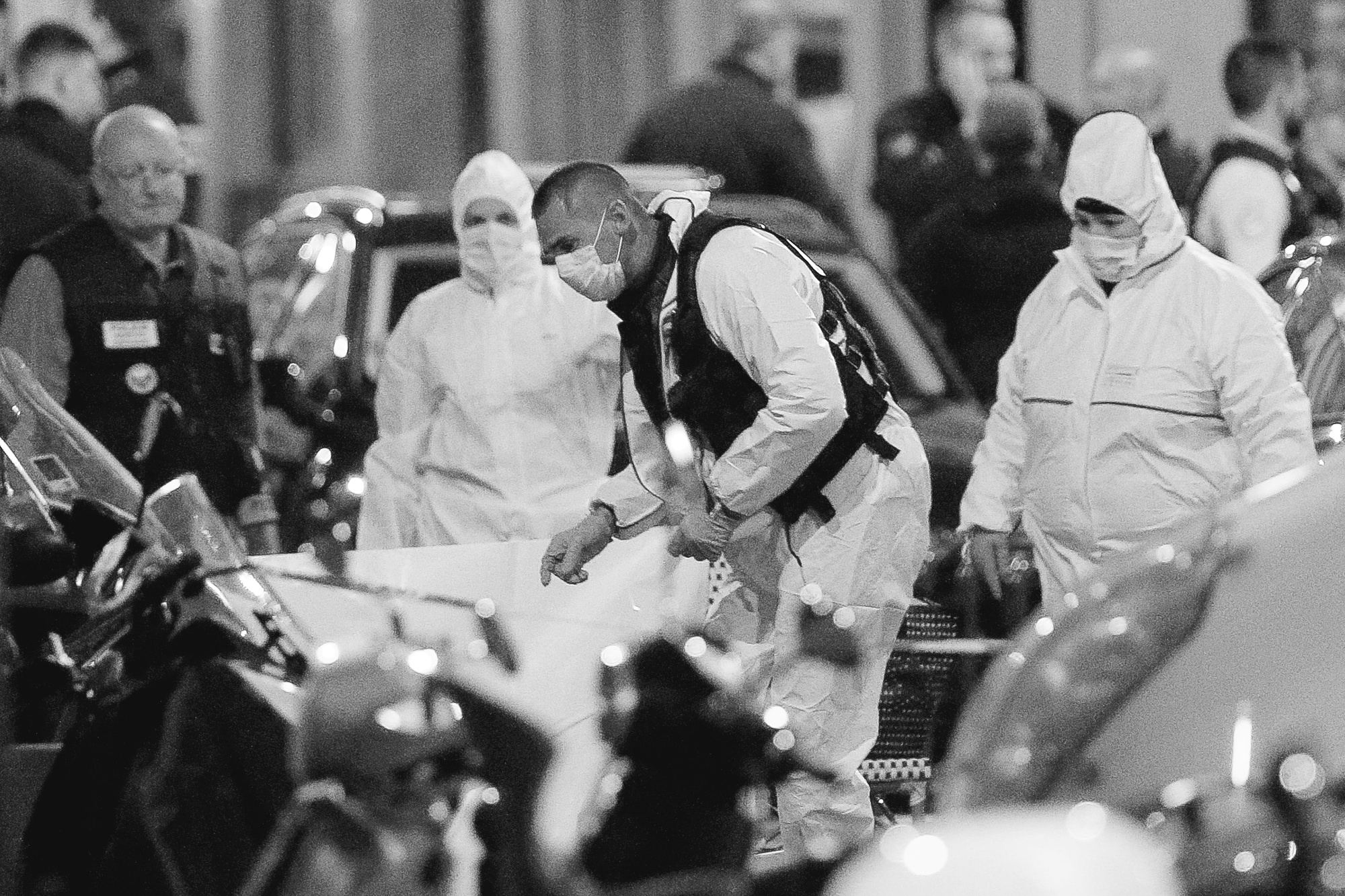 By ELAINE GANLEY
Associated Press
PARIS (AP) — Investigators are following the trail of a 20-year-old Frenchman born in Chechnya who rampaged through a festive Paris neighborhood slashing passers-by with a knife, raising anew the specter of terrorism in France after less than two months of calm. Using a knife, the man identified as Khamzat Azimov killed one person and wounded four others in a festive area near Paris' old opera house. Police shot him to death as he charged them, witnesses said. Less than 24 hours later, investigators were questioning three people — his parents and a friend.
The Islamic State group quickly claimed responsibility for the Saturday night attack via its Aamaq news agency, saying Azimov was their "soldier" acting in response to the group's calls for supporters to target members of the U.S.-led anti-IS military coalition, a stock response. France's military has been active in the coalition since 2014. On Sunday, Aamaq released a posthumous video said to show the attacker calling on Muslims in Europe to "take action in the land of disbelievers" if they can't travel to the crumbling caliphate in Iraq and Syria, which has been pounded by coalition forces. The man said French citizens should pressure their government "if you want it (attacks) to end."
SITE Intelligence Group, which monitors jihadi propaganda, obtained the video, which could not be independently authenticated. The young man's face is covered, except for his eyes, with a black bandanna and the hood of his coat. The video was made outside amid trees and falling rain. French authorities had no comment. Police detained Azimov's parents in the northern 18th district of Paris and held a friend from Strasbourg in that city on the border with Germany in eastern France, French officials said. The friend was detained Sunday afternoon. A security official said investigators searched the Paris residence of the parents. The official wasn't authorized to speak about the investigation and insisted on not being quoted by name.
French media reported that the family had lived in Strasbourg, and it wasn't clear if the suspect moved to Paris with his parents. Counterterrorism investigators want to know if the assailant had help or co-conspirators. The attacker killed a 29-year-old man and wounded four other people, one from Luxembourg, before police fatally shot him. The suspect was on a police watch list for radicalism, a judicial official not authorized to speak publicly about the case told The Associated Press. But he had a clean criminal record and did not know his victims, Interior Ministry spokesman Frederic de Lanouvelle said. Witnesses reported hearing the man shouting "Allahu akbar," the Arabic phrase for "God is great," during the attack that happened at about 9 p.m. in a lively area near the Opera Garnier.
The assailant obtained French nationality in 2010, the Interior Ministry spokesman said. He was born in November 1997 in the largely Muslim Russian republic of Chechnya, where extremism has long simmered. Chechens have been among the numerous foreign fighters in Syria and Iraq, some joining the Islamic State cause early in the fighting. Chechnya's president weighed in after the rampage, perhaps striking a nerve by insisting Sunday that France bears responsibility for the knifings. He said Azimov held a Russian passport only until he was 14 years old. "I consider it necessary to state that all responsibility for the fact that Khamzat Azimov went on the road of crime lies completely with the authorities of France," Chechen President Ramzan Kadyrov said.
"He was only born in Chechnya, and his growing up, the formation of his personality, his views and persuasions occurred in French society." France has counted the most foreign fighters in Syria and Iraq of all European nations, many — but not all — of North African origin. At home, IS sympathizers have killed more than 200 people in France in recent years — 130 in an attack on revelers in 2015. The last attack occurred in March near the touristic southern town of Carcassonne where an extremist with a gun killed three people, two in a supermarket, including an officer who exchanged himself for a hostage. Like the Carcassonne killer, the Paris assailant was listed in a nationwide database of thousands of people suspected of links to radicalism, according to the judicial official. Extremists behind multiple attacks in France in recent years have turned out to be on the watch list.
The attacker targeted five people and then fled, according to Paris police and a witness. When police officers arrived minutes later, he threatened them and was shot dead. Several witnesses said the attacker ran directly toward police. Bar patrons and opera-goers described surprise, confusion and panic as the drama unfolded, with people crawling under restaurant tables, and ordered to stay inside while the police operation was underway in the 2nd arrondissement, or district, on Paris' Right Bank. "I was working in the restaurant and suddenly I heard a woman screaming … he came and attacked her," recalled Jonathan, a witness working nearby who wouldn't provide his last name. "That's when the panic started.
Everyone started screaming and trying to reach our restaurant. … The attacker just kept walking around with his knife in his bloodied hands." A 23-year-old Brazilian tourist from Washington told AP that she and her aunt saw the fatally wounded victim on the ground and watched the ambulance arrive and rescue workers try to revive him. "They kept doing CPR for what seemed to be a really long time and, in the end, he passed, and they put the sheet over him," Carolina Melo said. She said she and her aunt had been in their hotel, went out to investigate the noisy confusion nearby but retreated after hearing several gunshots. The scene "was kind of a mess," she said. U.S. Secretary of State Mike Pompeo said the United States would lend a hand in the investigation.
"The French authorities with all the intelligence help the United States can provide will do our best to unpack this in the coming hours," Pompeo said on "Fox News Sunday." However, one man who works in the neighborhood where the rampage occurred saw a grim pattern.
In a quarter of theaters and cafes, "It's a good life and that's probably what these people want to try to kill," said Arnaud Contival, owner of an IT company. "I think that it's the basics of terrorism … anybody can be in any street, anywhere and they (attackers) are successful for a moment."