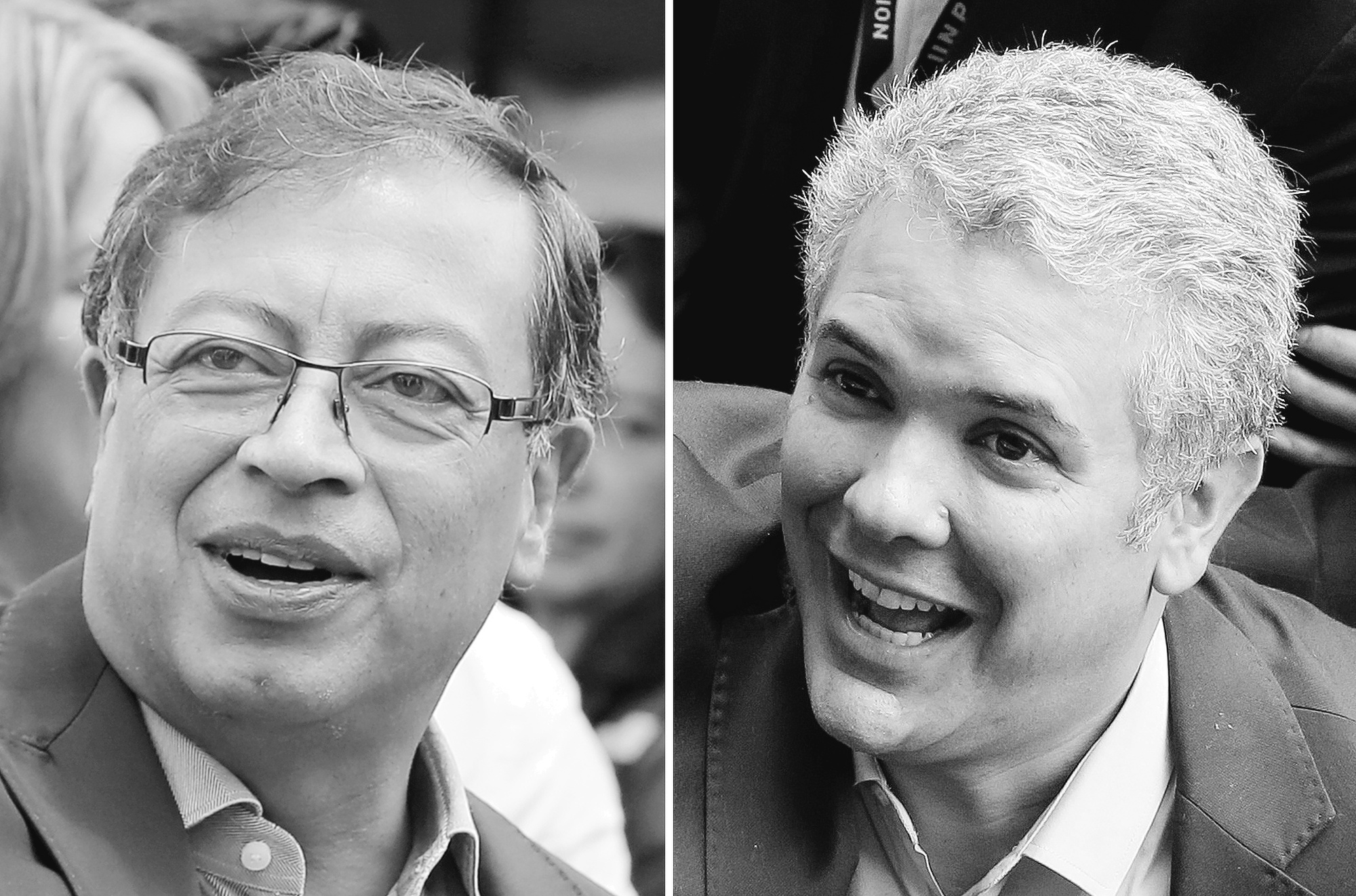 By CHRISTINE ARMARIO
Associated Press

BOGOTA, Colombia (AP) — Voters looking to move past five decades of bloody conflict in Colombia were choosing between a former leftist guerrilla and a young conservative lawmaker to lead the nation as it implements a still-fragile peace accord. One-time militant and former Bogota mayor Gustavo Petro and frontrunner Ivan Duque harbor contrasting views on the historic accord ending Latin America's longest-running conflict and could significantly shape how Colombia proceeds with putting key aspects of it into motion.
Petro is vowing to uphold the 310-page deal reached in 2016 while Duque wants to make changes like requiring ex-combatants to serve time before entering politics if they are guilty of crimes against humanity. Under the final agreement, rebels who fully confess and offer reparations to victims are unlikely to be sent behind bars. "Undoubtedly, for the peace process, this is an important test," said Patricia Munoz, a professor of political science at the Pontifical Xavierian University in Bogota. Duque won a first-round vote held in June, topping Petro by 14 percentage points but falling short of the majority needed to avoid a runoff.
Recent polls indicate Duque still holds a decisive advantage but suggest the distance between the candidates was narrowing. The hopes and fears of many voters were palpable as Colombians lined up at voting centers. Petro supporters said they believe the nation needs a radical change to uproot endemic corruption and inequality, while Duque loyalists expressed worry his leftist rival would lead Colombia toward becoming "another Venezuela." "For me, neither was an option," said Adriana Suarez, 28, who supported a more centrist candidate who lost in the first round and decided to cast a blank ballot in the runoff.
Packed crowds cheered and took pictures with their cell phones as the candidates showed up at their polling sites. Both were accompanied by their children. "I've come here to fulfill a dream," Duque said. "For Colombia to be governed by a new generation, one that wants to govern for all and with. One that unites the country and turns the page on corruption."
Duque is the protege of powerful former President Alvaro Uribe. On the cusp of turning 42, Duque would become the youngest president in Colombia in more than a century. Critics are wary that the father-of-three's limited experience in politics could leave him dependent on Uribe, who is the leader of his party's bloc in the Senate.
Though millions of Colombians praise Uribe, some giving him an even cult-like status, others contend his advances as president came at the price of grave human rights abuses. While he succeeded in boosting Colombia's economy and weakening illegal armed groups, Uribe presided over the government at a time when military officers killed thousands of poor civilians who were then dressed up as rebels to inflate body counts in exchange for vacations and bonus pay. After casting his vote Sunday, Uribe said Duque is the best guarantee against Colombia falling victim to "destructive socialism" in the mold of Venezuela, the country's crisis-wracked neighbor.
In a sign of how tense relations between the two camps remain, even acts of nature have turned into fodder for political jousting. A week before the vote, a swarm of aggressive bees attacked supporters who showed up to see Uribe speak at a Duque rally in a small town in northern Colombia. Supporters of Duque accused Petro backers of launching the bees in an act of "biological terrorism." "Now African bees as Petristas," Petro groaned later on Twitter, using the play on his last name used to describe his supporters. "Is it because they are worker bees?" Officials later said the more likely explanation was that Uribe's helicopter had stirred the bees into a frenzy.
Petro, a former member of the M-19 guerrilla group that signed a peace accord with the government in 1990, is promising to overhaul Colombia's economic model. He wants to free Colombia from dependency on fossil fuel exports and raise agricultural production by increasing taxes on unused lands and giving them to poor farmers if the owners sell them to the state. His early fondness for the late Venezuelan socialist leader Hugo Chavez and a now-ditched campaign pledge to rewrite the constitution have nonetheless stirred fears among detractors. "He's a dangerous person," said Katherine Cuellar, 39, who works in the design industry and voted for Duque.
But Petro's message resonated with voters like businesswoman Patricia Cardenas, 39, who said she is fed up with the same politicians who have failed to deliver on their promises.
"With him we are going to have real change," she said. Analysts say Petro's candidacy is an important development in a country where more than five decades of conflict against rebels created a stigma around any candidate who appeared to sympathize with leftist causes. If he were to win, he'd likely face an uphill battle in implementing any of his campaign proposals. His allies represent a minority in congress and would struggle to pass any laws. Duque's proposed changes to the peace accord also could encounter resistance.
Though he could implement reforms by decree, he would more likely choose to go through Congress. Even though his allies represent a majority, some could push back against any changes that would put the accord on shaky ground. In the final weeks before the vote Duque has repeatedly said that he does not want to "shred the accord to pieces." Among those casting ballots Sunday were former rebels with the Revolutionary Armed Forces of Colombia, who have formed a political party since demobilizing last year. "Today we have an historic opportunity to bring profound changes to our country," said Rodrigo Londono, the leader of the former guerrillas who withdrew his own presidential bid earlier this year. "And in large part because of the peace process that all Colombians are taking part in."