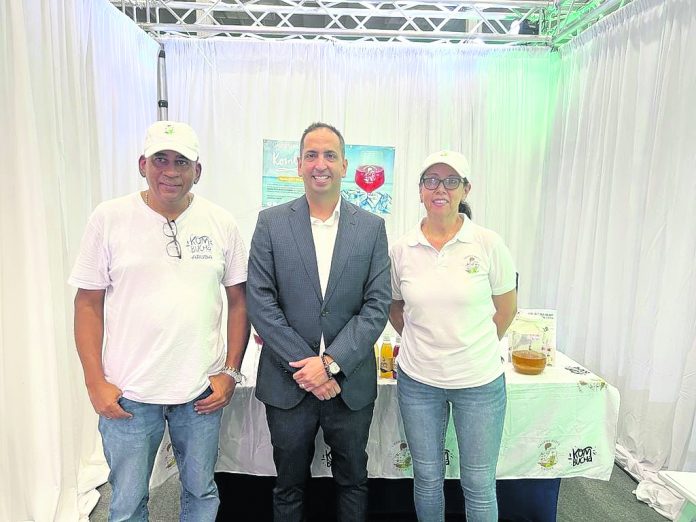 Last Saturday, at the Betico Croes Sports Complex, the Health Expo Together Against Chronic Disease took place, where professionals in the health sector came together to give recommendations and tips for people wanting to lead a healthier life.
In the presence of various ministers and members of Parliament, the Health Expo Together Against Chronic Disease started at 10am with a speech by minister of Health and Tourism, Mr. Dangui Oduber. He expressed that after two years it was possible to organize this conference, which was programmed since 2020 but had to be postponed because of the Covid-19 pandemic.
"This expo, Together Against Chronic Disease, is very important in the context of our national prevention plan. Today we are very happy that we could count with the presence of interim Governor, Mr. Agustin Vrolijk as well as the alternate president of Parliament, Mr. Raymond Kamperveen, who showed their support and trust in the National Prevention Plan", Oduber commented.
This plan was introduced in 2020, and it is currently in implementation. The minister pointed out that the community of Aruba isn't the healthiest, and many suffer from chronic diseases which are responsible for many deaths. The special focus of this expo is to "provide a platform to all foundations that are working to fight chronic disease, to offer their services as well as free medical check-ups today, which are very important to take care of your health", Oduber said.
Sugar, cholesterol and blood pressure checks, among others, were carried out. The attending public received information about what people need to do to have a healthier community. Healthy food options were also provided, including classic Aruban snacks like pastechi, croket and cake, but without sugar, salt and with more natural ingredients.
"I find it very interesting how we are transforming, that there are more and more small businesses that believe in a healthier community in the lifestyle that we want, because at the end of the day, when you improve your health and change your lifestyle this improves your quality of life and extends your lifespan", Oduber said.
Regarding AZV, Oduber said that for many years the general health insurance was focused on curative care, and it was in the last few years that they are looking more in the area of prevention. With prevention, maybe the results are not immediately seen, but it takes some time to see results in numbers. But right now, they will share with the community during the launch of the Aruba Healthy Lifestyle Centre, which is a project funded by AZV for the first time in history. The intention is to help all those who have problems with obesity to receive guidance, coaching, providing them with a menu which they can use daily to change and adapt their lifestyle. This intervention is to avoid that the people develop diabetes or kidney disease requiring dialysis, oftentimes needing hospitalization and resulting in death.
"AZV and the ministry of Health support these initiatives so that we can shift from the curative aspect to the preventative aspect, because we are convinced that together with the health platform and the foundations we will reach a healthier community", Oduber said.
During this expo, the hospital also showed a dialysis machine, considering that this is a good reason for people to become more aware regarding prevention so that the future generations will not suffer from preventable chronic disease. A community that is well informed and has all the necessary tools can prevent these types of disease.
Until 2020, 70 percent of the population of Aruba was overweight and 30 percent of them were obese. This is because people do not address these issues, which is not an option anymore. Oduber commented that they began this program to create awareness and for people to take action, for a healthier community.