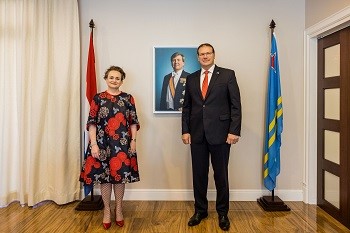 On Tuesday, February 15, 2022, the State Secretary for Kingdom Relations, Mrs. Alexandra van Huffelen, had an audience with the Governor of Aruba, His Excellency Alfonso Boekhoudt.
Since the end of last week the new State Secretary has been paying a working visit to all Caribbean (egg) countries of the Kingdom. It is the first time that the State Secretary and the Governor meet in person. Previously there has been contact by telephone and video conference.
During the audience at Cas Ceremonial the implementation of the Land Package Aruba, the standardization of top incomes and the refinancing of the Dutch loans were discussed. Ms. Van Huffelen was accompanied during this visit by Mr. Henk Brons, Director General of Kingdom Relations, Ms. Saskia de Reuver, Director of Kingdom Relations/Countries and Mr. David Abrahams, Deputy Representative of the Netherlands in Aruba. On Thursday late afternoon the delegation will leave for St. Maarten.
Photo courtesy of Cabinet of the Governor Aruba