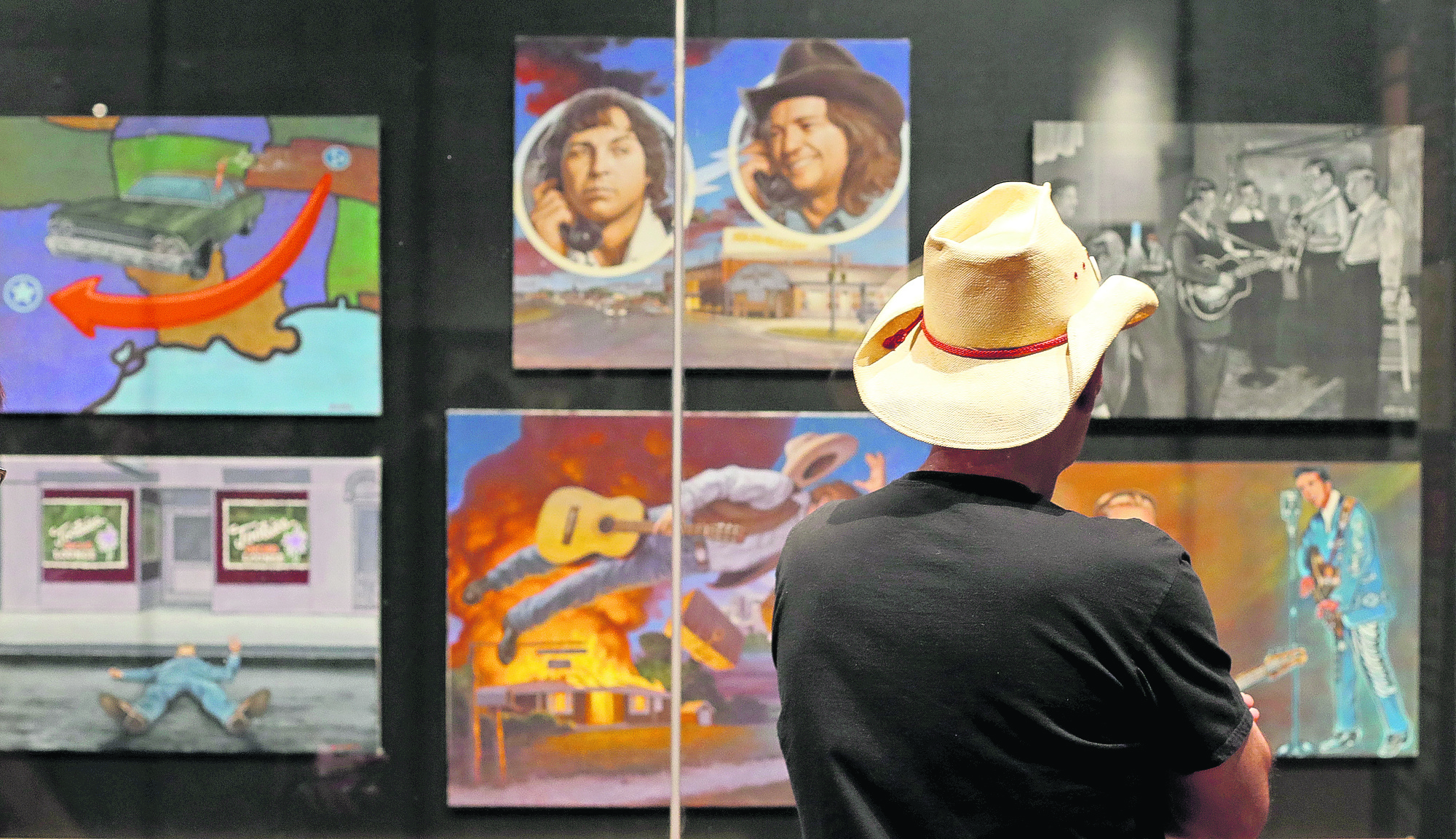 By KRISTIN M. HALL
Associated Press
NASHVILLE, Tenn. (AP) — If the term "outlaw country" evokes images of Willie Nelson's hippie braids or Waylon Jennings' "Honky Tonk Heroes," then you'll want to see a new museum exhibit offering a deeper look at the poets, pickers and characters that revolutionized country music in the 1970s. In the more than four decades since Nelson left Nashville in 1970, the term "outlaw" has become a profitable way of branding the scene that stretched from recording studios in Music City to hippies and rednecks in Austin, Texas.

But for the artists that experienced it firsthand, the movement was less about breaking laws and more about pushing back on traditional production techniques, wresting creative control from their labels and turning their focus to song craft. "All of the main characters in the outlaw movement were poets, or if not, had the poet's soul," said Rodney Crowell, the Texas-born singer songwriter who came to Nashville in the '70s. The "Outlaws and Armadillos: Country's Roaring '70s" exhibit at the Country Music Hall of Fame and Museum, which opened last month and runs through 2021, features never-before-seen photos and interviews with iconic musicians from the era, unique memorabilia, instruments, stage costumes, original artwork and concert posters, as well as special programs and speakers.
Displays include Kris Kristofferson's Army uniform, Guy Clark's Randall knife, Nelson's sneakers, a stuffed armadillo and a copper still for making bootleg whiskey that was donated by Tom T. Hall. Austin-based filmmaker Eric Geadelmann, a co-curator of the exhibit, put together videos for the exhibit's eight screens featuring interviews with Kristofferson, Clark, Jessi Colter, Jerry Jeff Walker, Billy Joe Shaver and more. The exhibit's walls are lined with dozens of concert posters, many of them from illustrator Jim Franklin, who designed surrealistic artwork for concerts held at the Armadillo World Headquarters in Austin.
"Austin was grounded in red-dirt Texas music, but there was also psychedelia in the air," said Peter Cooper, one of the museum's curators.
The exhibit also emphasizes how radio station KOKE-FM and the longtime public television program "Austin City Limits," both helped promote the progressive country sounds.
"It was hippie girls and pot and endless places to play music live," Crowell said. "It was freedom from the constraints of the recording studio and three-hour sessions." One iconic record of that period was a concept album dreamed up by Bobby Bare and Shel Silverstein, the Chicago-born poet, illustrator, author and songwriter. Bare was given carte blanche to come up with his own ideas in the studio and he wanted something different. "I tried to get all the great songwriters in Nashville to write me a great album with a thread going through it that all made sense, rather than just an album full of rejects that didn't make it as a single," Bare said.
"Bobby Bare Sings Lullabys, Legends and Lies," featured Silverstein's characters, a vein of irreverent humor and a recorded laugh track. The reverberations from the album shook up Nashville. "It was tremendous," Bare said. "It got everybody's attention." At the same time, Jennings took the helm as a co-producer on his own albums, working with songwriters like Shaver to craft soulful, defiant country rock anthems that would come to define the outlaw image. He also started picking his own musicians to play on the records, instead of relying on Nashville's session players. Nelson's records with Atlantic in the early 1970s were also turning the tide, especially his own concept album, "The Red Headed Stranger."
Crowell, the Grammy-winning singer songwriter who is also included in the exhibit, spent his early days in Nashville being mentored by songwriting giants such as Townes Van Zandt and Clark and his wife Susanna. He didn't realize the impact those writers had on changing country music until he went to Nelson's Fourth of July picnic in 1974. An estimated 25,000 people had gathered at the Texas World Speedway to see Nelson, Jennings, Van Zandt, Leon Russell, Walker and Kinky Friedman. "When you looked out at that sea of music fans out there that were celebrating that music, that's the first time that I had any sense that it was bigger than the little life that I was living," Crowell said.
But the outlaw movement was short-lived. "Wanted! The Outlaws" featuring Nelson, Jennings, Colter and Tompall Glaser, became a platinum-selling album in 1976. A year later, Jennings was arrested for cocaine possession in a Nashville studio, but charges were later dropped. By 1978 the era had peaked and Jennings released his song "Don't You Think This Outlaw Bit's Done Got Out of Hand." "I think Waylon bristled at the catchall phrase outlaw," Crowell said. "Because of the self-respect you have as an artist, you don't want to be pigeonholed, even if it's a cool thing like being called an outlaw. Because even that can become confining." A companion CD set of the same name is available through Sony Music's Legacy Recordings, and the museum is selling a companion book featuring essays, photos and artwork.