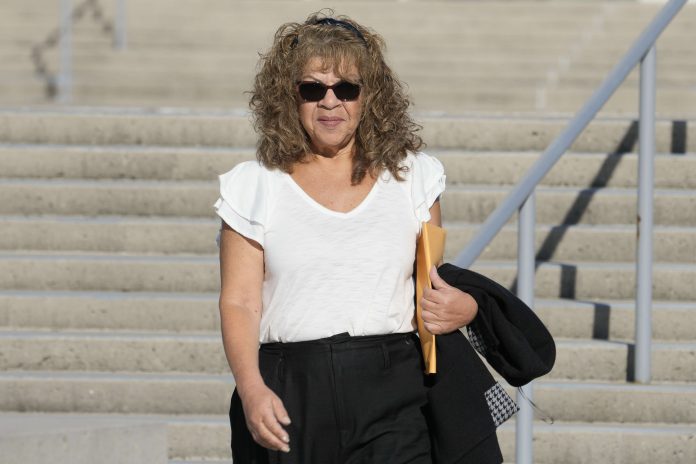 By Jake Offenhartz
Associated Press
NEW YORK (AP) — The ex-treasurer for U.S. Rep. George Santos pleaded guilty Thursday to a fraud conspiracy charge and implicated the indicted New York Republican in a scheme to embellish his campaign finance reports with a fake loan and fake donors.
Nancy Marks, who was a close aide to Santos during his two congressional bids, entered the plea at a federal courthouse on Long Island, where she was a longtime political operative and bookkeeper for multiple candidates.
Speaking to the judge, Marks said that among other things, she and Santos had submitted bogus campaign finance reports falsely saying he had loaned his campaign $500,000 even though in reality he didn't have that kind of money and the loan didn't exist. She said the purpose of the fake loan was to make it look like he was richer than he really was, which might attract other donors including a Republican committee.
Reading from a prepared statement, Marks also said she had provided the Federal Elections Commission with a fake list of people who had supposedly given money to the campaign.
"The donors, who are real people, didn't give me permission to use their names," Marks said in court,
Her plea agreement comes with a recommendation that she serve 3 1/2 years to 4 years in prison.
Outside the courthouse, Marks' lawyer said that while his client had not formally entered into a cooperation agreement with prosecutors, she would be willing to testify against him if asked.
"If we get a subpoena we'll do the right thing," said the attorney, Ray Perini. He said Santos had "mentally seduced," his client.
"There's a manipulation involved that had to do with her family and the death of her husband," Perini said, declining to elaborate. "There were lies told."
Any such testimony could be a severe blow to the congressman, who faces separate charges that he embezzled money from his campaign, lied in financial disclosures submitted to Congress and received unemployment funds when he wasn't eligible.
An attorney for Santos, Joseph Murray, attended the court hearing and said afterward that he expected Marks was cooperating with the government. A congressional spokesperson for Santos declined to comment.
Marks resigned as Santos' treasurer amid growing questions about his campaign finances and revelations that the Republican had fabricated much of his life story.
After his election, news reporters revealed that Santos had made up stories about where he went to college and where he worked, telling people he was a Wall Street dealmaker with a real estate portfolio when he was actually struggling financially had had faced eviction from multiple apartments. Santos also lied about his heritage, saying he was Jewish, when he wasn't.
Santos has acknowledged embellishing his resume, but has accused people of overreacting.
Santos faces a 13-count federal indictment centered on charges of money laundering and lying to Congress about his wealth in a financial disclosure.
Marks had not previously been charged. Thursday marked her first appearance in court.
The investigation of Santos, a first-term congressman, has also engulfed Marks, a key behind-the-scenes figure in Long Island Republican politics who built a business as a treasurer and consultant to dozens of local, state and federal candidates.
Marks has faced questions about the congressman's unusual campaign filings, including a series of $199.99 expenses, just below the legal limit for disclosure. Santos, in turn, has sought to pin the blame for his unexplained finances on Marks, who he claims "went rogue" without his knowledge.
While Santos has admitted fabricating key parts about his purported background as a wealthy, well-educated businessman, questions remain about what he did for work. Reporters had questioned the source of more than $700,000 he initially claimed to have loaned his campaign from his own personal fortune.
Santos has pleaded not guilty to charges he duped donors, stole from his campaign and lied to Congress about being a millionaire, all while cheating to collect unemployment benefits he didn't deserve. He has defied calls to resign.
Besides Santos, Marks' most high-profile client was former U.S. Rep. Lee Zeldin of New York, an ally of Donald Trump. She was Zeldin's bookkeeper when he unsuccessfully ran for governor in 2022.
Marks, besides being responsible for keeping Santos' campaign books and handling his regulatory filings, had unusual business ties to Santos, according to public records.
In 2021, she was listed as being a member of a political consulting firm incorporated in Florida, whose other members included Santos' company and people who had formerly been affiliated with an investment company that had been shut down by the Securities and Exchange Commission over allegations that it was a Ponzi scheme.
When Santos was indicted, Marks wasn't mentioned by name in court filings. But the indictment described an unnamed political consultant who it said had helped dupe donors who gave money that they thought was going to the campaign but was instead siphoned off for Santos' personal use.
Marks is the second person besides Santos to face charges in connection with the campaign. In August, a former Santos fundraiser, Sam Miele, was indicted on federal charges that he impersonated the then-chief of staff to GOP Rep. Kevin McCarthy of California, who at the time was the House minority leader.
Miele pleaded not guilty. His attorney, Kevin Marino, had predicted that his client would be exonerated at trial.