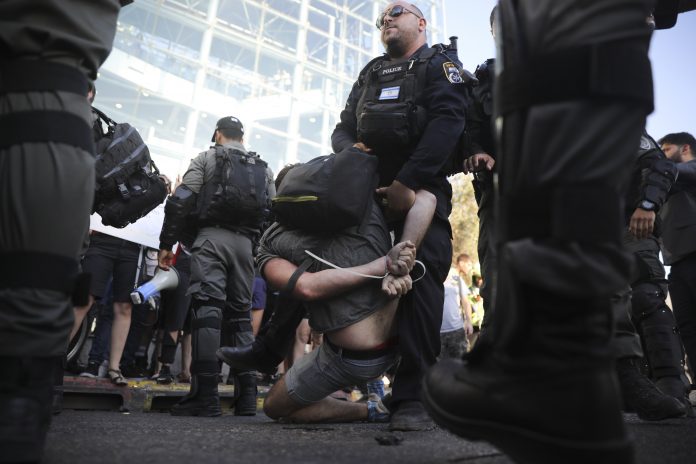 Scores of activists returned to streets across Israel on Wednesday to protest the killing of an Ethiopian Israeli teen by an off-duty police officer in what the community calls the latest example of police brutality and discrimination in Israeli society.
Protesters mobilized to block a busy thoroughfare in Tel Aviv before being dragged away by police. Hundreds marched amid officers in heavy riot gear, many chanting, "There's no difference from blood to blood. We're all human beings."
In a nod to the resonant Black Lives Matter movement in the U.S., some held signs with the slogan, "I can't breathe."
At least 12 activists were arrested at various demonstration sites for hurling stones and carrying petrol bombs. But Wednesday's rallies appeared calmer than those of the previous night, when outrage over the killing escalated into violent clashes. Demonstrators attacked police and vandalized vehicles in response to what they see as ongoing police brutality.
Prime Minister Benjamin Netanyahu urged calm and convened a ministerial committee to discuss "all issues" affecting Israel's Ethiopian community, which suffers from poverty and neglect and accuses the police of excessive force.
"We will discuss all issues but we will also discuss something that is unacceptable," he said. "We are not prepared to either accept or tolerate the blocking of roads and the use of violence, including firebombs against our forces, the burning of cars or any other property of citizens."
Police spokesman Micky Rosenfeld said more than 110 officers were wounded over the three days of protests, including from stones and bottles hurled at them. The activists burned tires and set a vehicle on fire, clashing with police and assaulting those who tried to break through their makeshift roadblocks. Overnight, the protesters continued rioting, flipping over a police cruiser. Rosenfeld said more than 130 suspects were arrested on Tuesday.
The demonstrations erupted after the unarmed Solomon Teka, 18, was fatally shot in a Haifa suburb on Sunday and escalated after his funeral on Tuesday. The officer in question says he was at a public playground with his young children and felt their lives were in danger from a group of rioting teenagers. He says he opened fire toward the ground and had no intention of killing anyone. He is being investigated by internal affairs and remains under protective custody.
The protesters view the killing as part of a pattern of systematic discrimination and violence by police.q