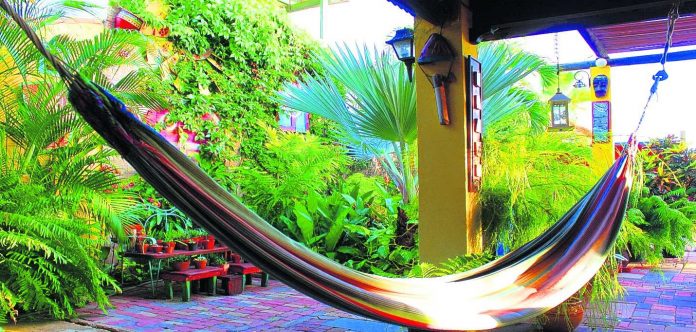 Article by Etnia Nativa call us 592 2702 and book your experience!
NOORD — We are living in a society in which people have less and less time while gardens can be seen as stressor. However, on the other hand a garden will provide you with a more relaxed life style and a connection with nature that will lead you to enjoy certain benefits.
Studies have shown that gardening is good therapy to feel good and that half an hour dedicated to gardening reduces stress. A reduction in stress that translates into improving the ability to remember and even learning. By practicing gardening we are able to distance ourselves from our daily problems, which is an ideal point to achieve the long-sought and awaited inner peace. When you take care of the garden you will notice that your plants are grow more are more beautiful every day, you`ll feel comforted with the work that causes your immune system to be strengthened. Gardening is directly related to our system since; in general, it is practiced in an outdoor space, where we receive sunlight, which translates into vitamin D, responsible for helping the body absorb calcium, a mineral that strengthens the bones and the immune system. When you take care of your garden for 45 minutes in addition to burning the same amount of calories as in 30 minutes of aerobic exercises, which will make you feel much more optimistic because gardening, improves your enthusiasm for life. In any case, gardening involves movement which is a very healthy activity!. Gardening dirt's and stain's your hands with soil, transplanting, watering, pruning, cultivating … is a perfect therapy to improve your well-being, and is that when you practice gardening your body generates serotonin and dopamine, two chemicals that stimulate the immune system and keep us happy. It seems that one of the most rudimentary tasks such as gardening stimulates us since we feel and touch the earth (which is like grounding, reconnecting with it). We see beautiful things, we perceive the smells details of the earths and flowers. Go out on the terrace or garden and take care of your plants!. Reducing stress level by doing a comforting and satisfying job, like taking care of your trees, shrubs and flowers or pick your crops and fruits, you will fall asleep easy and better. Caring for plants creates a relationship with the floral world that values ​​all the fruits and vegetables provide us in a different way. In addition, if the practice of gardening is related to one's own the garden, more fruits and vegetables from could be cultivated and consumed fresh. Through the care of plants we learn great lessons such as caring for the environment, natural flora, the importance of resources and the preservation of, how they are grown and where certain foods come from, the real need to eat fresh and following a healthy diet.
To get to know more over Aruba's and its origins, its animals and culture, we highly recommend you to book your visit for our renowned cultural encounter session has been entertaining curious participants for decades. Mail us at etnianativa03@gmail.com or WhatsApp (+297) 592 2702 to confirm your participation. Our facilities and activities take place close to high rise hotels.