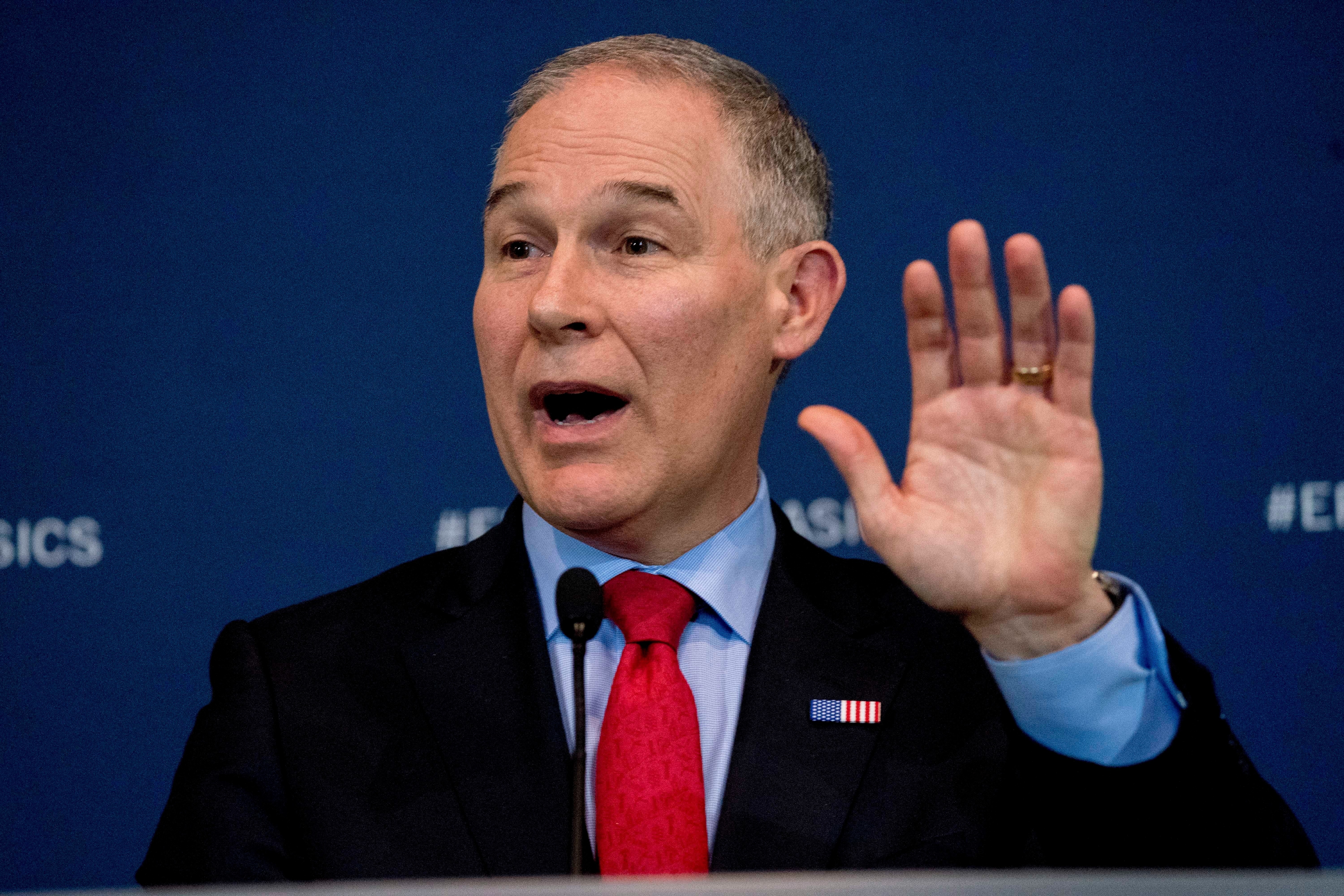 By JONATHAN LEMIRE
and ZEKE MILLER
Associated Press

WASHINGTON (AP) — Embattled Environmental Protection Agency administrator Scott Pruitt met with President Donald Trump on Friday to lay out his case for why he should remain in his post amid a stream of questions about his ethical standing. Pruitt visited the White House to discuss his agency's recent steps to roll back Obama-era fuel efficiency standards for cars, but he also fought for his job in his meeting with the president, according to two administration officials.
While White House aides are increasingly fed up with Pruitt and chief of staff John Kelly has advocated firing him, Trump remains less certain. Pruitt is one of the most effective members of his Cabinet in undermining his predecessor's regulatory agenda, and Trump enjoys his hard-charging style. The officials spoke on the condition of anonymity to describe sensitive internal discussions. Kelly and other White House aides are frustrated by the steady drip of negative press Pruitt is attracting over a seemingly below-market lease on an apartment owned by the wife of a leading lobbyist, reports that he instructed his security detail to use emergency lights and sirens to beat traffic, and the continuing fallout from using private and first-class air travel last year.
Pruitt has vigorously denied any wrongdoing and blamed the accusations on political opponents of the policies he is enacting. Agency sources and documents reviewed by The Associated Press found the EPA spent millions of dollars for a 20-member full-time security detail that is three times the size of his predecessor's part-time security contingent. An EPA official said that total security costs for Pruitt approached $3 million when pay was added to travel expenses.
Though Pruitt has few allies in the White House, his team has activated a network of conservative activists and lawmakers to rally behind him. Pruitt has also sat for a series of interviews with largely conservative news outlets to defend himself — though even supporters acknowledge he did himself no favors with a Fox News interview this week in which he seemed unable to fend off some of the allegations. As the White House looks into the claims against Pruitt, administration officials say they have felt blindsided by the news reports, believing Pruitt hasn't "come clean."
Earlier this week, two administration officials touted a pair of supposedly laudatory calls to Pruitt from Trump and Kelly, including the encouragement that he "keep fighting." But two other officials said the praise had to do with Pruitt's work and not the ethical cloud surrounding him — and that Kelly took a far sterner tone with Pruitt than initially reported, warning that the EPA job was in jeopardy if he couldn't put an end to the distracting coverage. "We're continuing to review any of the concerns we have," said White House press secretary Sarah Huckabee Sanders. She declined to engage on the specific accusations against Pruitt, calling them "hypotheticals."
"The president feels that the administrator has done a good job at EPA," she added. "He's restored it back to its original purpose of protecting the environment. It's gotten unnecessary regulations out of the way." The scrutiny surrounding Pruitt comes just a week after another Cabinet member, Veterans Affairs Secretary David Shulkin, was ousted amid ethical questions. White House aides believed that Shulkin had misrepresented the coming findings of a critical inspector general report, but an official said that, at least so far, Trump had not equated that with Pruitt's omissions of his own alleged transgressions.
Several other Trump appointees, including Housing and Urban Development head Ben Carson and Interior Secretary Ryan Zinke, have also faced questions about their expenditures and behavior. On Capitol Hill, where some Republican lawmakers have already called for Pruitt's firing or resignation, House Minority Leader Nancy Pelosi said Pruitt must go. Pruitt's tenure, she said, has been "part of the Trump administration's culture of corruption, cronyism and
incompetence."