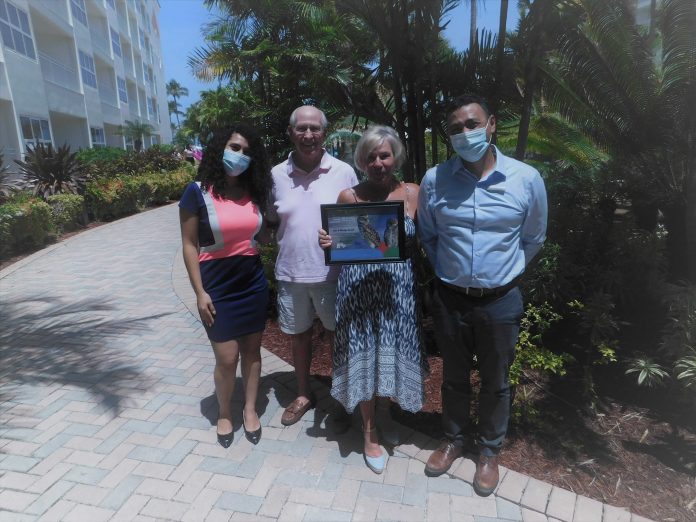 Aruba has many visitors who have been coming to our island for many consecutive years. Some did not return last year due to the pandemic, but as soon as the borders were open again they were the first ones to come back to their beloved island. As a token of appreciation the Aruba Tourism Authority office on behalf of the government of Aruba takes pride in honoring these loyal visitors as Distinguished Visitors, Goodwill Ambassadors or with the highest honorary title of Emerald Ambassadors.
It was the turn of Mr. John & Mrs. Marilyn Enright, residents of Cape Coral Florida and guests of the Aruba Marriott Ocean Club to be recognized as loyal visitors. They received the honorary title of Emerald Ambassadors, because they have been coming to Aruba for over 30 consecutive years.
Marouska Heyliger, representative of the Aruba Tourism Authority, together with members of the Aruba Marriott Ocean Club bestowed the certificate to the Ambassadors and handed some presents to them and thanked them for choosing Aruba as their vacation destination and as their home away from home for so many years.