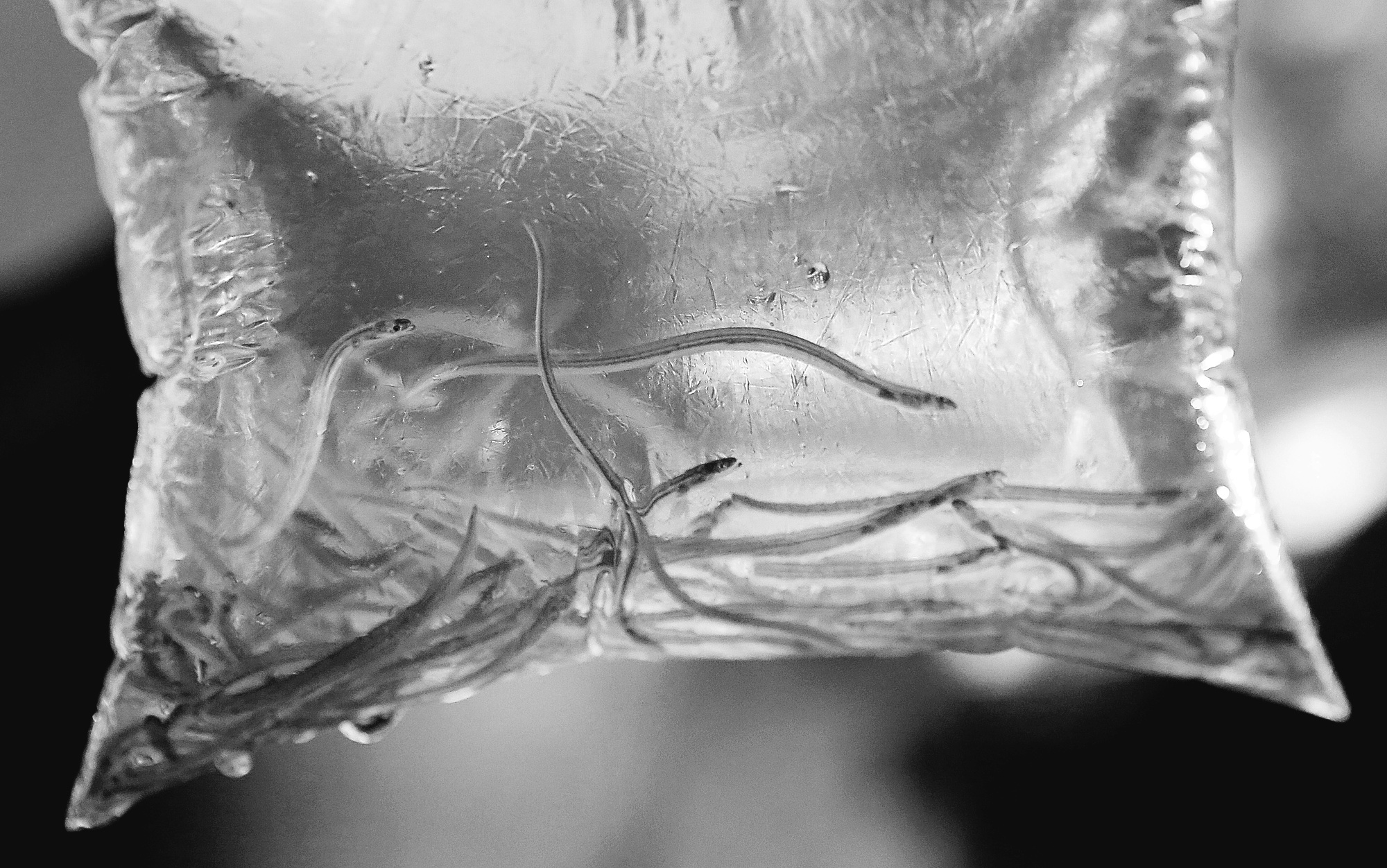 By PATRICK WHITTLE
Associated Press
PORTLAND, Maine (AP) — America's only significant state fishery for baby eels has blown past records for value as high demand from overseas aquaculture companies is driving prices to new heights. Fishermen in Maine search for the eels, called elvers, in rivers and streams every spring so they can be sold to Asian aquaculture companies as seed stock. Fishermen have sold more than $20 million worth of the eels so far this season, according to the Maine Department of Marine Resources. That is the highest total since interstate managers instituted a quota system for the eels in 2014. The previous record was $13.4 million, and fishermen still have until June 7 to catch more of the eels this year.
"Eels are going to get caught up in this next round of tides, I think," said Darrell Young, co-director of the Maine Elver Fishermen's Association. "You never know what the price is going to be, but this year it's high." The eels are raised to maturity and used in Japanese cuisine. Some are exported back to the U.S. for use in restaurants in dishes such as unagi. The elvers are always extremely valuable, but they are fetching an especially high price this year because eel fisheries had unproductive years in other parts of the world, members of the industry said. Maine's fishermen were selling elvers at the dock for more than $2,400 a pound as of May 16, and that would be a record if it holds until the end of the season, state records say.
They're also not experiencing the slow harvest that has plagued fishermen in other parts of the world, and are on track to tap out their entire 9,688-pound quota this year. The Atlantic States Marine Fisheries Commission manages the elver fishery and instituted the quota for the first time in 2014 out of concern that a gold-rush mentality would jeopardize the eel population, which conservationists believe is in peril. Fishermen caught nearly 40,000 pounds of the eels between 2012 and 2013, which were years in which Maine elvers grew in value because foreign stocks dried up. The quota was initially 11,749 pounds, and it was reduced to 9,688 pounds in 2015. Fishermen have never caught the entirety of the quota, though they've come close in the past two years.
A proposal to increase the quota back to the higher number is up for public hearings in Maine next month. The growth of the fishery has attracted the attention of some environmentalists. Geoff Smith, marine science program director for The Nature Conservancy, said Maine regulators were wise to implement new controls, such as a swipe-card system to deter poaching. "As the global demand for elvers continues to rise, it's increasingly important to have an effective monitoring and reporting system," Smith said. Federal investigators have also cracked down on elver poaching in recent years. A judge ruled in early May that two Maine men will spend six months in federal prison for illegally trafficking in poached baby eels.
Investigators are "actively working to dismantle an international wildlife trafficking scheme that not only harms American eels, but U.S. business owners and others who rely on healthy ecosystems for both ecological and economical purposes," said Assistant Director Edward Grace for the U.S. Fish and Wildlife Service's Office of Law Enforcement.