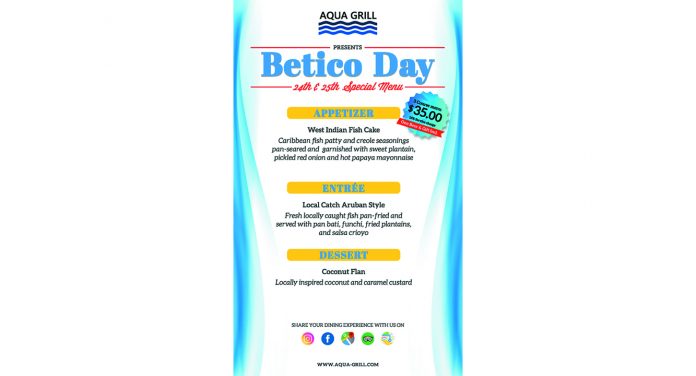 Are you looking for a nice atmosphere to enjoy Aruba's exquisite local seafood platters? Look no further. Aqua Grill offers you a stunning, contemporary yet warm dinner setting that many consider a seafood-heaven. This place that is already a statement for 17 years with a consistency in upscale dining and this weekend is no different.
The eclectic of a modern and a traditional New England fish house style appeal, the open-view kitchen, and large raw bar décor add to the thrill. The special menu this weekend, is deep down delicious seafood that is what most are craving for… and that is exactly what you will get. Don't just take our word for it. Visit TripAdvisor and you will see what repeaters are raving about. Welcome to the one of the most recommended through word-of-mouth seafood restaurants by our decade-long loyal island visitors.
Taste Of Aruba.
This holiday weekend, January 24th and 25th 2020, Aqua Grill is inviting locals and tourists alike to come and taste our amazing special menu prepared our local catch of the day and a slightly mix of international touch. The appetizer is a traditional local fish patty that is pan-seared and garnished with sweet plantain with pickled red onion. And the entre will be a pan-fried snapper or grouper served with pan bati, funchi with crioyo sauce on the side. If you're tempted to try a local dish, you shouldn't pass up this invitation. Not to mention our extensive wine list of more than one hundred selected choices that pairs perfectly with our special menu. Many locals and visitors are repeat guests, and we're convinced you'll join that group after your first dinner experience with us.
Reserve your table and experience an amazing night, where you are pampered in an exceptional culinary way with many delicious entrées and desserts to choose from. Reservations can be made through their website at www.aqua-grill.com/reservation/or by calling (297) 586-5900.
Aqua Grill
J.E. Irausquin Blvd. 374
Phone: +297-586-5900
Fax: +297-586-5901
Facebook – Instagram – website