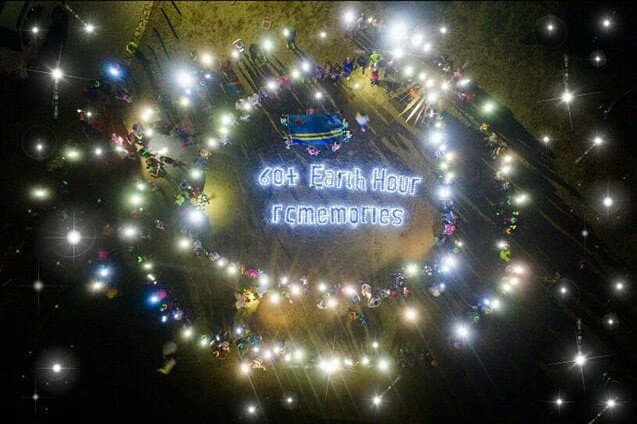 ST. CRUZ – The Ritz-Carlton Earth Hour Moonlight Hike was a big hit last Saturday evening. More than 300 participants gathered at the Visitors Center of Arikok National Park to support the worldwide initiative, coordinated by World Wildlife Fund (WWF), represented here by the Earth Hour Aruba Community Group. It is all about the power of individuals by switching off the lights for 60 minutes for the future of our planet.
Ritz-Carlton, Aruba, decided to do this together and invite the community to hike under the stars in Aruba's National Park. The Visitors Center was completely filled with people in sportive outfits of all ages. The registration table was ready and the organization provided all participants with neon lights. It was a nice walk in the nature and when indeed one gets the change to hike the park when it's dark?
The group were mostly locals and the good thing was that there were all ages represented. After a walk of about one hour in the park under a beautiful star-lighted sky and with amazing panoramas, all gathered around the words 60+ Earth Hour RC Memories, formed by Led-lights. There were prizes handed out by The Ritz-Carlton, Aruba, and of coorse the necessary water after the exercise.
The resort thanks all participants who made this event a successful one. Special thanks is given to National Park of Aruba, the Engineering Department, The Community Footprints and Take Care Board.