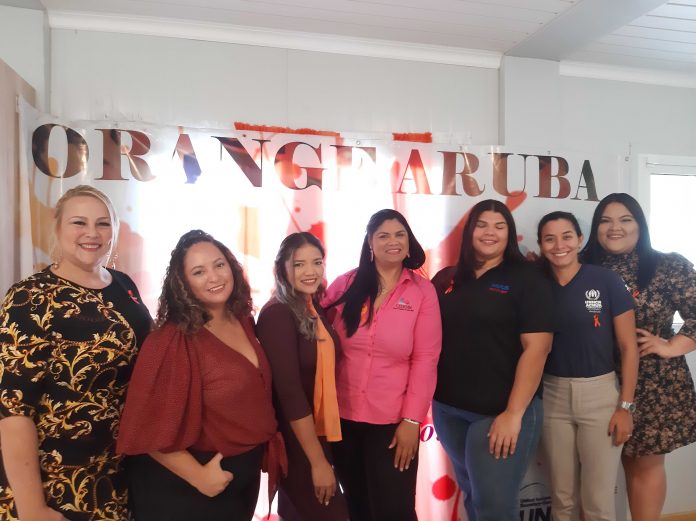 Fundacion Contra Violencia Relacional (FCVR – Foundation against relational violence), HIAS, UNHCR and Cedehm joined together and during a press conference informed the local community about their Orange the World campaign, a world campaign against the abuse of girls and women.
Rish-Ann Ammerlaan of FCVR explained that this is the seventh time that the foundation is taking part in this worldwide campaign. In 2016 they began participating, collaboration with other organizations. This year, the abovementioned organizations, from the 25th of November until the 10th of December will be carrying out activism with the goal of bringing awareness in the community regarding the topic of gender-based violence.
On the 26th of November and the 3rd and 10th of December they will be doing fundraising so that the foundation can continue with its normal operation. They will have volunteers on the street in various areas, for example, in the round about in Sant Cruz, in Noord, on the bridge by the Renaissance Hotel as well as in front of Imelda Kleuterschool.
She's Gone
Carolina Bedoya of UNHCR indicated that the theme for Orange the World for 2022 is to join together to put an end to violence against girls and women. She invited the entire community to play a role and raise their voices to break the silence on violence against girls and women.
She mentioned that today from 9:30am until 12 noon at the Cas di Cultura there will be an artistic exposition called "She's Gone". For this exposition, an artist collected clothes and belongings of different victims of femicide around the world, including Aruban victims. "It is a very impactful exposition. We invite the community to see the items of these people, who have sadly lost their lives abruptly due to femicide. The idea is for us all as a community be involved in breaking the violence, so that people who today are victims of violence can know that they are not alone", Bedoya commented.
Around 47,000 girls and women around the world are murdered each year by their partner or a member of their family, and in many cases, the crimes are never solved.
"She's Gone" is an artistic expression protesting the global phenomenon of murder because of gender that are committed by partners or family members. This artwork is a scream in the silence in the name of every innocent victim who was murdered for the simple reason of being female.
Art Banner against violence
Genesis Maduro from HIAS said that they are glad to be able to collaborate with different local and international organizations in Aruba. HIAS will have an activity from the 25th of November until the 10th of December where the entire community is invited to participate in an 'art banner', where people can put a hand print on a banner. They will do a tour around Aruba visiting different organizations.
Maduro indicated that the banner will be a symbol where everyone stands in solidarity against violence against girls and women. If an organization wants to participate in this activity and protest gender-based violence, they can call (297) 730 77 65.
Red Tent for support
Jeanine Tromp from Centro di Desaroyo di Hende Muhe (Cedehm; Center for the Development of Women) said their organization will also be taking part in the 16 days of activism. For the 8th of December, they are organizing a Red Tent, which will be a support for a group of women where they will be using the theme against gender-based violence in order to bring awareness in the community about what exactly violence against women and girls is.