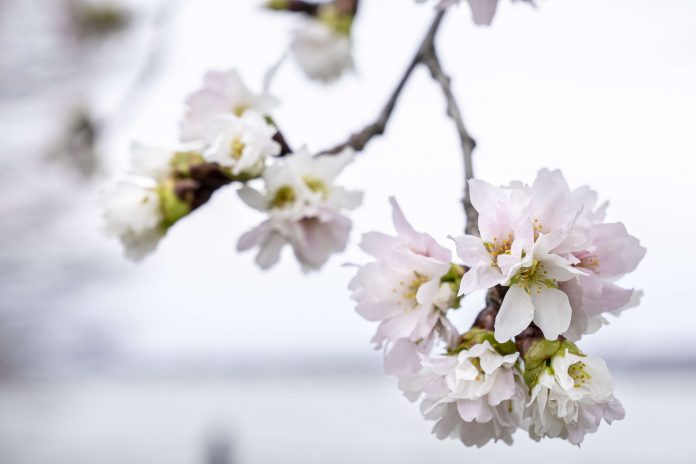 By ASHRAF KHALIL
Associated Press
WASHINGTON (AP) — The cherry trees in the nation's capital are confused by Earth's changing climate, with the iconic blossoms appearing earlier than expected because of the unusually warm winter.
Washington Mayor Muriel Bowser and the National Park Service announced Wednesday that Washington's 3,700 cherry blossom trees would reach peak bloom this year from March 22-25. That's several days earlier than observers and experts had expected.
"This has been a challenging year to read the trees," said Jeff Reinbold, NPS superintendent for the national mall and memorial parks. One of the warmest winters on record, plus dramatic fluctuations in temperature have essentially sent confusing signals to the trees.
The end results, Reinbold said, are trees that he compared to a hormonal teenager. "There's a lot going on in there," he said.
The early bloom, by itself, isn't a huge problem, unless the temperatures drop suddenly again now that the vulnerable blossoms are emerging. "An early frost would definitely damage the blossoms," Reinbold said.
Cherry Blossom Festival President Diana Mayhew said this year's bloom dates aren't unprecedented, but they're the second earliest she had witnessed in 23 years with the organization. As a result, her organization has accelerated their own timetable, moving up multiple events planned at the Tidal Basin by a week.
Mayhew said she and city officials are expecting a boom year for the festival, which typically signals the unofficial start of D.C.'s tourist season. The 2020 cherry blossom season was essentially wrecked in real time by the creeping shadow of the COVID-19 pandemic, which was moving across the country just as the festival was holding press conferences. Organizers finally were forced to cancel most in-person events.
The 2021 festival took place fully under pandemic restrictions while last year's season drew an estimated 1.1 million visitors—close to the pre-pandemic average of 1.5 million. This year, Mayhew said she hopes to match or exceed those pre-pandemic numbers.