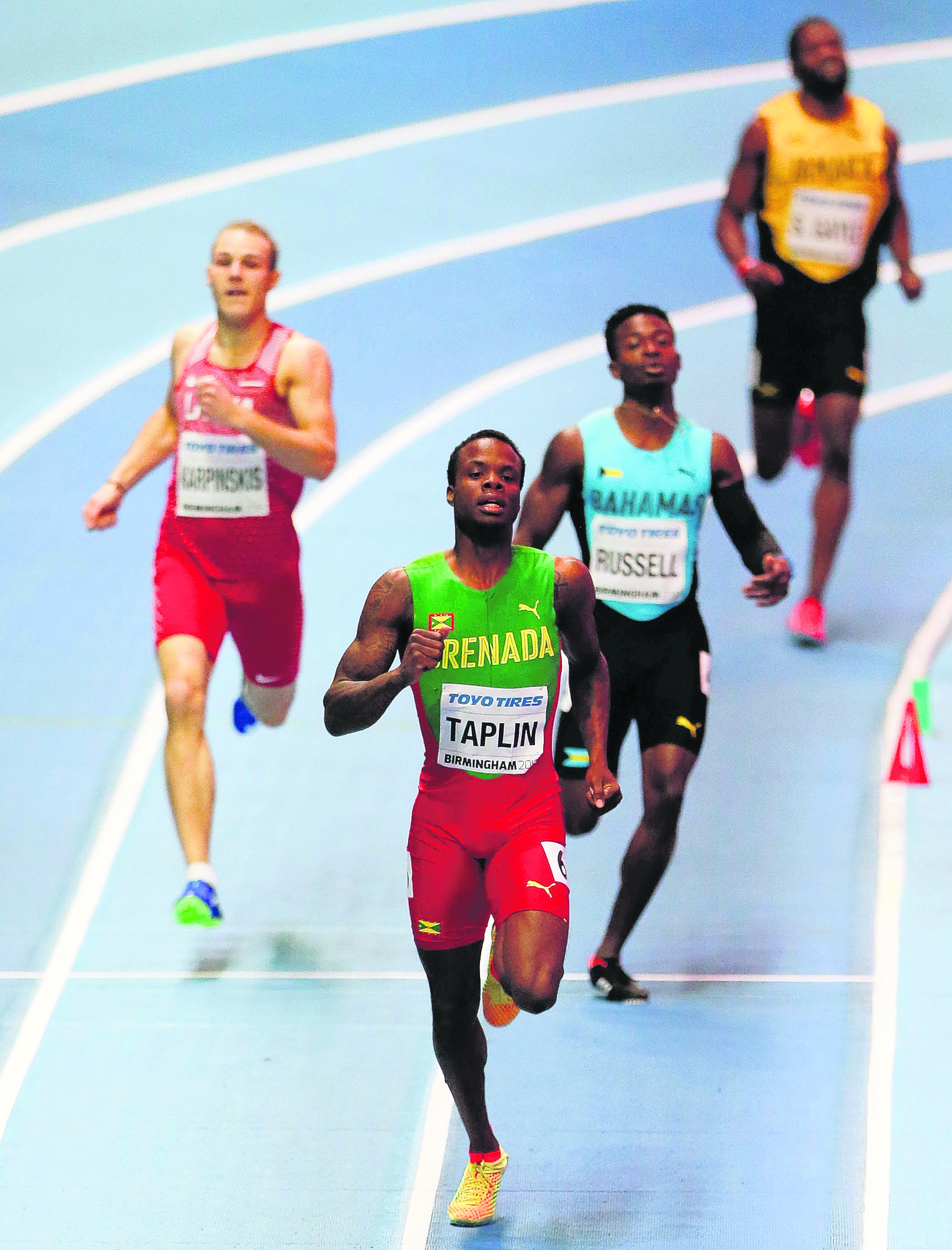 By DANIELLA MATAR,
Associated Press
BIRMINGHAM, England (AP) — Juan Miguel Echevarria became the youngest male field event winner when he took the long jump and Katarina Johnson-Thompson claimed her first global title in the pentathlon at the world indoor athletics championships on Friday. In another first, every runner in a world championship race was disqualified, in a 400-meter heat.
There were also gold medals for Murielle Ahoure in an Ivory Coast one-two in the 60 meters, and Hungary's Anita Marton in the shot put. In the heptathlon, Kevin Mayer of France has a 45-point lead over Damian Warner of Canada. The final three events are on Saturday.
The 19-year-old Echevarria leaped a personal-best 8.46 meters to upset world champion and Olympic silver medalist Luvo Manyonga.
Just four centimeters separated the top three: Manyonga made 8.44 and defending champion Marquis Dendy of the United States 8.42. "I'm delighted with the result," Echevarria said. "It was very tight with very close margins but I prepared physically and mentally for the event.
"I think I'm in the peak of my career. I'm feeling very physically strong … I'm really looking forward to what 2018 holds." In the pentathlon, Johnson-Thompson topped the standings going into the final event and led most of the 800-meter race before pulling away in the final straight to comfortably take gold.
The British athlete finished 50 points ahead of Ivona Dadic of Austria. Yorgelis Rodriguez of Cuba was third, 113 points behind. "It's been a very long hard day but it's definitely been worth it," Johnson-Thompson said. "I knew in the 800 all I needed to do was keep ahead of Dadic and Rodriguez. Something just happened to me in the third lap and I just felt good so I wanted to go for the win."
Dadic earned her first world medal after finishing second to Nafissatou Thiam in the European indoors last year. Johnson-Thompson had a strong showing in the three events in the morning session, although it was Rodriguez who led after the 60-meter hurdles, high jump, and shot put. Johnson-Thompson moved into first place with a leap of 6.50 meters to top the long-jump standings, which afforded her a lead of around two seconds going into the 800.
In the women's 60, Ahoure clocked 6.97 seconds to secure Ivory Coast's first gold at the world indoors.
She edged teammate Marie Josee Ta Lou by 0.43. They embraced after each ran personal bests. "It's huge to get gold and silver. The Ivory Coast is on top, we're so happy and hopefully soon we'll be able to take over the whole podium," Ahoure said. "This last year has been so difficult with my father (who has died of cancer). I knew he was watching from up there. I was talking to him before the race, saying, 'Please Dad, help me in the race.'
I couldn't get a gold medal when he was alive. I have so much pent-up emotion now."
Mujinga Kambundji of Switzerland was third, just 0.005 behind Ta Lou. Danniel Thomas-Dodd became the first Jamaican woman to win a global field medal, but her Jamaican-
record 19.22 in the shot put wasn't enough to beat Marton, who threw 19.62.
World champion Lijiao Gong of China was third. Earlier, all five runners in a 400-meter heat were disqualified. Abdalelah Haroun, a Qatari who won bronze at the world championships last year, was first to leave after a false start. Bralon Taplin of Grenada, who ran the fastest time this year, won the heat but officials disqualified him and Steven Gayle of Jamaica, Austris Karpinskis of Latvia, and Alonzo Russell of the Bahamas for running out of their lanes.
Grenada's appeal was rejected. It is two less rivals for Pavel Maslak to worry about in the Czech runner's quest for a third successive world indoor title. Maslak finished second in his heat and first in his semifinal.