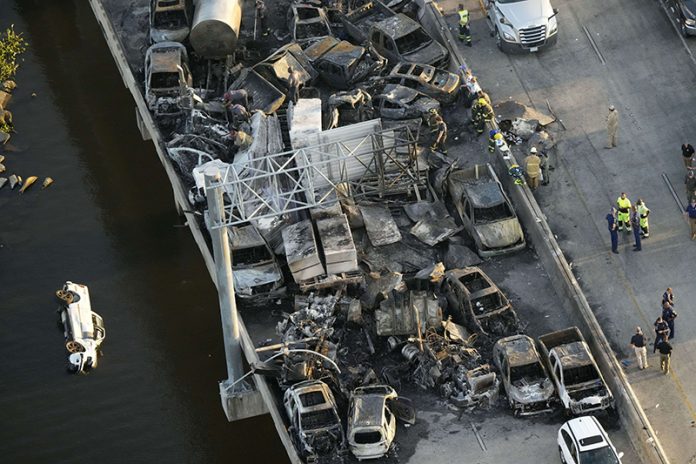 By KEVIN McGILL and SARA CLINE
Associated Press
NEW ORLEANS (AP) — Crews worked into Tuesday morning clearing the wreckage of more than 150 vehicles involved in a series of crashes the day before on Interstate 55 near New Orleans caused by a "super fog" of marsh fire smoke and dense fog that killed at least seven people and injured another 25.
Lance Scott was among the many drivers caught in the wreckage. The 51-year-old had been driving his daughter to the airport when the fog thickened, as if a "white-out on a ski slope." He slammed on his brakes, narrowly, avoiding the cars in front of him — but from behind he heard "the most horrendous clank of metal."
"It was, 'Bang. Bang. Bang.' It just went on… for probably 45 seconds," Scott said. "As every second went by the clanking of the metal got a little bit fainter, which told me it was backing up — so I knew there was layers and layers of collisions."
Scott turned to his 24-year-old daughter, an intensive care unit nurse, and said to her, "There's going to be a lot of people who need help and I need you to go out and do what you do."
With the ominous sounds of crackling fire in the background and the fog slowly lifting to reveal the extent of the crash, Scott and his daughter helped people out of their cars, some of whom noticeably had broken collarbones and one had to wait for first responders to bring the Jaws of Life.
An estimated 158 vehicles were involved in Monday morning's crashes, according to the Louisiana State Police, who warned Monday night the death toll could climb as first responders looked for victims, the smell of burnt wreckage still heavy in the air.
The crashes began before 9 a.m. Monday along a one-mile span of the elevated interstate, which passes over swamp and open water between Lake Pontchartrain and Lake Maurepas, Louisiana State Police Sgt. Kate Stegall said in a news briefing. Parts of the highway reopened Tuesday afternoon.
The crashes left a long stretch of mangled and scorched cars, trucks and tractor-trailers. Vehicles were crushed, piled atop each other and engulfed by flames. Some people got out of their vehicles and stood on the side of the road or on the roofs of their cars looking in disbelief at the disaster, while others cried out for help.
Scott said there was "great camaraderie" as people sprang into action to help others. With drivers warning others about a nearby fire from the crash, people moved away from the wreckage as they waited for 45 minutes for paramedics to reach them and for transportation off the bridge.
Clarencia Patterson Reed, 46, was driving to Manchac with her wife and niece and saw people waving for her to stop, but once she stopped, two other vehicles hit her car from behind and the side, she told The Associated Press. Patterson Reed escaped from her side of the car, but her wife was pinned inside with an injured leg and side. Others stepped in to help, she said.
"I just thank God," she said. "There was a casualty a few cars ahead of us."
Another driver Christopher Coll, said he was already braking when a pickup truck "drove up on top of my work trailer and took me for a ride."
Coll could smell smoke as he heard the sounds of crashing cars and popping tires. He was able to kick open his passenger door to escape and then helped others — pulling out one person through a car window.
School buses were summoned to transport stranded motorists from the accident sites. Additionally, at least 25 people were brought to the hospital, with injuries ranging from minor to critical, others sought medical aid on their own, authorities said.
Louisiana Gov. John Bel Edwards asked for prayers "for those hurt and killed" Monday and issued a call for blood donors to replenish dwindling supplies.
Monday afternoon, state troopers were still working "to notify families, investigate the exact causes of the crashes," Louisiana State Police said.
By Tuesday morning, crews were removing the final group of vehicles and began a surface cleanup of the area, authorities said. State Police were coordinating with the state's transportation department to have the bridge inspected.
The National Weather Service said there were multiple wetland fires in the region Monday and smoke from the fires mixed with fog to create a "super fog."
Hazardous driving conditions Tuesday morning prompted several schools in the area to close or delay, as tow trucks continued to haul debris off of the interstate.