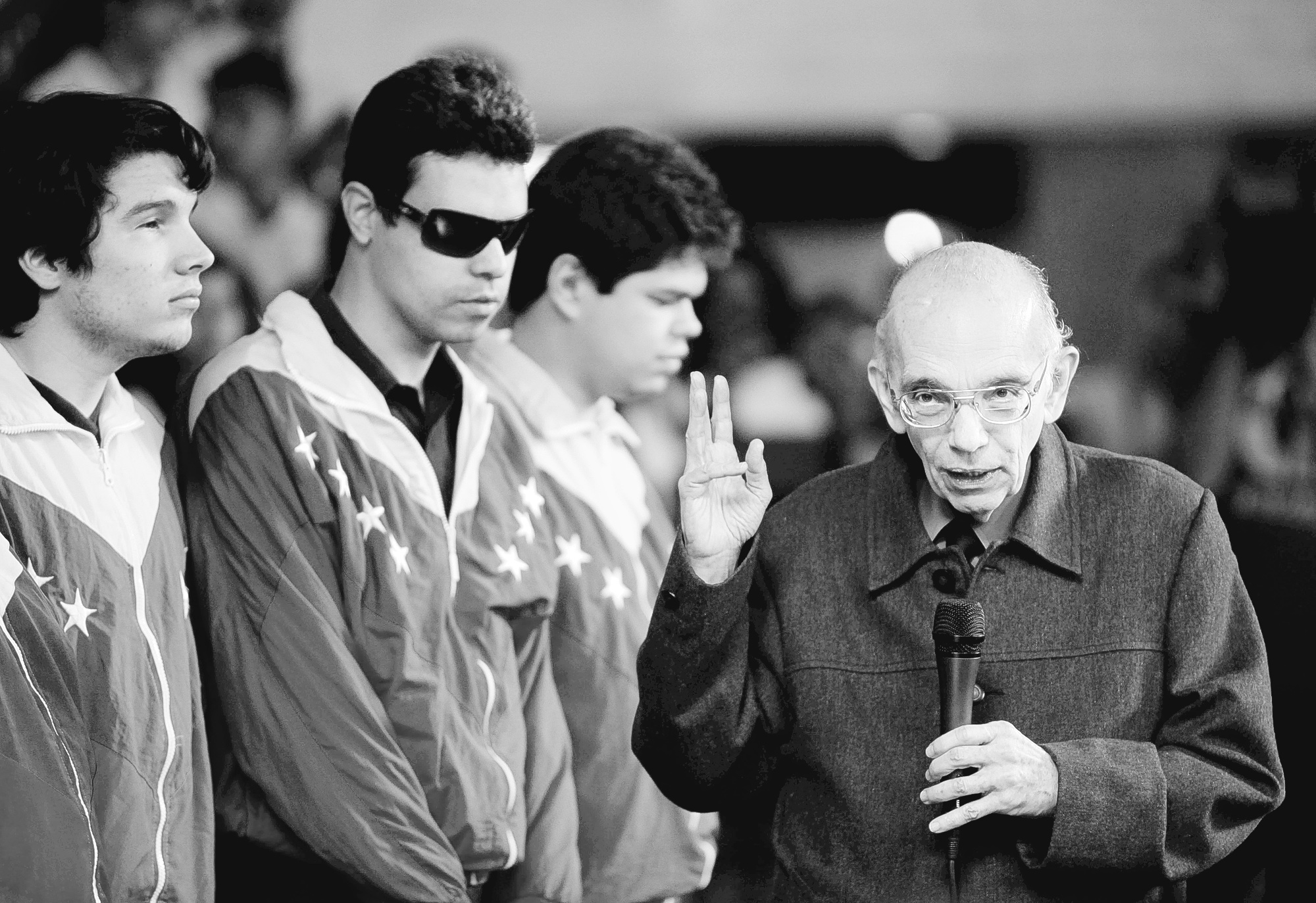 By JOSHUA GOODMAN
Associated Press
CARACAS, Venezuela (AP) — Jose Antonio Abreu, the Venezuelan government economist turned musical educator who created a network of youth orchestras that has been replicated in dozens of countries around the world, died Saturday. He was 79. His death was announced by the newspaper El Universal, where his brother Jesus Abreu is president. No cause was given, but Abreu had been known to be battling several illnesses ever since he retired from El Sistema, as the musical education program is known, a few years ago.
Abreu was the teacher to generations of Venezuelan classical music performers. His most famous protege, Gustavo Dudamel, musical director of the Los Angeles Philharmonic, tweeted a picture of the two Saturday dedicated to Abreu "with devoted love and eternal gratitude." President Nicolas Maduro also mourned the loss. "The Venezuelan people that you so loved today are crying for you Maestro," Maduro said in a message posted on social media along with a photo of the two at a meeting in the presidential palace in 2014.
"We are comforted by knowing that your legacy will remain alive in the hands and voices of the children of the youth orchestras." Born in the western city of Valera in 1939, El Maestro, as Abreu was almost universally known in Venezuela, studied music from an early age. But he initially put his artistic aspirations on hold to become an economist, teaching at two universities in Caracas, and later entering politics. Well into his 30s in 1975, he formed a small orchestra of a dozen young musicians that would become the seed for El Sistema.
Four decades later, the government-financed program claims to currently put 1 million Venezuelan children in contact with classical music through a network of hundreds of youth
choirs, orchestras and music centers spread across the country. Internationally, its teaching model has spread to more than 60 countries, while its marquee Simon Bolivar Youth Orchestra is a fixture in top-flight concert halls from New York to London. But more recently the sterling reputations of the institution — and Abreu — have taken a hit as a result of
the program's close ties to Maduro, whose socialist administration has been accused of undermining Venezuela's democracy.
In 2014, amid a wave of deadly anti-government unrest, Abreu and Dudamel appeared alongside Maduro on national TV celebrating a recent European tour and reviewing blueprints for the government- funded "Dudamel Hall" designed by L.A.-based architect Frank Gehry. Around the same time the book "El Sistema: Orchestrating Venezuela's Youth" by British musicologist Geoffrey Baker was published, describing Abreu as a politically cunning, autocratic and vengeful visionary as much feared as loved.
The book also faulted El Sistema for fostering a culture of top-level corruption, favoritism and improper sexual relations between teachers and pupils. An Associated Press investigation last year found that El Sistema had for more than a decade claimed Abreu held a doctorate in petroleum economics from the University of Pennsylvania. The Ivy League school had no record of Abreu ever attending, and his brother Jesus Abreu later confirmed to AP that the
doctorate did not exist. He said it had been incorrectly listed on the El Sistema website as a result of an administrative error.
Abreu never publicly responded to the criticisms as he retired from public view shortly after the book's publication. But El Sistema disputed Baker's characterization and Abreu's many backers, include even some government critics, said it overlooked his musical achievements and the successful building of one of the few institutions in Venezuela to have endured almost two decades of polarizing, socialist rule. Arts educator Marshall Marcus witnessed up close El Sistema's birth as a young musician living in Venezuela during the late 1970s oil boom.
In 2012, he established the Sistema Europe, a network of youth ensembles from 25 countries inspired by the Venezuelan model. He acknowledged that the organization hasn't evolved as quickly as its track record for musical excellence. But he rejected Baker's emotionally charged language comparing El Sistema to the mafia and slavery, saying the book might only serve to incense critics who accused Abreu of being too cozy with the government on which El Sistema's survival depends. "It may be an autocracy but it's one that has allowed thousands of people to flourish," Marcus told AP in 2014. "If that's a tyranny, it sure doesn't feel like one."