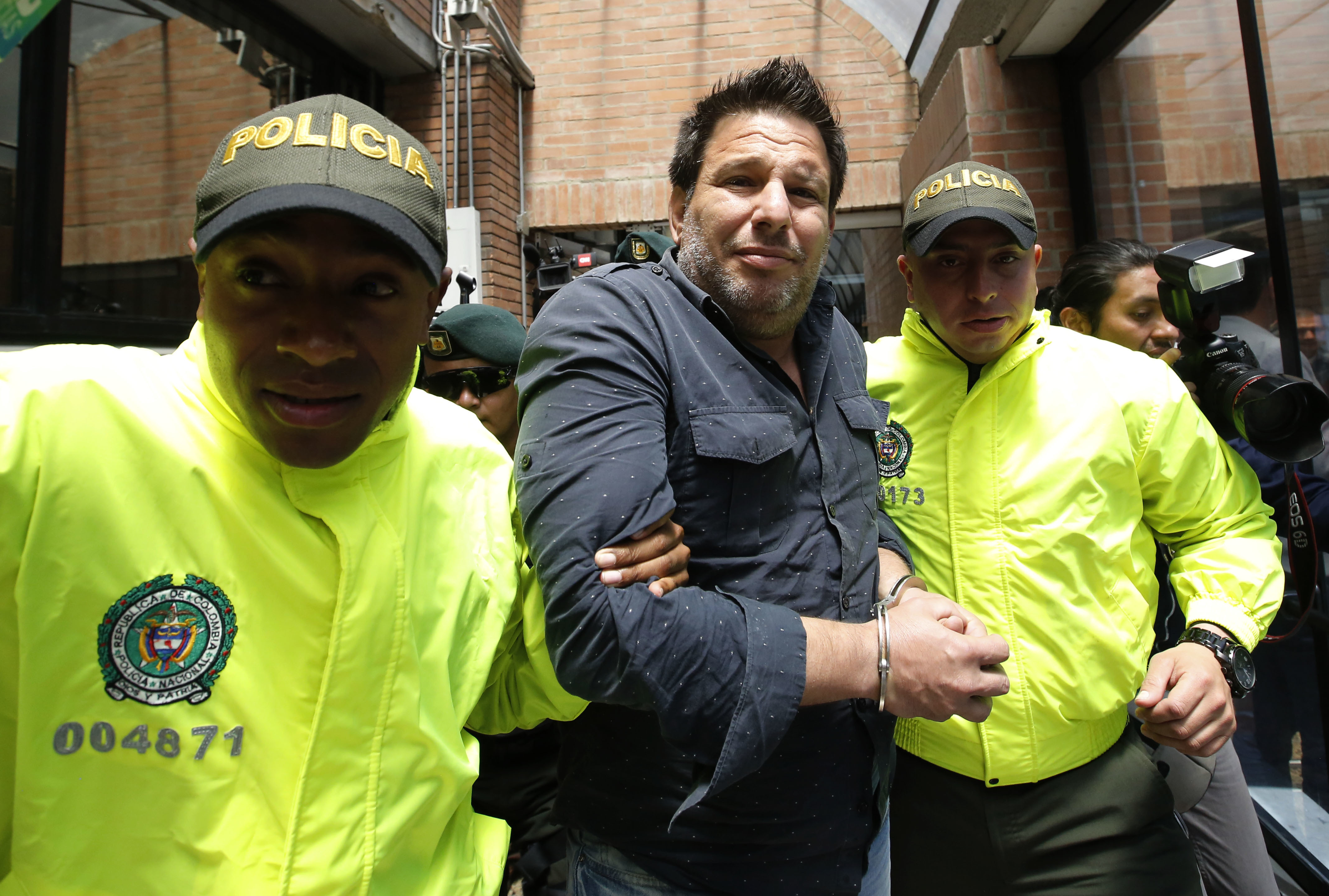 By JOSHUA GOODMAN
CESAR GARCIA
Associated Press
BOGOTA, Colombia (AP) — Police in Colombia have arrested a Cuban man suspected of plotting to kill American diplomats in the name of the Islamic State. The suspect, Raul Gutierrez, arrived Thursday in handcuffs to a Bogota courtroom where a judge ordered him held without bail on terrorism and conspiracy charges. He was arrested earlier in the week in the western city of Pereira in a coordinated investigation involving police in Spain and the FBI.
Authorities said they had intercepted communications from late February in which Gutierrez allegedly discussed plans to make and detonate a homemade explosive in a restaurant in Bogota where he had sought work as a dishwasher and which was frequented by U.S. diplomats. In another message sent over the Telegram instant messaging service, he also allegedly expressed a willingness to blow himself up for Allah and ISIS.
Gen. Jorge Nieto, head of Colombia's police, declined to discuss the evidence in the case in detail except to say a number of electronic devices were seized that lend credence to the hypothesis that he was planning a terrorist attack. Gutierrez pleaded not guilty in his first court appearance Wednesday. Gutierrez had been expelled from Colombia twice before.
In 2015, he entered the country legally on a visa with the aim of eventually making his way to the U.S., a Colombian official told The Associated Press on condition of anonymity because he was not authorized to discuss the case on the record.
Authorities later discovered he had been issued the visa based on false statements and proceeded to deport him to Cuba, the official said. But he returned in 2016, entering the country illegally by land from neighboring Ecuador, which doesn't require Cubans to have visas like Colombia and many other nations do. Authorities caught up with Gutierrez in Pereira, and in 2017 he was expelled again. He is believed to have returned to Colombia a
third time at the start of the year.
The U.S. Embassy in Colombia is one of the biggest in the world, the main hub for close anti-narcotics and counterinsurgency cooperation between the two staunch allies. While the winding down of Colombia's half-century conflict has led to huge security improvements in recent years, U.S. diplomats still face a number of restrictions on their movements reflecting the dangers that persist in a country with a long history of terror attacks — some of them directed at American targets — and widespread criminality.
Spanish police said in a statement that they had been monitoring the online activities of Gutierrez and that over a period of several weeks he showed signs of indoctrination in radical Islam, such as putting the word "jihadist" on his social media accounts and wearing clothes identifying him as a militant. Prosecutors on Wednesday said Gutierrez had received precise instructions in communications with people from Spain and Morocco on carrying out an attack targeting Americans. The U.S. Embassy in Colombia did not immediately make any statement related to the case, and the FBI declined to comment.