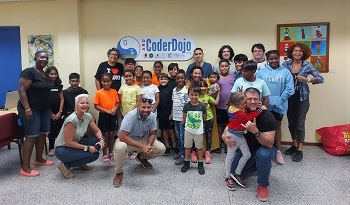 ORANJESTAD – The Full Stack Vision foundation has 'Coder Dojo' lessons at the National Library for over a year in Oranjestad and San Nicolas.
To offer this Dojo, Full Stack Vision Foundation started a collaboration with the National Library in 2021. It launched its first Coder Dojo session at the National Library in Oranjestad and soon after at the Library in San Nicolas. Both are successful.
What is Coder Dojo?
Each session of the Coder Dojo provides children the opportunity to learn about coding, website development, apps, programs and computer games, and computer engineering.
They can explore and experiment and play. The children will work together on different projects.
Full Stack Vision Foundation works with volunteers as mentors to ensure each child gets proper guidance and attention.
Parents interested in this program for the children to join can find more information on https://arucoderdojo.org/%20of%20raspberrypi.org
Mr. Bruce Harms and Mrs. Thanya Croes of Full Stack Vision Foundation gave their observation and shared their ideas for the future.
They formalized their partnership with the National Library with an agreement.
Mrs. Astrid Britten, Director of the National Library, signed this agreement and is happy that Coder Dojo remains at the library for the next four years.
A Coder Dojo sign was recently installed in the Library in Oranjestad and San Nicolas and was created by Adolfo and Joshua Valbuena.