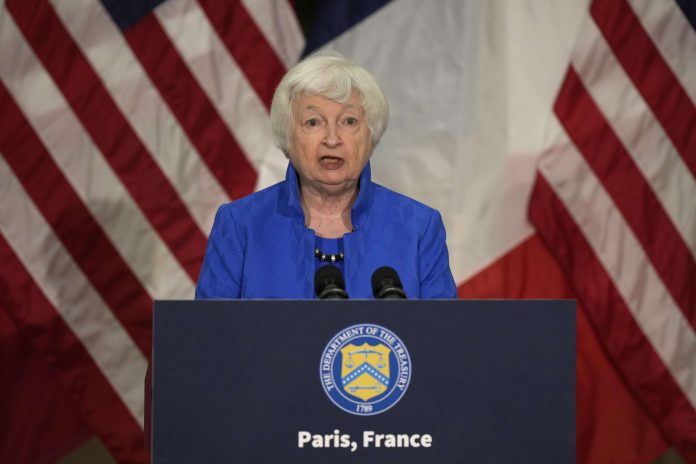 Associated Press
By SYLVIE CORBET and ELLEN KNICKMEYER
Associated Press
WASHINGTON (AP) — China said Thursday it had registered a formal protest over President Joe Biden's reference to Chinese leader Xi Jinping as a "dictator," while Treasury Secretary Janet Yellen stressed the critical importance of the two rival powers maintaining relations despite their disagreements.
Biden's remarks at a 2024 reelection fundraiser Tuesday opened a new rift just after Secretary of State Antony Blinken concluded a visit to Beijing that was meant as a step toward stabilizing ties and improving communications with China.
Biden called the Chinese president a dictator, depicted him as out-of-touch during last winter's tumult over a Chinese spy balloon, and dismissed China as having "real economic difficulties."
China's embassy in Washington said it had delivered a formal protest, with Chinese Ambassador Xie Feng telling senior White House and State Department officials Wednesday that Washington "should take earnest actions to undo the negative impact" of what Biden said or "bear all the consequences."
"With the latest irresponsible remarks about China's political system and its top leader, people cannot help but question the sincerity of the U.S. side" in seeking to stabilize relations, the embassy statement said. "The Chinese government and people do not accept any political provocation against China's top leader and will resolutely respond."
The diplomatic dispute with China comes as Biden hosts Indian Prime Minister Narendra Modi for a lavish state visit where a central theme will be a shared wariness of China.
As an official government-to-government communication, the ambassador's message to the Biden administration carries more weight than the critical comments made a day earlier by a Chinese government spokesperson to reporters. China gave no further details of how the ambassador delivered his message, whether it was seeking an apology from the Biden administration, or what the consequences would be.
China and the U.S. in recent years have been cycling in and out of diplomatic flare-ups. China has used measures ranging from cutting diplomatic ties to staging military maneuvers off Taiwan to show its displeasure.
Biden administration officials on Wednesday defended Biden's remarks, saying the president has made a point of drawing distinctions between the world's democracies and autocracies. The State Department said Thursday that it does not comment on private diplomatic discussions.
Speaking at an unrelated news conference in Paris, Yellen said "with respect to the comments, I think President Biden and I both believe it's critical to maintain communication … to clear up misperceptions, miscalculations. We need to work together where possible."
"But we have disagreements, and we are also forthright in recognizing we do have disagreements," she added.
Yellen has recently advocated for improving relations between the U.S. and China, arguing cooperation is needed for the sake of maintaining global stability.
Speaking as a two-day gathering gets underway in Paris on improving the global financial response to climate change and poverty, Yellen said she was "certainly pleased to see China participating in this summit."
Chinese Premier Li Qiang was among the dozens of heads of state and government, world finance officials and activists who converged on the French capital to discuss ways of reforming the global financial system and address debt, climate change and poverty crises, especially for developing nations.
"I believe it's important, as President Biden does, that the world's two largest economies are … working together in addressing global challenges," Yellen said.
She also emphasized that debt restructuring was a U.S. priority.
As a growing number of countries struggle with unsustainable debt aggravated by the fallout from climate change, Yellen encouraged all creditors to enter into negotiations to make the burden sustainable. China is the world's biggest government lender.
Citing Zambia, the southern African country she visited in January, Yellen said she was "encouraged by progress" regarding debt negotiations and was hoping "debt treatment can move forward soon." She did not provide details.
"Other urgent pending cases must also move forward quickly," she added, mentioning Ghana and Sri Lanka.