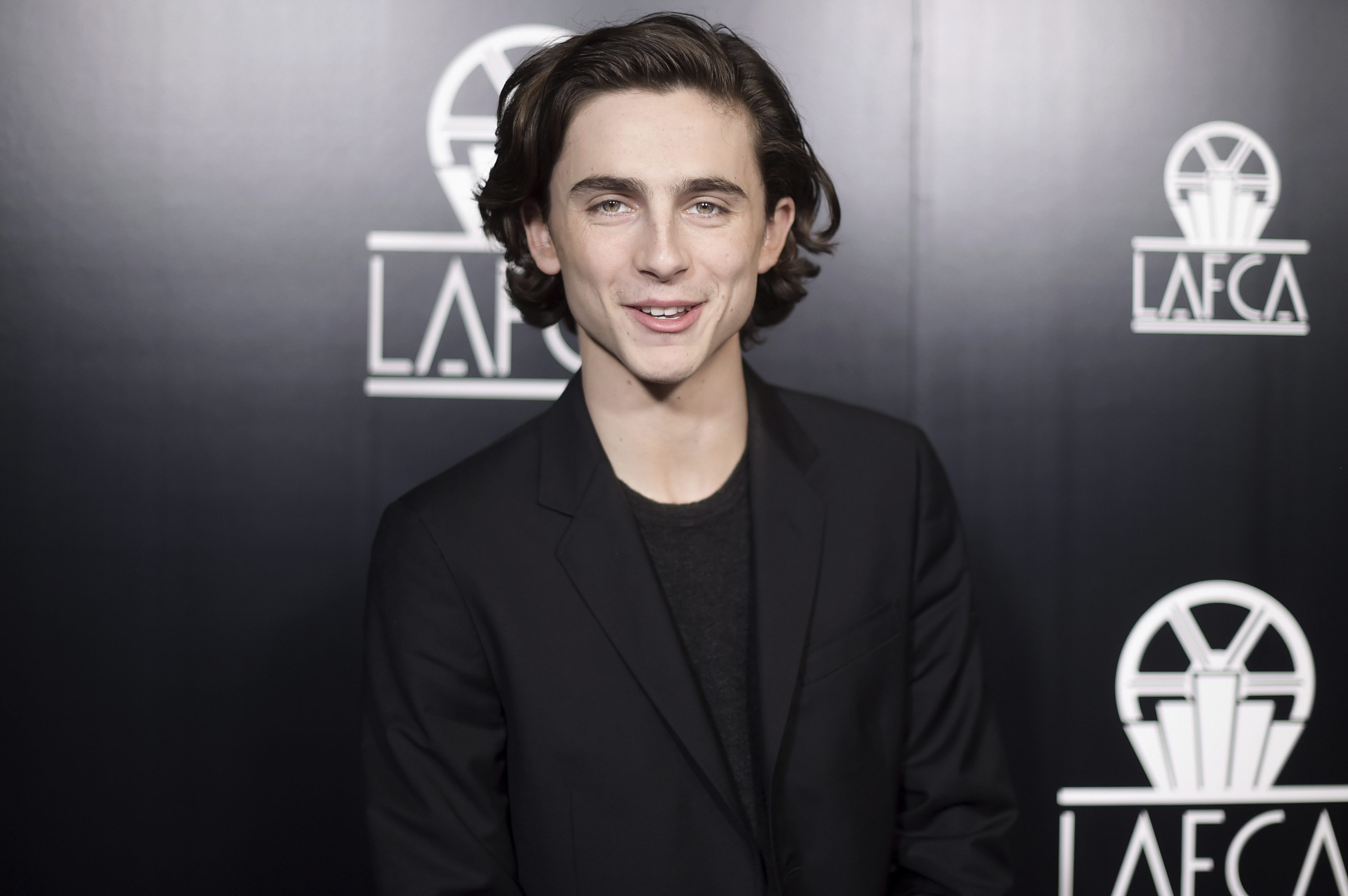 By JAKE COYLE
AP Film Writer
NEW YORK (AP) — Timothee Chalamet said he will donate his salary for an upcoming Woody Allen film to charities fighting sexual harassment and abuse, becoming the latest actor to publicly distance himself from the 82-year-old filmmaker.
The breakout star of "Call Me By Your Name" announced on his Instagram account Tuesday that he didn't want to profit from his work on Allen's "A Rainy Day in New York." Chalamet said he will give his salary to Time's Up, the LGBT Center in New York and RAINN. "I want to be worthy of standing shoulder to shoulder with the brave artists who are fighting for all people to be treated with the respect and dignity they deserve," said Chalamet.
Chalamet noted that due to "contractual obligations," he couldn't comment on the long-standing allegations against Allen. Dylan Farrow, Allen's adopted daughter, has said Allen molested her in an attic in 1992. Allen, who has long denied the allegations, was investigated for the incident but not charged.
On Friday, "A Rainy Day in New York" co-star Rebecca Hall said she was donating her salary from the film to Time's Up, the recently formed initiative to combat gender inequality in the entertainment industry. "It's a small gesture and not one intended as close to compensation," Hall wrote on Instagram.
The film, a romantic comedy due out sometime this year from Amazon Studios, also stars Selena Gomez, Jude Law, Liev Schreiber and Elle Fanning.
Dylan Farrow has previously questioned why the "Me Too" movement hasn't ensnarled Allen. In an op-ed published last month in The Los Angeles Times, she wrote: "Why is it that Harvey Weinstein and other accused celebrities have been cast out by Hollywood, while Allen recently secured a multimillion-dollar distribution deal with Amazon, greenlit by former Amazon Studios executive Roy Price before he was suspended over sexual misconduct allegations?"
Price, the former head of Amazon Studios, resigned in October. Since Farrow's opinion piece, others have begun recanting their previous support of Allen. Greta Gerwig, who directed Chalamet in "Lady Bird," said last week that she's had a change of heart.
"If I had known then what I know now, I would not have acted in the film," Gerwig told The New York Times. "I have not worked for him again, and I will not work for him again. Dylan Farrow's two different pieces made me realize that I increased another woman's pain, and I was heartbroken by that realization."
Actors Ellen Page ("To Rome With Love"), David Krumholtz ("Wonder Wheel") and Griffith Newman ("A Rainy Day in New York") have also in recent months voiced their regrets at having worked with Allen. The rising chorus throws Allen's future as a working filmmaker into question. Financial support for the prolific filmmaker has not previously waned, in part because of the eagerness many stars have previously had for working with the acknowledged legend.
Allen's last film, "Wonder Wheel" (also an Amazon release), has grossed a mere $1.4 million domestically on an estimated budget of $25 million since being released Dec. 1. It has had more success overseas, grossing $7.8 million.
Some have continued to support Allen, though, including Alec Baldwin. "Woody Allen was investigated forensically by two states (NY and CT) and no charges were filed," Baldwin said Tuesday on Twitter. "The renunciation of him and his work, no doubt, has some purpose. But it's unfair and sad to me. I worked with Woody Allen three times and it was one of the privileges of my career."