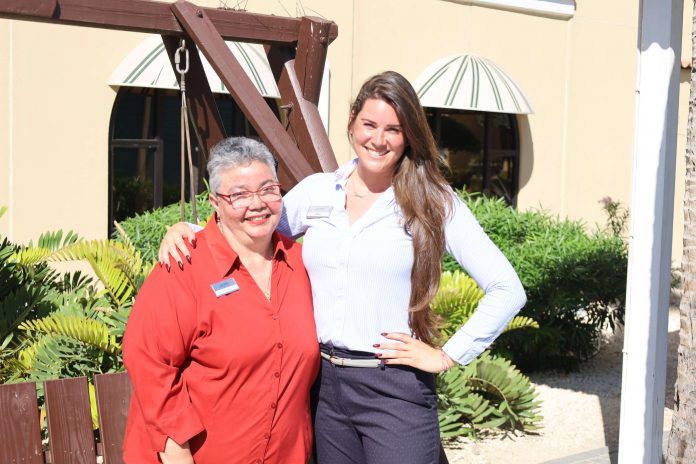 Oranjestad — Casa del Mar, a leading name in hospitality, takes immense pride in celebrating the remarkable 45-year tenure of Jessica Alders as a Member Relations Coordinator. An invaluable asset to the Casa del Mar family, Jessica's unwavering commitment, dedication, and passion have made her an epitome of loyalty in the industry.
Jessica Alders has played a pivotal role in nurturing the resort's reputation for exceptional service and unmatched guest experiences. Her journey began as a bright-eyed young professional, eager to make a difference in the world of hospitality. Over the years, she has not only witnessed Casa del Mar's growth but has also been an integral part of shaping its success story.
With unparalleled dedication, Jessica has worked tirelessly to create lasting impressions on the resort's esteemed members and guests. Her impeccable attention to detail and genuine care for each individual has earned her widespread admiration, making her the longest-serving employee in the history of Casa del Mar. Beyond her professional acumen, Jessica's warmth and kind demeanor have endeared her to countless members and colleagues alike.
As a Member Relations Coordinator, Jessica Alders has been the cornerstone of the resort's guest relations department. Her expertise in handling complex member requests, providing personalized experiences, and anticipating the needs of esteemed guests have set the bar high for excellence within the industry. Jessica's ability to foster lasting relationships has made Casa del Mar a home away from home for its visitors.
"Jessica's unwavering loyalty and commitment have been instrumental in defining the standards of service at Casa del Mar," said Starr Ramos, her Manager at Casa del Mar. "Her genuine care and passion for creating exceptional experiences for our members and guests have left an indelible mark on our resort's reputation. Everybody loves Jessica!"
In her 45 years with Casa del Mar, Jessica has established herself as a valuable asset to the organization. Always willing to assist other departments with her knowledge, she readily shares her past experiences, fostering a collaborative and knowledgeable work environment.
The 45th anniversary of Jessica Alders at Casa del Mar is not only a celebration of her individual journey but also a testament to the values that Casa del Mar holds dear — excellence, dedication, and a genuine commitment to creating cherished lasting memories for all guests.
Join Casa del Mar in celebrating and congratulating Jessica Alders and her outstanding 45-year career.