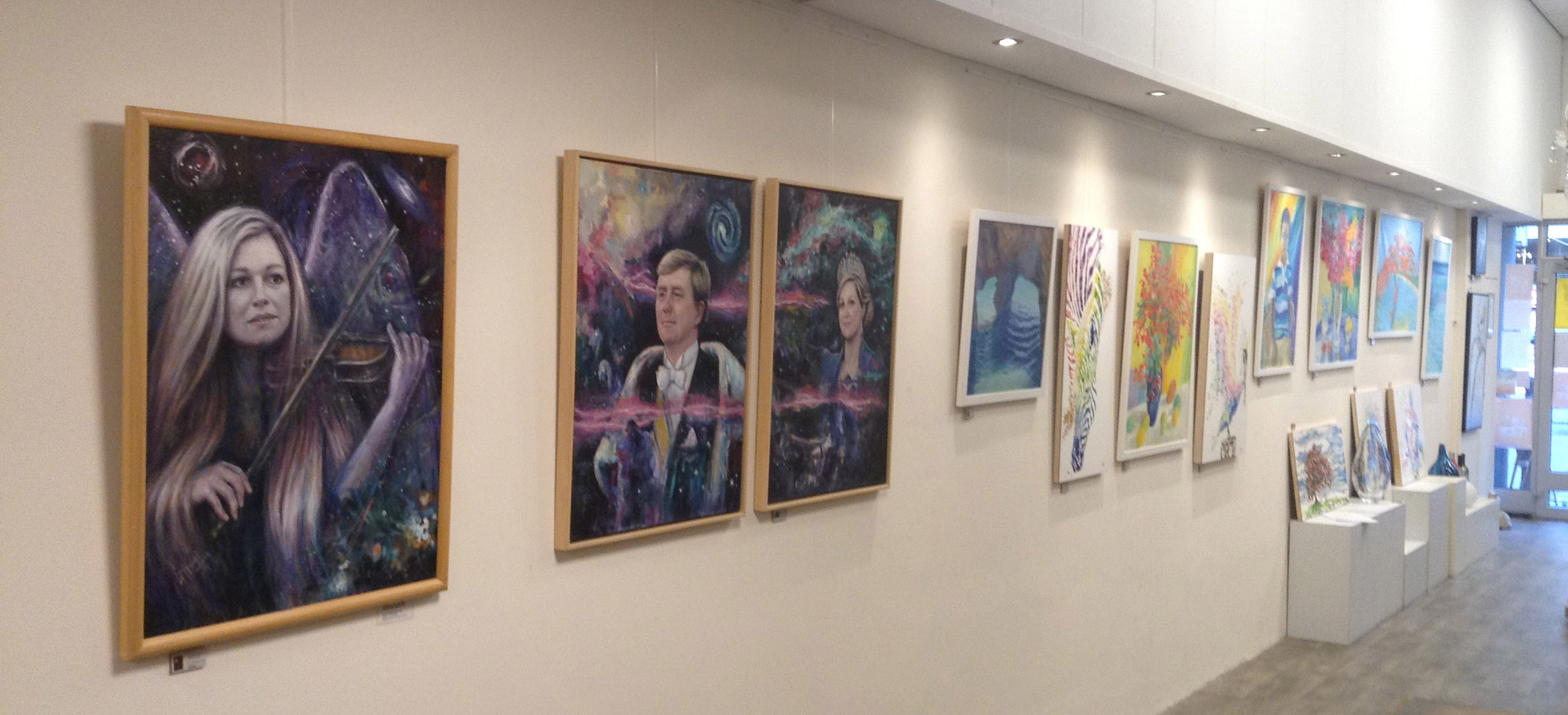 THE HAGUE — Minister of St Maarten, Mr. Michael Somersall opened this exhibition of famous Caribbean artists at ARToMoNDo. After a presentation of some of the Artworks at the Cabinet of the Minister Plenipotenciary of Sint Maarten in The Hague and the first vernissage and exhibition in Delft, of some of the most famous artists from Aruba, Curaçao and Sint Maarten, the Artworks of this travelling exhibition can be admired until March 16, in ARToMoNDo, Nieuwstraat 20, in the heart of Deventer.
The exhibitors Sir Roland Richardson, Tess Verheij, Melvin Anderson, Bikkel and Gustave Nouel are among the most famous and/or internationally recognized artists from the Caribbean parts of our Kingdom. Annex is there occasion to visit an exhibition of ' Orange paintings ' from GN, at Center 'De Ontmoeting', located opposite to'ARToMoNDo', Nieuwstraat 19-21, in Deventer.
The aim is that after this cooperation between well-known artists of the Overseas National parts, this initiative is extended with more artists and art disciplines. A touring exhibition throughout the Netherlands will try to open doors for this.
After a welcome by Mrs. Marianne de Bakker of 'ARToMoNDo' and Mr. Albert-Jan van Cloo of 'De Ontmoeting' and a speech by President of Foundation Orange events Apeldoorn/Dutch Orange Company BV, Mr. Simon Boon, Deputy Mayor and alderman of culture, Mr. Carlo Verhaar welcomed the delegation of Sint Maarten in Deventer. Afterwards the exhibition was officially opened by Minister Mr. Michael Somersall, as Minister Plenipotentiary of Sint Maarten.
After March 16th, this special collection will be exhibited first in The Hague and finally in the Grote Kerk of Apeldoorn, where also the conclusion and culmination of this initiative will take place. A possible phase 2 with traveling exhibitions throughout the Netherlands, will not focus on ' help after a hurricane ', but on cultural ' cooperation ' of the Caribbean Parts of the Kingdom in the Netherlands. The smallest Part of the Kingdom, Sint Maarten, could become an example on how a very negative local event can be channelled into positive events for all National parts, if the policy permits.
End 2017 Sint Maarten was hit by Hurricane Irma, the most disastrous hurricane in its history. In Apeldoorn, on Koningsdag 2018, began the ' Arts & Culture Relay' for part of the Kingdom Sint Maarten, a co-operation of Sichting Oranjefeesten Apeldoorn/Dutch Orange Company BV with the Government of St. Maarten and some famous Caribbean artists. This beautiful action could count on support from various authorities, of the Royal Federation of Orange associations (KBOV) and from various sponsors, including Royal Talent Foundation that donated a hefty amount of painting materials to Saint Martin.
The smallest part of our Kingdom, Sint Maarten, could probably become an example on how very negative local events can be channelled to positive events, for the whole Kingdom.