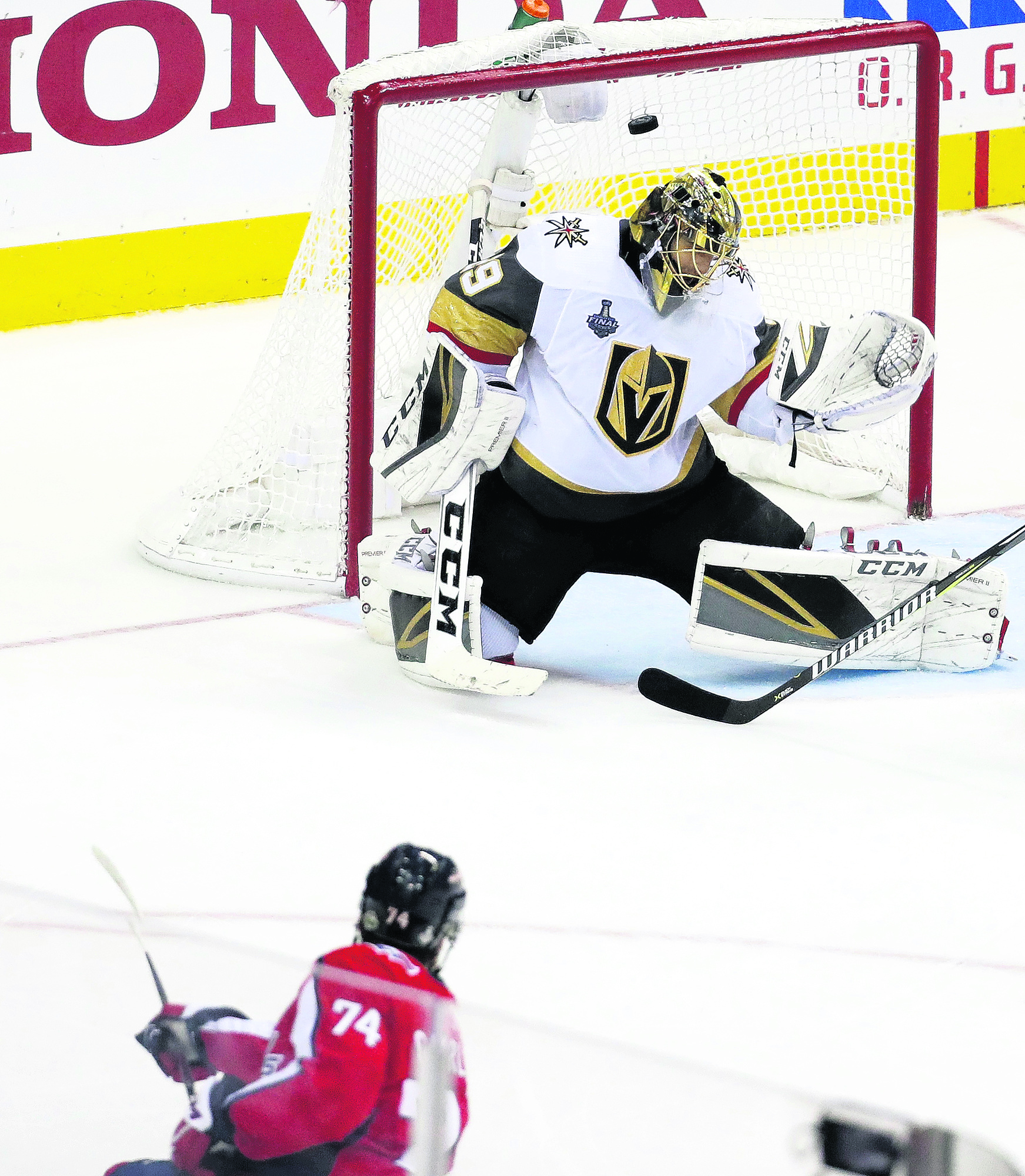 By STEPHEN WHYNO
Associated Press

WASHINGTON (AP) — Evgeny Kuznetsov smiled about getting four assists. He tried not to smile too much at the thought of being one win away from the Stanley Cup.
With Kuznetsov and goaltender Braden Holtby leading the way, the Washington Capitals are on the verge of capturing the first title in their 43rd season after routing the Vegas Golden Knights 6-2 on Monday night to take a commanding 3-1 series lead. Alex Ovechkin and the Capitals will get their first chance to hoist the Cup in Game 5 on Thursday night in Las Vegas.

One more win. "I've never been there," Kuznetsov said after just the fourth four-assist game in Cup Final history. "And I don't really care about that yet, so it's kind of easy for me. You know me, I always stay loose a little bit especially off the games. I'm pretty sure when game gonna come, we're gonna a little bit think about it. It's pretty hard to not think about that."
T.J. Oshie, Tom Wilson and Devante Smith-Pelly all scored in the first period to get the Capitals rolling against a determined Vegas team that has not found consistent answers against Holtby, who stopped 28 shots in another strong showing.
The Golden Knights outchanced the Capitals by a wide margin but fell apart after James Neal clanked a shot off the post instead of hitting a wide-open net early, and the expansion team's Cinderella run could be over in a matter of days. "It probably changes the game," Neal said. "It's probably a different game after that I had a wide-open net, and then I just hit the post."
John Carlson, Michal Kempny and Brett Connolly also scored as thunderous chants of "We want the Cup! We want the Cup!" rang out from the crowd. No team since the Detroit Red Wings in 1942 has blown a 3-1 lead in the Cup Final.
"It can be easy in a game where you can clinch to get a little bit ahead of ourselves," Oshie said. "But we've got a good group of leaders in the room … and we'll be focused at the start." The Capitals seem to be getting enough bounces to make up for nine previous first- or second-round playoff exits in the Ovechkin and Nicklas Backstrom era — and plenty of disappointments in the previous decades, too. While Vegas rang several shots off the posts, the Capitals seized just about every opportunity as they have throughout this surprising run. Kuznetsov padded his lead as the playoffs' leading scorer with primary assists on Oshie's power-play goal that made it 1-0 and Wilson's that doubled the lead.
"He just tells me to put my stick on the ice and he'll hit it," Wilson said of Kuznetsov. "It's a privilege to play with him. He's one of the best at his craft." Smith-Pelly, who scored the insurance goal to ice Game 3, kicked the puck from his left skate to his stick and roofed a shot on Marc-Andre Fleury with 20.5 seconds left in the first period. Fleury came into the final as the Conn Smythe front-runner for playoff MVP honors but looked human again by allowing six goals on 23 shots at a defense that has often left him vulnerable. Fleury called the loss "frustrating and demoralizing." Coach Gerard Gallant was quick to absolve his goaltender of blame.
"At least five of the six goals were wide-open nets," Gallant said. "Nothing he could do on them." Kuznetsov leads all playoff scorers with 31 points, Ovechkin is tied for the goal lead with 14 and Holtby showed again his ability to alter the course of a game. Holtby got some good fortune from the post on shots by Alex Tuch, Neal and Brayden McNabb, but he also had not allowed a goal in more than 62 minutes stretching back to Game 3. "We obviously got some breaks at the start of the game," Holtby said. "Honestly I thought (Neal's shot) was in, my angle, and somehow it didn't go in." Somehow, the Capitals have turned around their results at home, winning their past three in Washington after losing five of their first eight.
This one got chippy at the end when Oshie broke Vegas defenseman Colin Miller's nose on a hit and was given a game-ending 10-minute misconduct along with Golden Knights forwards Deryk Engelland and Ryan Reaves. "It is not ideal, but it is the Stanley Cup finals and everyone wants to win," Backstrom said. Pierre-Edouard Bellemare said he and his Vegas teammates can't win three games in one night, so they have no choice but to focus on the next opportunity to stave off elimination. Coach Barry Trotz wants his players to relax and not think too much about the chance in front of them.
"You have the opportunity to do something special as a group, but it's going to be the hardest thing to do, the hardest game to win because there's a very good team on the other side, a very proud team," Trotz said. "They're great in their building. We're not scared of their building. We've proved it that we're very good on the road and we're going to go there and put our best effort in there."