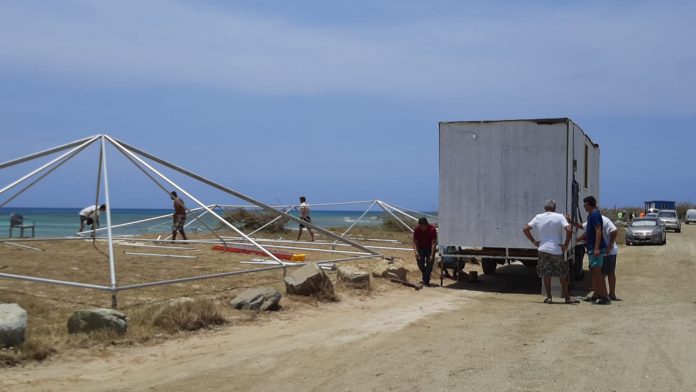 A reporter for Bon Dia Aruba toured around the Island visiting different camping sites where campers were already beginning with preparations and setting up for the coming week with many expectations.
"Finally!" is the word that was heard the most after for 2 consecutive years camping was suspended for reasons related to the COVID-19 pandemic. Now, locals as well as our visitors can enjoy of various vacation days at the beach.
During the visits, it was clear to see that in Bushiri there were already many trailers set up, the same could be seen at Eagle, Boca Catalina, and Arashi. The only part that did not have much movement as of yesterday was Fisherman Huts where some campers have no yet received their permits to be able to camp in these areas.
The camping season is one of the only moments during the year where Arubans can escape the daily routine to enjoy vacation days. During these days, you can see the unity that exists for community to come together and enjoy of Aruba's beaches, always with the responsibility to care for our nature, to keep our beaches clean and make sure to cause no harm to the areas.
Bon Dia Aruba spoke to a camper, who mentioned that he considers camping something important for tourism and the development of our economy as well. "We organize very well. We never got any complaints or fines for anything. We keep the area clean, we look for an adequate place for the bathroom placement and set up where we will do the cooking. This way we can keep the area looking organized, so that tourists can come to us and spend time with us, and often times even eat fresh fish with us. They also enjoy this tradition with us and we hope that this year we can experience the same, so we can help our tourism and our economy," he expressed.
Cuerpo di Polis di Aruba (local authorities) published in a press release that the last day for camping will be the 24th of april.
After the camping season ends, all objects will have to be removed from the beach. If any campers don't comply, the police will remove the objects at the camper's cost. "We call out to all our campers and ask them to keep our beaches clean. Dispose of all trash accordingly."