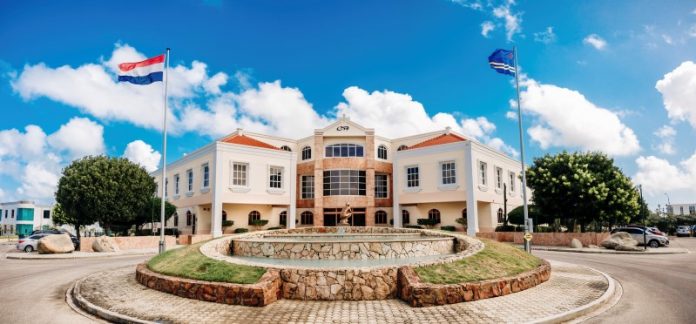 The Central Bank of Aruba (CBA) recently concluded its Business Perception Survey (BPS) for the second quarter of 2020. The BPS assesses the economic perceptions and sentiments of local businesses as well as the continued impact of the COVID-19 pandemic on economic conditions and business activities.
The Business Perception Index (BPI), comprising the current and short-term economic conditions, inched up by 1.8 index points to 94.0 during the second quarter of 2020. The overall BPI indicates an initial improvement in business sentiments since the largest drop registered last quarter (See Chart 1)[1]. The change in sentiments was largely due to improvements in short-term future economic conditions, as Aruba moves into a new normal and re-opened the border for tourism activities.
Chart 1: Business Perception Index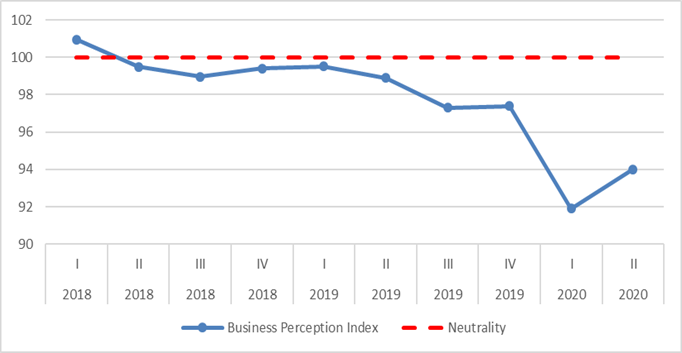 Source: Centrale Bank van Aruba
The current economic condition index noted a contraction of 1.4 index points to 92.5, down from 93.9 in the first quarter of 2020. The short-term future economic condition index recovered by 5.6 index points, i.e., from 90.8 in the first quarter of 2020 to 96.4 in the second quarter of 2020 (See Table 1). In the next 12 months, the percentage of surveyed firms expecting negative economic growth remained largely negative (86.8 percent).
In terms of the impact of the COVID-19 pandemic, the expanded Business Perception Survey also assessed the expected impact on business sales, the need for emergency business funds, and the expected economic impact.
Almost 50 percent of business respondents (49.5 percent) pointed out that the COVID-19 continued to have a significant impact on their business sales; 4.2 percentage points less when compared to 53.7 percent in the first quarter. More than 60 percent expect the impact of the COVID19 pandemic to linger for more than 12 months, this is 20 percentage points more compared to the first quarter. As for the business emergency funds provided by the Government of Aruba, more than 40 percent of business respondents applied during the second quarter, compared to 32.6 percent that were considering to register for additional emergency funding.
The complete report of the Business Perception Survey is available on the website of the CBA (https://www.cbaruba.org/).Q
Table 1: Business Perception Survey (General results)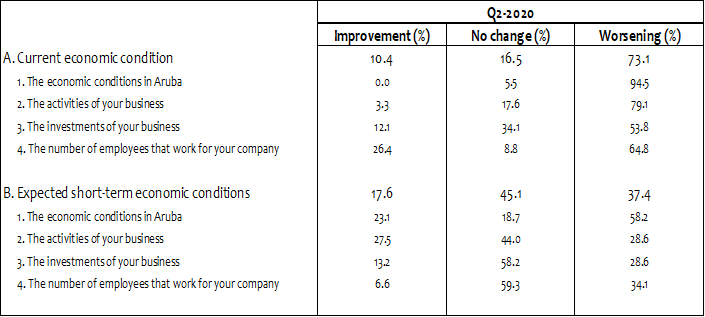 Source: Centrale Bank van Aruba
The index can vary between 90 and 110. Between 90 and 100 indicates a situation of pessimism. An index of exactly 100 indicates that businesses are neither pessimistic nor optimistic but are neutral with regard to their thoughts about economic developments in Aruba. Between 100 and 110 indicates a situation of optimism in business sentiments. ↑