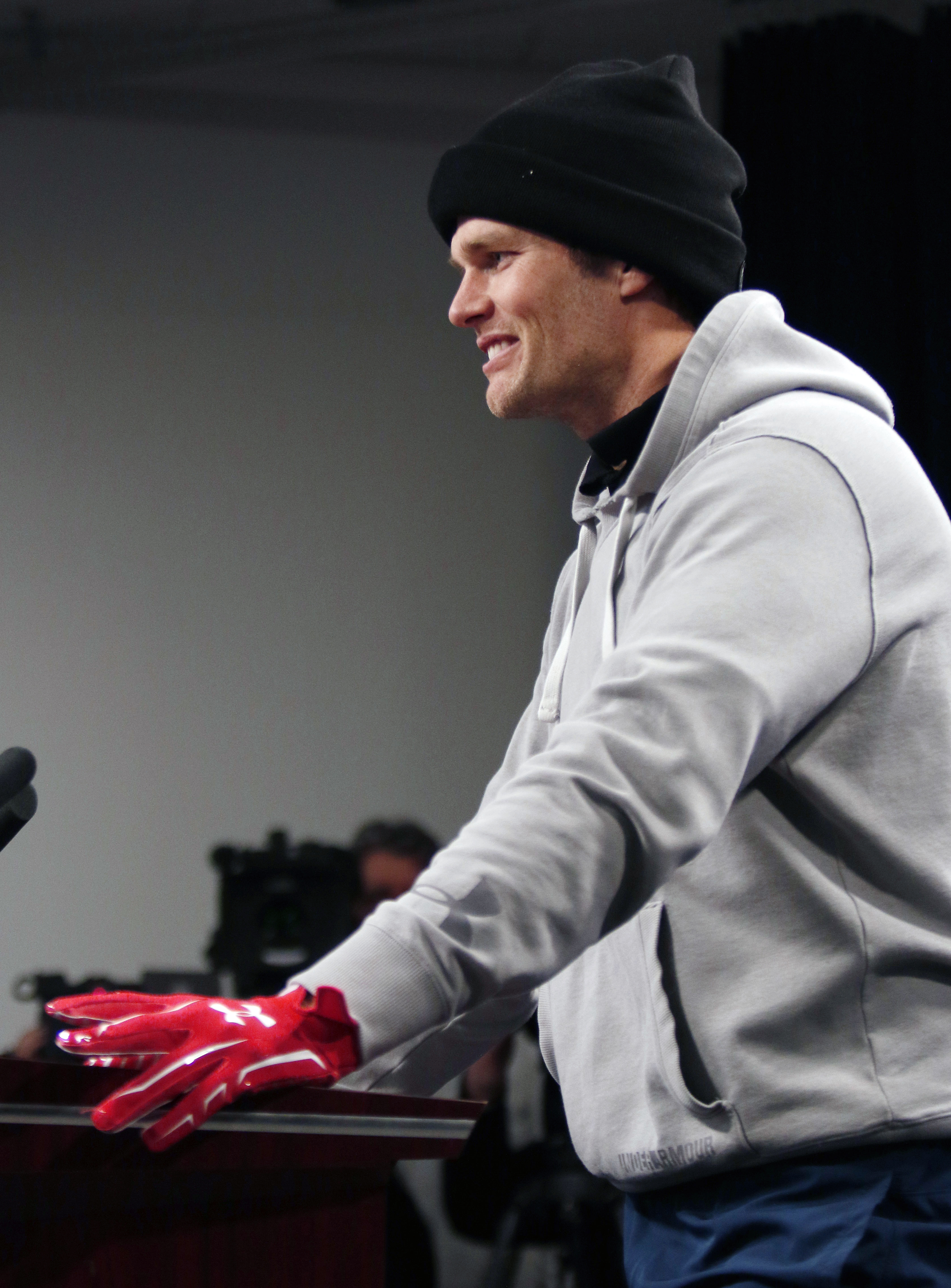 By KYLE HIGHTOWER
AP Sports Writer
FOXBOROUGH, Mass. (AP) — Tom Brady is staying mum on his status for the AFC championship game after suffering a right hand injury earlier in the week. Brady said a bit contentiously only "We'll see" on Friday when asked whether he would play in Sunday's conference title game against Jacksonville.
The quarterback wore red gloves and responded to several other questions about how much he practiced or how he sustained the injury by saying "I'm not talking about that."Brady is listed as questionable for Sunday after being a limited participant in practice Friday. He was also limited on Wednesday. He sat out practice Thursday, but wore a glove on his injured hand during the stretching period open to reporters. He usually only wears a glove on his non-throwing hand.
One thing Brady was clear about was the test he expects from a Jaguars unit ranked second in the NFL in total and scoring defense. "It's a very unique challenge," Brady said. "I think their front three, their linebackers, are very instinctive and very fast. And great cover guys in the secondary. Ball-hawking defense. They strip it off you, they sack you. … So they're a good defense."
Brady appeared on the Patriots' weekly injury report several times during the latter half of this season with injuries to both his Achilles tendon and his left shoulder. The four-time Super Bowl MVP has never missed a playoff start during his 18-year career.
"Tom always tends to show up in big games. This is a big game," receiver Danny Amendola said. "(He's) super tough. The toughest. He's a warrior, he's a competitor and there's really only one reason why he's here, and that's to play football. "
Jacksonville is preparing like Brady will be in the huddle as usual Sunday. Jaguars defensive tackle Marcell Dareus said typical methods of rattling a quarterback don't apply when it comes to him.
"You can hit Brady, but hitting him isn't what's going to get to him. It's constantly being that gnat in his face. He just hates that gnat just always around," said Dareus, who might be more familiar than any Jacksonville player with Brady, having spent six-plus seasons with the Bills.
"You sack him he's going to get up and just keep rolling. He's that competitive spirit, like, 'OK, you got me. Now I'm fixing to go throw this touchdown the next play. Forty yards. You happy about that sack? But there you go.' That's just his mentality. I like it. I love playing against the guy. He's phenomenal to watch."
If for some reason Brady can't go — no, the Earth won't stop rotating on its axis and New England still would show up to play — the Patriots would look to backup Brian Hoyer. His last playoff start was the antithesis of a Brady performance. For Houston in its 2015 AFC wild-card matchup with Kansas City, Hoyer completed 15 of 34 passes for 136 yards, with no touchdowns and five turnovers (four interceptions) in a 30-0 loss.
Hoyer, a former Patriot, was acquired in midseason when the Patriots traded Jimmy Garoppolo to San Francisco.
"I'm always preparing to play because the truth of reality is you never know when your name's gonna be called," he said Thursday.
The Patriots haven't called any QB's name in the postseason other than Brady's since the 1990s. Including the playoffs, the Jaguars scored eight defensive touchdowns this season, three more than any other team. Cornerback Jalen Ramsey had four interceptions during the regular season and also had one in the wild-card win over Buffalo. He also fully expects to see Brady on the field Sunday.
"He's going to be out there, he's going to play, he's going to play to his best of ability and do what he does," Ramsey said.