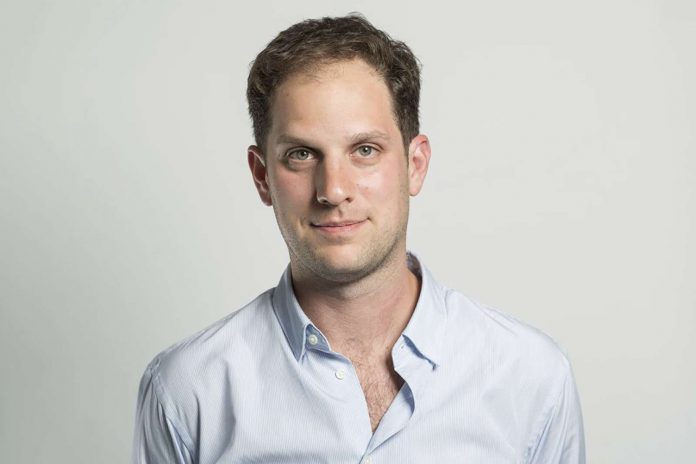 By SEUNG MIN KIM
Associated Press
WASHINGTON (AP) — President Joe Biden on Friday urged Russia to release Wall Street Journal reporter Evan Gershkovich, who was arrested on espionage charges — allegations the newspaper denies.
"Let him go," Biden told reporters at the White House when asked about his message to Russia on the arrest of Gershkovich.
Russia's Federal Security Service has accused Gershkovich, a U.S. citizen, of trying to obtain classified information. It is the first time an American journalist has been detained in Russia on accusations of spying since the Cold War. The Journal has said it "vehemently denies" the charges.
Speaking at a news conference in Lusaka, Zambia, Vice President Kamala Harris added that the administration was "deeply concerned" about Gershkovich's arrest.
"We will not tolerate — and condemn, in fact — repression of journalists," Harris said during a weeklong visit to Africa.
The Biden administration said Thursday it was working to secure U.S. consular access to Gershkovich. Asked Friday whether he would expel Russian diplomats or journalists in the U.S., Biden responded: "That's not the plan right now."
Karine Jean-Pierre, the White House press secretary, called the targeting of U.S. citizens in Russia "unacceptable" and said the administration condemns the detention of Gershkovich "in the strongest terms."
The Biden administration has also warned U.S. citizens not to travel to Russia, and for Americans in the country to depart immediately.
In Moscow, Dmitry Muratov, Nobel Peace Prize-winning editor-in-chief of the Novaya Gazeta newspaper, told reporters he knows the detained journalist and "Gershkovich was not an agent using his professional and journalistic accreditation as a cover for espionage."
Speaking more generally of the Kremlin's repression of independent journalism, which has intensified since Russia invaded Ukraine, Muratov said: "This is a trend — trying to attribute espionage and treason to people at every step, to show that the profession of a journalist is an enemy profession for the country — for Russian and other journalists."