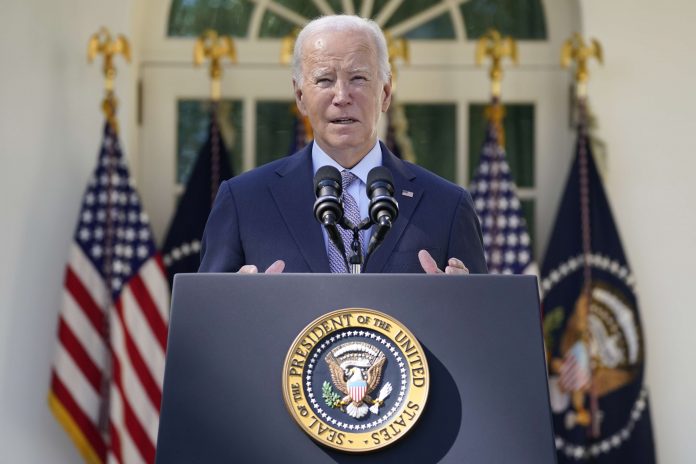 By CHRIS MEGERIAN and MARY CLARE JALONICK
Associated Press
WASHINGTON (AP) — The White House on Friday released a sweeping set of proposals to bolster Israel and Ukraine in the midst of two wars as well as invest more in domestic defense manufacturing, humanitarian assistance and managing the influx of migrants at the U.S.-Mexico border.
The total cost of the supplemental funding request was pegged at just over $105 billion. President Joe Biden hopes Congress will move urgently on the legislation, and he made the case for deepening U.S. support for its allies during a rare Oval Office address on Thursday night.
The Democratic president's plan faces some immediate complications on Capitol Hill. The House is at a standstill, unable to pass legislation, as the Republican majority struggles to choose a new speaker, and it could also get bogged down in a divided Senate where some Republicans want to add additional border policies to the measure.
But Senate Majority Leader Chuck Schumer, a New York Democrat, said he would advance Biden's proposals as soon as possible.
"This legislation is too important to wait for the House to settle their chaos," he said. "Senate Democrats will move expeditiously on this request, and we hope that our Republican colleagues across the aisle will join us to pass this much-needed funding."
Biden's national security adviser, Jake Sullivan, told reporters on Friday that Russia's ongoing invasion of Ukraine and Hamas' attack on Israel represent a "global inflection point."
"This budget request is critical to advancing America's national security and ensuring the safety of the American people," Sullivan said.
The biggest line item in the supplemental funding request is $61.4 billion to support Ukraine. Some of that money will go to replenishing Pentagon stockpiles of weapons that have already been provided.
Ukraine has struggled to make progress in a grueling counteroffensive, and the White House has warned that Russia could gain ground if the United States does not rush more weapons and ammunition to the conflict.
"The world is closely watching what Congress does next," Sullivan said.
Israel would receive $14.3 billion in assistance under the proposal. The majority of that money would help with air and missile defense systems, according to the White House.
Some Republicans in both the House and the Senate are wary of linking funding for Ukraine and Israel.
Rep. Roger Williams, R-Texas, said the president's proposal was discussed in a closed-door meeting of his state's Republican delegation on Friday.
"You can't blend the two together," he said, describing Israel as "our friend forever."
Williams said Biden's proposal is "a little disturbing" because "he knows he can't get it done without Israel."
The reaction is emblematic of how Biden's decision to roll together several different issues, in hopes of broadening the potential political coalition to ensure the legislation's passage, could also lead it to its derailment.
Debates over immigration will likely be the most thorny as Republicans seek to bolster enforcement. Some Republicans have said they won't support the measure unless new policies are added, and it is so far unclear whether the money that Biden is requesting would be sufficient. A group of Republican senators huddled on Thursday to discuss possible proposals that they would support.
Shalanda Young, the director of the Office of Management and Budget, suggested it would be hypocritical for them to oppose Biden's proposal after complaining about lax border management.
"We will not be lectured by those who refuse to act," she said. "As we've said repeatedly, Congress needs to take action to provide sufficient resources for the border."
Although there was a lull in migrant arrivals to the U.S. after the start of new asylum restrictions in May, illegal crossings topped a daily average of more than 8,000 last month.
The White House wants roughly $14 billion to, among other things, boost the number of border agents, install new inspection machines to detect fentanyl and increase staffing to process asylum cases.
Sen. Bill Hagerty, a Tennessee Republican, said providing the administration with "more money to fuel its disastrous open-borders resettlement operation is insanity."
"It would worsen the border crisis, not stop it," he wrote on X, formerly known as Twitter.
Biden's funding request includes $7.4 billion for a variety of initiatives geared toward the Indo-Pacific, where the U.S. is focused on countering China's influence. The money is divided among joint security initiatives in the region, bolstering submarine manufacturing as part of a partnership with Australia and developing financing programs for countries that would otherwise rely on Beijing.
Another $9.15 billion is geared toward humanitarian efforts in Ukraine, Israel, Gaza and other places. Administration officials said they would determine where best to direct the money once it's approved.
Connecticut Rep. Rosa DeLauro, the top Democrat on the House Appropriations Committee, said "time is of the essence" for passing the legislation.
"We will be judged on how the United States responds to ongoing crises, whether we honor our commitments to our allies abroad, and how we care for innocent people around the world caught in the wake of devastation," she said.