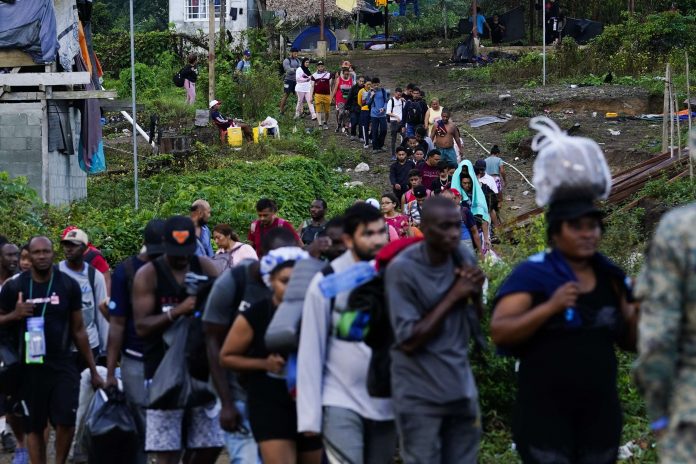 By Mark Stevenson, Michael Balsamo and Colleen Long
Associated Press
MEXICO CITY (AP) — The Biden administration will resume deporting Venezuelan migrants, the largest single group encountered at the U.S.-Mexico border last month, back to their economically troubled country as their arrivals continue to grow.
The process is expected to begin shortly, said two U.S. officials, though they did not provide specific details on when the flights would begin taking off. The officials were not authorized to disclose details of the government's plan and spoke to the AP on condition of anonymity.
The resumption of deportation comes not long after the administration increased protected status for Venezuelans who arrive to the U.S., so if someone arrived to the U.S. before July 31 of this year, but not after, they'd be eligible for protections. The decision reflects the larger strategy by President Joe Biden to not only provide expanded legal pathways for people arriving, but also to crack down on those who illegally cross into the country from Mexico.
The officials would not discuss details about how frequently deportation flights would be going to Venezuela or describe how Venezuela agreed to accept back their citizens except to say that, like other countries around the world, the U.S. has long encouraged Venezuela to accept back its nationals. Cuba, another U.S. adversary, announced earlier this year that it would begin accepting Cuban deportees but there has only been one flight a month.
The U.S. had been returning some Venezuelans via commercial flights, but in relatively small numbers and through third countries.
In Venezuela, the government said it had reached an agreement with U.S. officials for a safe and orderly repatriation.
"Venezuelan migration in recent years is a direct result of the application of unilateral coercive measures and a blockade of our economy," Venezuela's foreign ministry said via X, the platform formerly known as Twitter. It said the government would deploy a program to support repatriated Venezuelans.
The U.S. move is the latest effort to deal with swelling numbers of migrants as the administration comes under increasing pressure from Republicans and mayors from the president's own party to do more to slow arrivals.
The announcement came as U.S. Secretary of State Antony Blinken and other top Biden administration officials met with their counterparts in Mexico City.