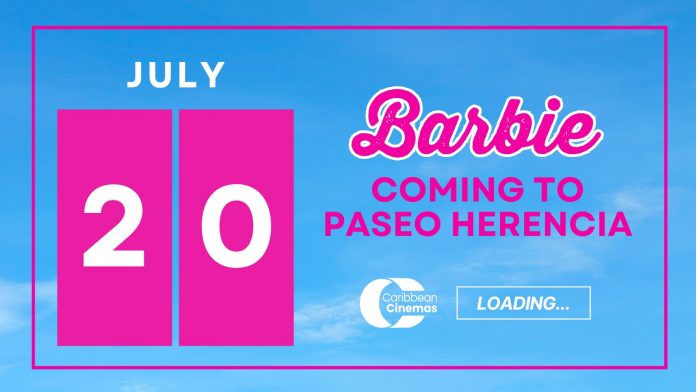 Get ready to immerse yourself in a world of pink and glam as the Barbie Movie Premiere at the Caribbean Cinemas – Paseo Herencia. This highly anticipated event promises an enchanting experience filled with exclusive promotions, trendy fashion, delectable drinks, and unique offerings that will delight Barbie fans of all ages at Paseo Herencia.
Pink Deals July 20 – 23
Carmen Steffens, a renowned fashion boutique, invites you to discover the complete Barbie Outfit. Step into the spotlight with trendy pink clothing and accessories that you won't find anywhere else. Enjoy an exclusive 30% discount on the Barbie Collection, and indulge in up to 50% off on their regular collection. Don't miss this opportunity to dress like a true fashion icon!
Join ALDO for an extraordinary event as they unveil their exclusive Barbie Collection. Experience the magic of fashion and imagination on Saturday, where you'll discover a stunning lineup of Barbie-inspired footwear and accessories. Indulge in sips, treats, and entertainment while exploring the collection that perfectly captures Barbie's iconic glamour.
TGI Fridays knows that a pink drink is the perfect companion for this magical occasion. Gather your friends and enjoy a delightful Cosmopolitan, available all day from July 19th to July 23rd. Sip and celebrate the Barbie Movie Premiere in style!
Up-style your outfit with beautiful pink braids. Visit Braids To Go, where you can get pink braids starting from $3.50. Let your hair shine with a touch of Barbie-inspired pink!
Calling all pink lovers! Beach N Flips, Emocean, and BKS Aruba have a special treat for you. From July 21st to July 23rd, enjoy a fantastic 15% discount on all pink items.
Delicia's Jewelry is offering an exclusive deal for those looking to add a touch of sparkle to their Barbie-inspired look. Get a pink belly piercing for only AWG 25 and add some extra dazzle to your ensemble.
Lentino Artisan is your go-to destination for pink bags and accessories. Enjoy discount of 10-15% on all their pink collection. Elevate your style with their exquisite craftsmanship and elegant designs.
At Vadavas, everything pink will be $=fl. Embrace the magic of Barbie and indulge in a shopping spree where pink reigns supreme.
Don't miss out on these extraordinary pink-tastic promotions available exclusively during the Barbie Movie Premiere. Mark your calendars and join us for this unforgettable event filled with fashion, fun, and fantasy! Visit our website www.paseoherencia.com to learn more.
For movie tickets, visit the Caribbean Cinemas ticket booth or website to reserve your seat.