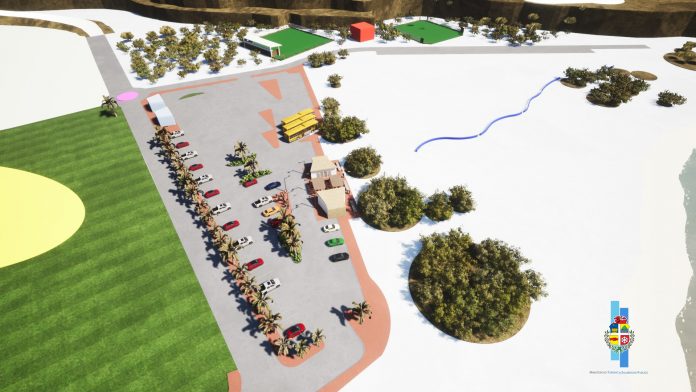 Yesterday morning, minister of Tourism and Public Health, Mr. Dangui Oduber together with CEO of A.T.A., Mrs. Ronella Croes as well as director of DOW, Mr. Marlon Croes gave an update regarding the continuation of the Baby Beach Waterfront Promenade project, which forms part of the master plan for the area of Sero Colorado.
According to the minister, these projects will elevate the area around these beaches while taking into consideration the importance of nature conservation, creating development to beautify the area in a sustainable manner.
The project continuation will include different aspects, among others, Baby Beach will get a completely new parking area, which is also part of this plan. Consecutively public bathrooms will be made available for all visitors, as well as two kiosks where people will be able to buy food and drink. The goal is for these kiosks to reflect Aruban culture and sell typical foods from the Caribbean. Also the tennis courts will be fixed in order to have a multifunctional sports area.
There will also be facilities available to practice beachsports like beach tennis and beach volleyball.
Minister Oduber created a commission for the tourism infrastructural project which is lead by the Ministry of Tourism. This commission will work closer to the Department of Infrastructure and Planning, DIP, so that the policy that was created for the beach can be implemented. This development is sustainable, and thus it was decided that in the context of this project, a lot of palm trees will be planted to provide shade in order to limit the construction of palapas on the beach.
Oduber also reminded the people that in the context of this project, specifications are already available to be bought at DOW for 350 florins. On the 31st of August, DOW will provide more specific information regarding the scope of this project, and consequently the public offer will take place on the 9th of September at DOW.
Tourism is the main driver of our economy, and this is why its development remains a priority. "This government stands for quality tourism, the tourists that come for quality and to contribute to our economy. This is why it is important to continue investing in the product Aruba. These projects will bring more activity to San Nicolas in order to ensure more tourists come to San Nicolas to create more economic activity. San Nicolas has all the potential to receive its fair share in the development of our country."
Minister Oduber said he is convinced that this project will act as a catalyst for every other private sector project which will come later in this area. This project is possible thanks to great team work and cooperation between the ministry of Tourism, A.T.A., DOW and DIP, according to the minister, and it is an important project for the area of Sero Colorado which is also being developed.