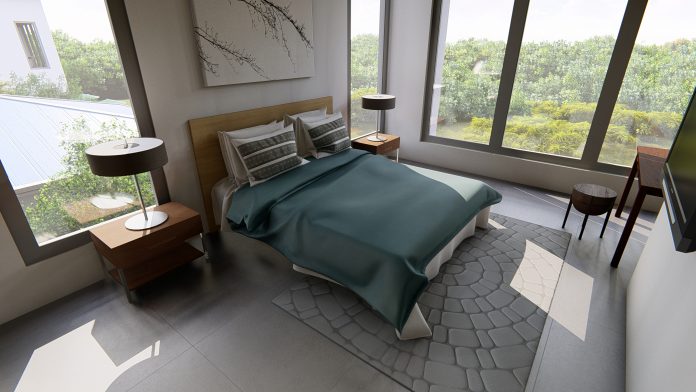 Sometimes everything comes together. You're looking for this special family place while vacationing or you are a local resident who wishes a secure and comfortable house within a serviced residence to enjoy your retirement. You'd also like to make an investment that brings you a profit and at the same time you want to deal with a trustworthy and secure company. Azure Beach Residences has all of the above under one roof. New offering by the successful Pering Group: The Villas.
Developer Pering Group's quality is already visible with Azure Beach Residences (sold for 90 % already) at Eagle Beach and Harbour House Condominiums (sales going beyond expectations) in Oranjestad. Now their newest product is The Villas with the same formula: a quality product for a good price, a trustworthy developer and a prime location. Take a look at this hot opportunity: only six fantastic villas on the border of a bird sanctuary and opposite the white-sand Eagle Beach.
The Villas are designed in modern architecture with panoramic windows where the green environment from the bird sanctuary (Bubali Plas) can flow freely inside. That is the feel you get with the Azure Villas. Just behind the condominium towers we have found this quiet space where you can have your family's second home or enjoy your well-deserved retirement. Big benefit: you will not only have a villa with four bedrooms and three bathrooms, but also an option for an annex that has one bedroom and one bathroom which can be rented out to cover your villa's expenses. Your own private pool is optional too.
A private house within the frame of a residence
Picture this: in the morning the kids are playing in their rooms while you take your coffee outside to the patio to enjoy the birds singing in the lush greens that surround you. After breakfast you gather your stuff to walk to the residence pools or cross the street to jump into the Caribbean Sea. This is no movie, this is for real. You are in paradise, you own your own villa and you have a decent return-on-investment. Not to be forgotten: you can make use of all facilities and services that are offered by Azure Beach Residences and there is 24-hours security. Best of it all is that the prices are very reasonable, especially when compared to similar offerings in the market.
Upgraded Environment
The environment of Azure Beach Residences and the Azure Villas will be improved as the government is extending the Linear Park, a lovely paved route that eventually connects the length of the island's west coast from the Airport to Arashi Beach. The trail is lined with trees for shade and offers secure space for walkers, runners and cyclers. All together you will be assured to have your perfect picture here.
Are you curious? Azure Beach Residences welcomes you to step in and hear more about this great opportunity! Hear us out and see for yourself.
WINNING POINTS
• Closed gated community with all amenities Azure Beach Residences has to offer
• Spacious villa with lots of light coming in and full privacy PLUS the annex can be rented out
• Your backyard is the Bubali Bird Sanctuary and the white-sand Eagle Beach on the opposite side of the street
• New walk-run-cycle trail and park right by the front of the property
• Well-priced in comparison with equally sized offerings
• Developer with a trustworthy image and proven track record of success
For more information you can visit the website http:// www.azure-aruba.com. The sales office is open every week day from 9 AM -5 PM, Saturdays 10 AM – 1 PM.