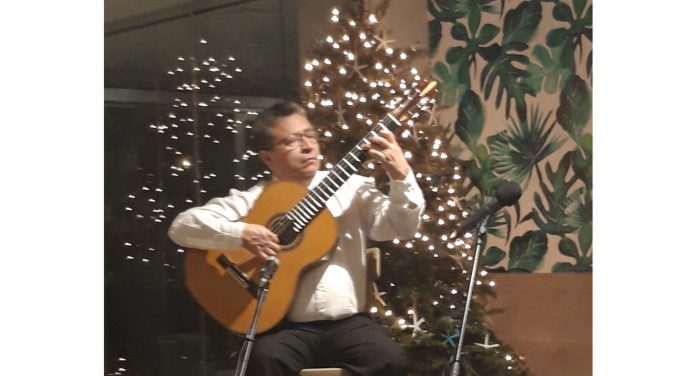 Azure Beach Residences supports the Aruba Symphony Festival where world-class musicians from around the globe perform for free for the public. To assure that this wonderful event can continue, last Saturday a benefit dinner concert was organized. Executive VP of Operations for Pering Group, Alberto Perret Gentil welcomed the guests in a full house.
He is a classical music-lover himself, and finds it important that the "Aruba Symphony Festival continues to bring joy, entertainment and education to the island," Perret Gentil says. Azure Beach Residences show their commitment to local community by supporting the festival and hosting the fundraising event last Saturday. Well-known Aruban chef, Irvin Croes, took the honors for the culinary part, together with Marriott's Director Food & Beverage Operations Teddy Bouroncle. They took care of a 5-course dinner that tasted like good music. The gourmet meal was served by the Azure staff, who volunteered the night as waiters, including Perret Gentil's wife. The evening was a typical case of let's put all hands together and the cherry on top was a concert by 'Maestro de Guitarra' Luis Quintero. He is a renowned Venezuelan guitarist who had recently played here before he went on a tour in Mexico, has been coming to play in Aruba regularly since 2005 and has developed a profound love for our island and its people.
One of the motors behind the Aruba Symphony Festival and friend of the Perret Gentil brothers is Clyde Harms. For five years, Harms gives his best to pull the festival off with the challenge of keeping it as good as free for the public. His great friend, Johnny Croes, joins him. "It is challenging because we have full-house concerts, workshops, conferences and classes led by celebrated, international artists." It is a unique concept within the Caribbean, and every year the festival surprises with the high-quality musicians brought in by founder Simon Gollo.
During the evening, Harms also launched his book 'An Aruban in Libya' telling stories of his years with ESSO in Tripoli, Libya. Aruba Today will publish an article about the book.
Aruba Symphony festival would like to thank everyone that participated in the evening and the patrons that made this event reality. q